The Real Reason Harry, William And Kate Chose To Leave Prince Philip's Funeral Together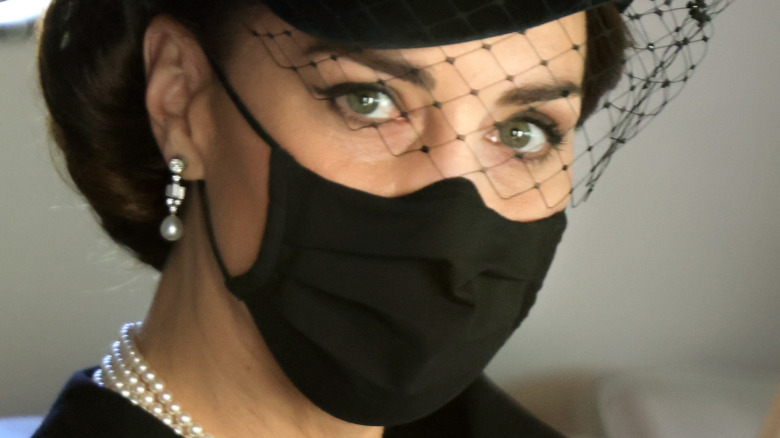 Chris Jackson/Getty Images
Prince William, Kate Middleton, and Prince Harry attended Prince Philip's funeral on April 17. Although they all walked into St. George's Chapel separately, the three left the chapel together, just like old times. And while it seemed like the plan was to have the royal family walk to nearby Windsor Castle following the funeral proceedings, it turns about there were cars made available to them as they exited the chapel, according to Victoria Arbiter, a royal commentator for CNN, who tweeted such after the service ended. While Queen Elizabeth got into a car that whisked her back home following the emotional service, other members of the royal family chose to walk in the sunshine instead.
Royal watchers all over the world took note of what happened when the royal family left the chapel; William, Kate, and Harry were seen casually chatting with one another. This was a significant moment because there has been great strain between the brothers for quite some time. Still the question begs, why did William, Kate, and Harry choose to walk together when leaving Philip's funeral? Read on to find out the real reason.
Prince William, Kate Middleton, and Prince Harry walking together was a step in the right direction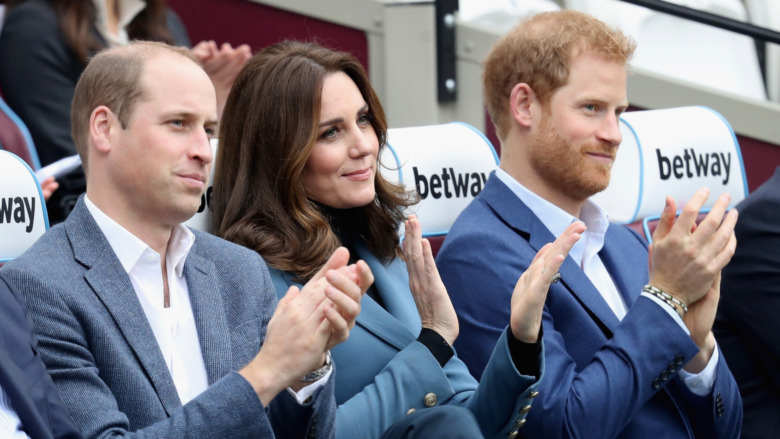 Chris Jackson/Getty Images
Prince William, Kate Middleton, and Prince Harry walking together as a family is something that meant a lot to their grandmother, Queen Elizabeth. In fact, Victoria Arbiter tweeted that "there were cars waiting to transport the royals back to the castle but they chose to walk as a family. Having been separated in the Chapel they're now able to come together which will be a comfort to the Queen."
Of course, no one knows what William, Kate, and Harry were talking about as they left Prince Philip's funeral, but they all looked comfortable with one another, and there didn't seem to be any tension between them. It is unknown how long Harry plans to stay in the UK with his family; he was forced to leave his pregnant wife, Meghan Markle, behind as her physician advised her not to travel, according to People. While it seems obvious that he will want to get home to his wife, Harry may also want to tie up some loose ends with his family before he hops on a plane. The good news is that things look like they are in a good place, at least for the time being.