Lip Reading Expert Reveals What Harry And William Talked About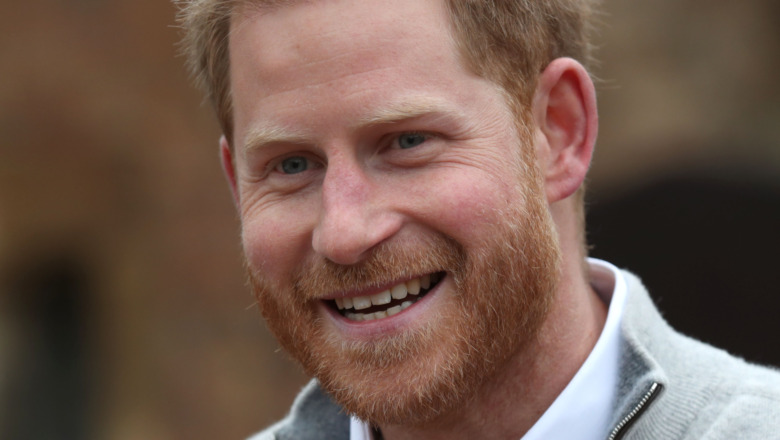 Wpa Pool/Getty Images
Prince Harry and his older brother Prince William shared a chat upon leaving St. George's Chapel following the funeral service for their grandfather, Prince Philip. The Duke of Edinburgh died on April 9, at the age of 99. Just two days after Philip died, Harry hopped on a plane heading to London. According to People, Harry stayed at Frogmore Cottage, in self-isolation for a few days, to comply with the local government's coronavirus requirements. Harry's trip to the UK marked the first time that he had traveled home since he and Meghan Markle left in March 2020. It was also the first time that Harry saw his family since his interview with Oprah Winfrey aired on March 7.
During the interview, Harry told Oprah that the relationship he had with William could be best described as "space," according to Harper's Bazaar. After the interview, the relationship between the brothers reportedly became even more strained. Royal watchers all over the globe were curious to see how Harry and William would act toward one another at the funeral, and seeing them walk separate from one another behind Philip's casket was pretty much what was expected. What was not expected, however, was what happened the service ended. Not only did Harry and William walk together, but they were talking, and tensions seemed eased. And while we don't know exactly what they talked about, lip readers have since weighed in. Read on to find out what Harry and William may have said. 
Prince Harry and Prince William talked about the funeral, a lip reader says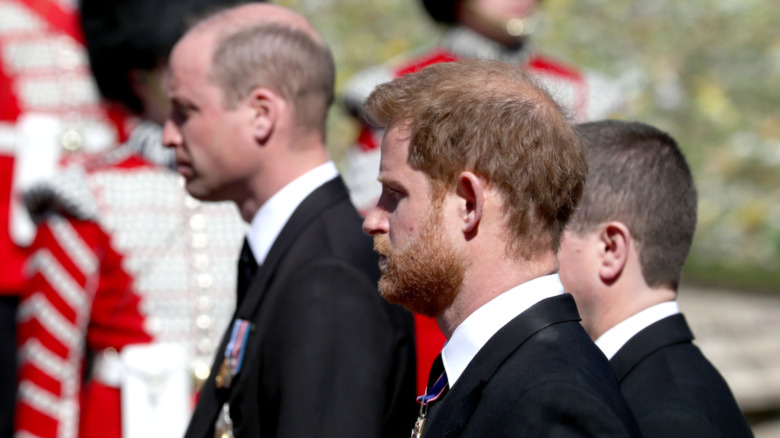 Wpa Pool/Getty Images
Prince Harry and Prince William removed their face masks after they exited St. George's Chapel. During their walk back to nearby Windsor Castle, they chatted a bit, and lip readers believe that the brothers talked about the funeral proceedings. "Yes, it was great, wasn't it," the Duke of Cambridge told the Duke of Sussex, according to one lip reader who spoke with the Daily Express. "It was as he wanted it," Harry responded. Lip readers also believe that William said, "absolutely beautiful service, ah, the music," to his younger brother. 
Regardless of what Harry and William may have talked about after Prince Philip's funeral, the important thing is that they were able to put their differences aside in those moments. "They were talking. They were possibly overcome by emotion. They were talking – and that's got to be a very good sign. Let's hope that they sort their recent troubles out because the queen needs them both," ITN commentator Eve Pollard said during a television broadcast, according to the Daily Express. Many are hopeful that more healthy conversations can happen before Harry heads back to the U.S.