Ceaser Emanuel On Black Ink Crew New York Season 9 And Expanding His Tattoo Business In 2021 - Exclusive Interview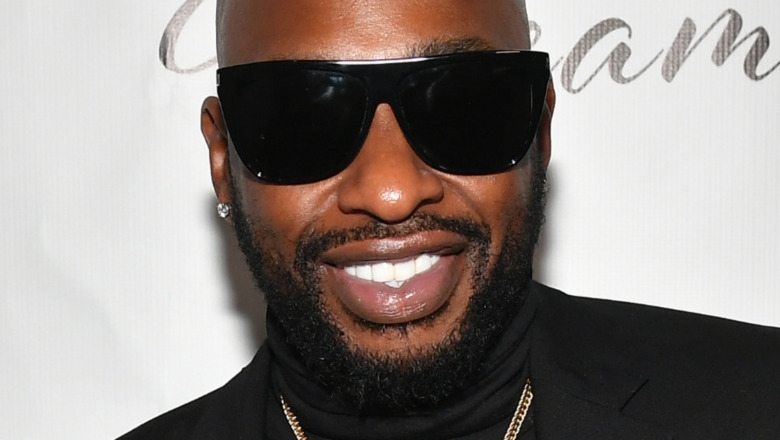 Paras Griffin/Getty Images
VH1's Black Ink Crew New York is returning for its ninth season, and fans can rest assured that new episodes will be filled with drama and challenges galore. The owner of iconic tattoo studio Black Ink, Ceaser Emanuel, is excited to finally be back on TV after a difficult year due to the COVID-19 pandemic, which has had an unfathomable affect on businesses all over the world. But despite the destructive economic effects of coronavirus, Emanuel has found a way to thrive, and even grow during this turbulent time.
When Nicki Swift caught up with Emanuel, he was multitasking at home. "I'm sitting here trying to cook breakfast while I'm doing this interview, so don't mind me," he explained. "They say men can't do that, but I'm a strong believer in multitasking." In the exclusive interview, the Black Ink Crew New York star opened up about what fans can expect from the new season, and his exciting plans for expanding his tattoo business in 2021.
Ceaser Emanuel reveals what's new on Black Ink Crew New York Season 9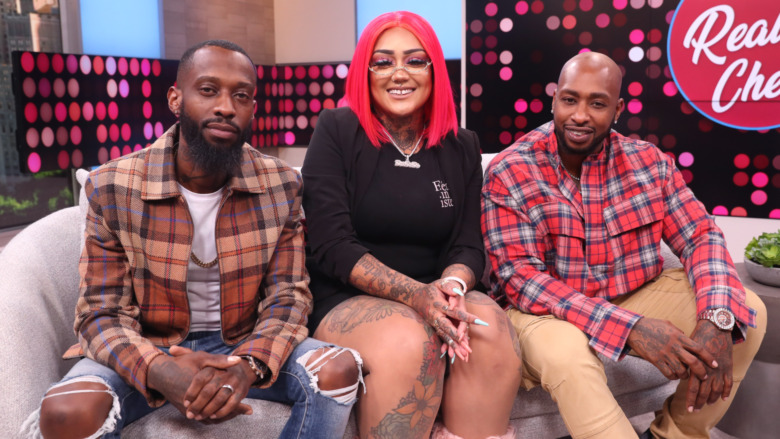 Bennett Raglin/Getty Images
Black Ink Crew New York is back for a ninth season. What can fans expect from the new episodes?
You can expect a lot of different-ness in Black Ink. Like a lot of people are used to us at Black Ink as just being the crew that tattoos and parties. But this season, we're dealing with a lot of issues that are basically right next to home. We have to deal with the COVID situation or how we have to deal with that. Especially being tattoo artists and we can't open up and social distancing ain't good for business per se.
Then we also have to deal with the social injustice that's going on in America right now. And also mental and financial states from going through this whole COVID thing. It puts us all a lot at, basically, unease because some of my crew members, they didn't want to come outside the house. Puma, he really didn't want to come out the house, which I could understand because he has a family and kids he got to protect. But even that was like, Puma it's okay to come outside. And it's been trying times, but honestly, I'm glad that I'm going through it with the people I'm going through.
So we're going to see all of that on Season 9?
Like I said, it's a whole different Black Ink. Before we never really touched on current events, on stuff that's happening right now. But this time around that's all we're doing is covering what's happening right now. And what's basically a problem with everybody. We touch almost every subject that you could possibly think of that everybody's going through. So everybody could really connect with this season of Black Ink Crew, Season 9. And honestly, I'm just happy that we back on TV. We back to our original night, Monday nights, because I liked being Mr. Monday Nights. And the fact that VH1 was willing to go through so much extremes to make sure that we were safe and to get the show back on, man, ain't no better network than that. We get tested two, three times a week. None of us are in danger. We all stay regulated and they keep us in a bubble, so none of us really have to worry about any of those COVID things. So honestly, I'm just glad that we're back to some type of normalcy and I just can't wait for America to get back to normal.
Black Ink Crew New York's Ceaser Emanuel is navigating his new normal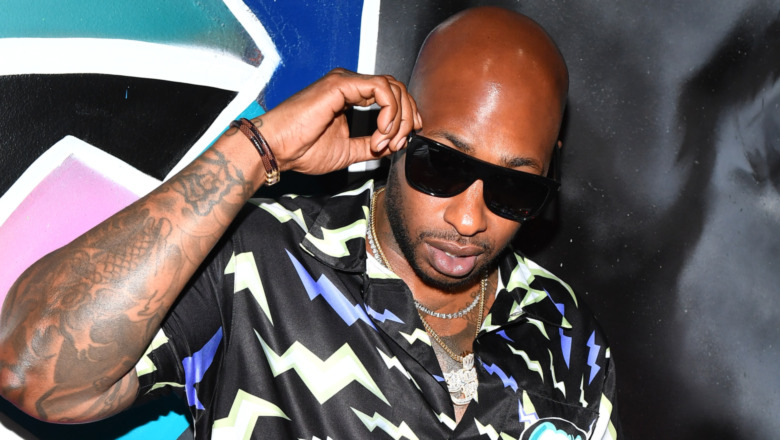 Paras Griffin/Getty Images
What's it been like running your tattoo business in the pandemic? Has it been really difficult?
It has been beyond difficult, because see, I'm just used to— it's a certain blueprint I already had, it's just already there and it's cookie cut. Once I got the blueprint, it's cookie cut; build Black Inks, make it [a] party and make good tattoos. But now it's like you can't party, and tattooing is difficult now because of what we're going through. So it's a lot of things we had to change. Like my Atlanta shop, thank God it's in Atlanta, the CDC's in Atlanta. I got them to come in, regulate the shop, make it COVID friendly for tattooing. And I just duplicated it through the whole United States.
And now that we did that, we could finally open up somewhat. But we can't take as much clients as we used to. And we only can stay 25% to capacity. We can't have people just sitting there waiting for tattoos no more. They got to come in with an appointment. It's a struggle, but we have to adapt. And every change and changing times as a business, for you to survive, you have to adapt or you're going to get buried. And I seen a lot of shops, especially tattoo shop[s], go down during these times.
Ceaser Emanuel is moving on to better things
We were going to ask about your original shop, 113th in Harlem, which recently shut, because the rent skyrocketed.
Because in New York, there's no renting law, the landlords could basically put whatever rent they feel is justified. Not what is around the community, what's it like. None of that. And for me to go from $5,000 a month to $25,000 a month for rent, it was just, especially for that area, it just was ridiculous. I just had a slumlord that was basically just trying to get over. And to this day, he's still trying to get over. I gave up the property. He's trying to sue me, bring me back to court saying I didn't surrender it. I was just dealing with a slumlord. I'm just happy that I'm out of that situation.

In a recent interview, you said that the closure of 113th was a blessing in disguise, because it meant that you could move on to new things. You've talked about expanding Black Ink. Is there anywhere you're hoping to open next?
Yeah. Like I'm not going to lie, 113th was, I didn't realize it, but 113th was like my ball and chain. It always kept me in one position, in one spot and I think releasing it and letting it go, it freed me up. So now I'm opening up shops everywhere. I just opened up in Houston. I'm about to open up Milwaukee. I'm working on Dallas. I'm working on Boston, I'm working on the DMV [D.C., Maryland, Virginia], Tampa, and one other town that I'm kind of keeping under wraps, but it's in New York.
You've got so much going on then.
Yeah. I try to keep busy, idle time is the devil's playground. So I like to stay busy, busy, busy, busy until I have to sleep, get up and be busy again.
Ceaser Emanuel enjoys finding out the story behind a tattoo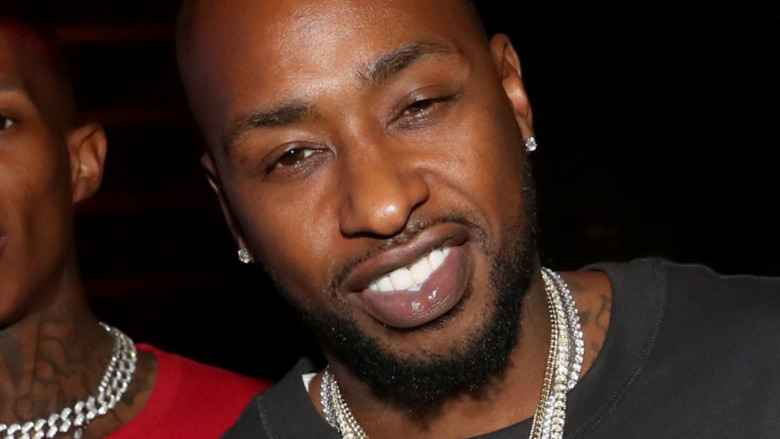 Johnny Nunez/Getty Images
You've been a tattoo artist for a really long time and you've got an amazing reputation. What are some of the favorite tattoos that you've done or the most exciting projects you've worked on?
My favorite tattoos? I really don't have favorite tattoos because every project is like something new to me and more exciting than the next. So it's like, I'm more excited on the people I meet, like my clients and whatnot and the stories they have behind their tattoos. Because most of the time, people have some amazing stories on why they get tattooed, because to sit there and go through that pain, you have to have some type of story, for what reason why you're going through what you're going through. And at the end of the day it's like, man, that's just crazy. And like I tell you, it's amazing. You're like a psychologist and an artist at the same time. And you're just, some of the stories you'll realize you really ain't going through nothing. There's people out there going through worse. That's why I'm so grateful because there's people who's going through worse than me. And I could be in a way worse position.
But you probably cheer them up by giving them the tattoo they want.
Yeah, I definitely do. So it's like hand in hand.
Getting your first tattoo? Ceaser Emanuel has some advice
If someone was thinking of getting their first tattoo, what would you recommend?
Start off small. Start off with a name or something. Test it out. Little 10 minute tattoo. And then from there, you might catch that bug. Like, Ooh, I need more. Or you might say, nah, this is just way too much pain for me. But like I tell people, you don't knock it till you try it.
Is there anything else you want readers to know?
Well, I just want all the readers to know that Black Ink: New York comes back on Monday, April 19th at 8:00 PM Eastern Standard Time, Season 9. And if they can't catch us that day, which [I'll] probably be disappointed, but you can make it up to me by logging on to the VH1 App and streaming us. You can catch all the seasons there. And I want everybody to be blessed and be safe and we all going to make it through these crazy times.
You can catch all of the drama when Black Ink: New York Season 9 premieres on VH1 on Monday, April 19 at 8:00 PM EST.