Are Christine Brown And Kody From Sister Wives Over?
Sister Wives' season 15 finale ended with a bang. In the episode entitled "Polygamy Hell," Christine Brown delivered a kicker when she made a surprising revelation. Of course, what can you expect from a show where polygamist Kody Brown is married to four women and cannot seem to keep up with the antics of all of them?
The TLC hit show has been focusing on the troubled relationship between Meri and Kody Brown for months. At one stage, both of them wanted out, but lately, they have been making some time for each other and even went on a date. However, they seem to be at an impasse, with Kody admitting that they did not have a "sexual relationship," while Meri refuses to give up on the marriage (via People).
In the meantime, Christine was having issues of her own, but nobody seemed to have noticed, especially with the precautionary measures the polygamist family had put in place because of COVID-19. Christine, Meri, Jenelle, and Robyn are all spending more time apart so that they can protect their own families. But on the last episode, Kody's second wife finally chose to say her piece and stunned everyone with her admission, per Us Weekly. Curious to learn about Christine's revelation? Well, then read on.
Sister Wives' Christine Brown speaks her truth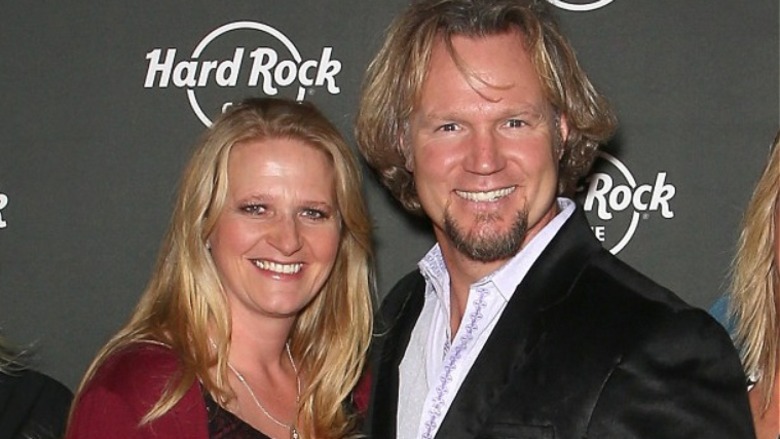 Gabe Ginsberg/Getty Images
Christine Brown may have been holding out on Sister Wives. On the final episode of season 15, she shared her feelings, per Us Weekly. The 49-year-old voiced her desire to move back to Utah because she no longer wanted to stay in Flagstaff, Ariz. But Kody, Meri, Jenelle, and Robyn were not receptive to the idea of moving back. A surprised Christine pointed out, "When we were there, you guys all talked about [how] Utah was home, and the mountains were home, and family was there," before adding, "So, I thought that you felt the same."
After Meri pulled her aside, Christine dropped a bombshell that left her sister wife reeling. "Meri, I can't do marriage with Kody anymore," the second wife confessed. "I don't want to. ... It's not enough," she continued. Meri, who has her own marital troubles with Kody, encouraged Christine. "Then make it enough. You don't get to give up like that," Meri urged her, before reminding Christine, "You're not a quitter."
Later, Christine told the camera how she ended up wanting to leave her marriage. "I agreed to move to Flagstaff, and I followed Kody here, but it's been a struggle the whole time. I'm tired of feeling like I don't matter, I'm tired of not having his support when I really need it," she stated. Talk about the dark horse. Will Kody and Christine make it? Only time will tell.