Vanessa Bryant Just Made A Huge Change With Kobe Bryant's Most Famous Partnership
Dia Dipasupil/Getty Images
Kobe Bryant had an iconic endorsement with Nike for many years, but that long-standing relationship is about to change, as Vanessa Bryant announced on April 19, 2021.
Kobe first signed with the athletic brand in 2003, per ESPN, releasing popular sneakers like the Zoom Huarache 2K4 and 2K5, the Hyperdunk, and 11 signature models under the Nike Kobe series. Even after the basketball legend retired from his Hall of Fame career in 2016, scoring 60 points in his last ever NBA game, Nike gave him a five-year extension to his endorsement contract.
His Nike shoes proved popular with fans and fellow basketball stars alike. During the first few months of the NBA's 2019-20 season, 104 players wore Kobe 4s on the court, according to The Undefeated. Kobe's family reportedly hasn't been happy with the brand for a while, however, as an inside source told ESPN.
Vanessa and the estate were apparently "frustrated" with Nike for "limiting the availability of Kobe products" during his retirement period, as well as after his tragic death in January 2020. They also weren't pleased by "the lack of availability of Kobe footwear in kids' sizes," according to ESPN's sources.
And the extension offer that Nike made was reportedly underwhelming compared to its "lifetime" contracts with Michael Jordan and LeBron James.
All future releases of Kobe-brand Nike shoes will be canceled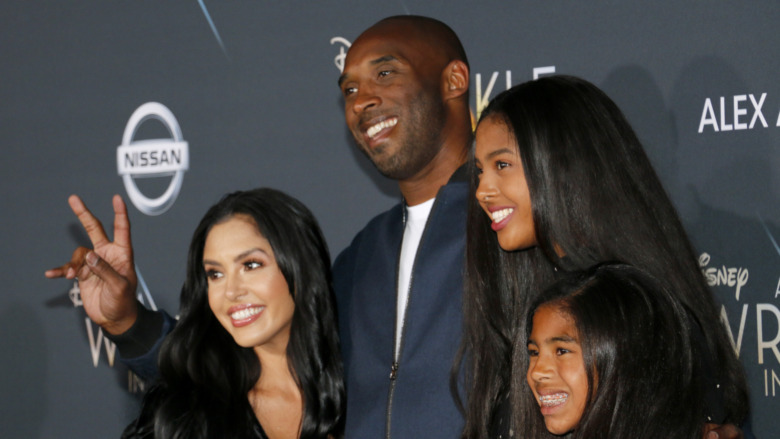 Shutterstock
Vanessa Bryant — who recently celebrated her late husband on what would have been their 20th wedding anniversary — told ESPN that Kobe Bryant's contract with Nike would not be renewed. "Kobe's Nike contract expired on 4/13/21," Vanessa stated. "Kobe and Nike have made some of the most beautiful basketball shoes of all time, worn and adored by fans and athletes in all sports across the globe. It seems fitting that more NBA players wear my husband's product than any other signature shoe."
She also confirmed that the "Kobe Bryant estate" has legal ownership of both the "Mamba" logo and the Lakers icon's signature. They could negotiate with other brands to create a new partnership, featuring these trademarks. "My hope will always be to allow Kobe's fans to get and wear his products," Vanessa explained. "I will continue to fight for that." She added that Kobe's products still "sell out in seconds" and "that says everything."
"I was hoping to forge a lifelong partnership with Nike that reflects my husband's legacy," Vanessa continued. "We will always do everything we can to honor Kobe and Gigi's legacies. That will never change."
"Kobe Bryant was an important part of Nike's deep connection to consumers," Nike insisted in an official statement to ESPN. "He pushed us and made everyone around him better. Though our contractual relationship has ended, he remains a deeply loved member of the Nike family."