Why Miley Cyrus Can't Stand Joe Rogan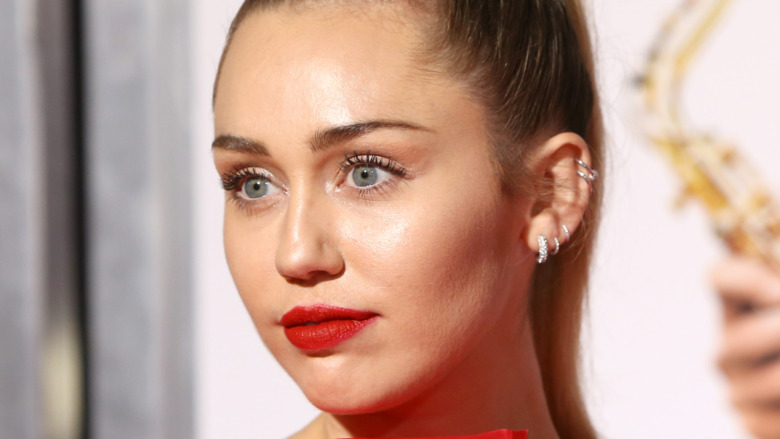 Shutterstock
Miley Cyrus made headlines in September 2020 when she unexpectedly appeared as a guest on The Joe Rogan Experience. The pop star seemed to let her guard down during the two-hour interview and offered several candid stories.
The "Midnight Sky" singer relayed a story of how she felt disrespected while prepping for performing at that year's MTV Video Music Awards. As covered by the Huffington Post, Cyrus said she requested for the "beauty light" which was "always used on women" to be turned off. When the performer had issues with her bracelets catching on her wardrobe a technician spouted off, "'You know you wanted to be treated like a guy and lit like a guy? We wouldn't be dealing with this if a guy was doing it.'"
Another revealing portion of the podcast was when Cyrus opened up about being sober, and how getting back with an ex felt similar to a relapse. "I can't reach for drugs anymore ... Alright, I'm gonna reach for someone to love me," she told Rogan (via Complex).  Cyrus was frank about her split from her ex-husband Liam Hemsworth. "I recently just went through a very public divorce that f***ing sucked," she told the podcast host. The singer had an issue with the media's narrative that her ex was evil for dating somebody else. "I can't accept the villainizing," she said when reflecting on her well-publicized breakup.
So what caused this otherwise cordial interview to turn sour? Read on to find out. 
Inside Miley Cyrus' past relationships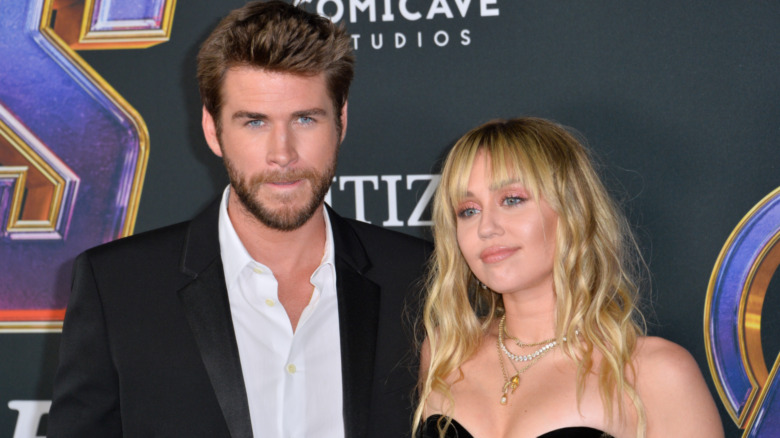 Shutterstock
Miley Cyrus identifies as a member of, and has long been an advocate for, the LGBTQ community. Speaking to Vanity Fair in March 2019, the "Wrecking Ball" singer said she and then-husband Liam Hemsworth's relationship helped change her perception of marriage. "We're redefining ... what it looks like for someone that's a queer person like myself to be in a hetero relationship," she told the publication. "A big part of my pride and my identity is being a queer person."
After her divorce, Cyrus had a brief tryst with Kaitlynn Carter who was featured on The Hills: The New Beginning while she was married to Brody Jenner, as covered by Teen Vogue. Prior to her fling with Carter, the former Disney star was romantically linked to Victoria's Secret model Stella Maxwell. The two caused a stir when photos of them locking lips went viral in July 2015, as per the Daily Mail.
Around the time Cyrus dated Maxwell, she was asked by Elle about her sexuality. "I'm very open about it — I'm pansexual," she told the outlet in August 2015. Being a proud member of the LGBTQ community is part of what caused a stir on Joe Rogan's podcast.
Miley Cyrus takes issue with Joe Rogan's comments about Drag Race
During Miley Cyrus' lengthy free-flowing conversation with Joe Rogan the subject of Rupaul's Drag Race came up. The pop star had been a vocal proponent of the show in the past and she heaped praise on RuPaul and the show's contestants. Cyrus compared them to fighter's in the UFC which Rogan does commentary for. "They do death drops in a whole other way than you guys do on the mats," Cyrus said while watching Drag Race footage on The Joe Rogan Experience (via PinkNews).
This led to a point of contention between the singer and podcast host. "They all do the same move," Rogan said. "They drop down and do the splits," (via Newsweek). Without missing a beat Cyrus fired back: "That's what I think when I'm watching your show too — all the same stuff."
Various video snippets were made of this exchange with Drag Race fans delighting in the "Heart of Glass" singer's fiery response. "People don't realize how rude they're being until someone uses the reverse uno card," one Twitter user wrote while retweeting the video. "Joe Rogan was NOT ready for that," another Twitter user commented. Derrick Barry, the Drag Race contestant whose footage was being discussed on the podcast, delighted in the clip. "The fact that @MileyCyrus may know who I am because of @RuPaulsDragRace is all I need to get me through the next episode," Barry wrote while retweeting the terse exchange.