The Truth About Andy Cohen And Meghan McCain's Relationship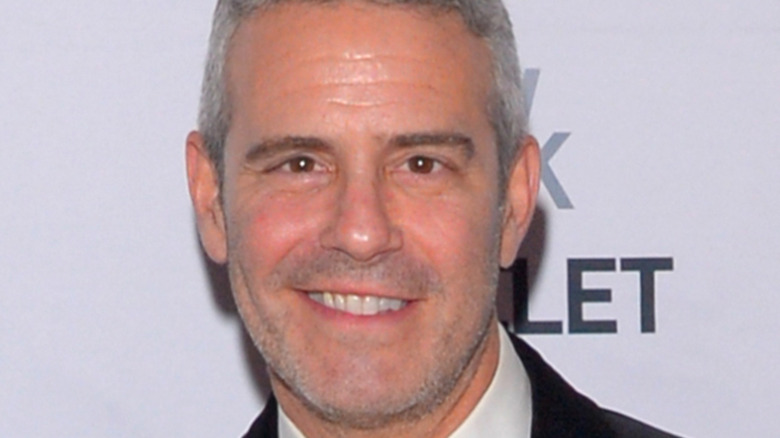 Shutterstock
Andy Cohen has relationships with tons of celebs, as is highlighted by the variety of guests on his live late night talk show, Watch What Happens Live. From Anderson Cooper to Sarah Jessica Parker, it seems like Cohen knows (and is friends with!) just about everyone. And funnily enough, a lot of celebs are huge fans of Bravo (especially the Real Housewives franchise!), even stars who might surprise you. 
Take The View co-host Meghan McCain. The conservative and sometimes controversial daughter of the late John McCain is a mega Housewives fan and has appeared on WWHL many, many times, even engaging with Bravo fans and influencers on social media. Cohen is super progressive and McCain is well... not so much, despite holding some liberal views on social issues like LGBTQ and racial equality. While you can be friends with someone who doesn't share your own politics, it's gotten harder and harder to do since the Trump administration. So, are Cohen and McCain actually buds IRL? 
Andy Cohen and Meghan McCain talk politics — and Housewives
Andy Cohen and Meghan McCain have lots to talk about, and clearly respect each other. During a 2017 appearance on WWHL, McCain, Cohen, and RHOBH star Erika Jayne discussed politics. Cohen gushed to The View host, "I love talking to you about politics." She agreed, noting that they might not agree on all the issues, but are both passionate about engaging in political discussions for the greater good. 
In 2018, Cohen reiterated these remarks to Fox News, saying: "I love talking politics with her and I can really sit down and have a real conversation with her. We're on different sides of so many issues, but I like that she is really fun and interesting... and there is so little discourse these days where people from other sides can sit around and actually understand each other."
But they don't just talk politics. McCain is a dedicated Bravo fan and often airs her opinions on social media. On Twitter in January 2021, McCain agreed with another fan that RHOC needed to be canceled. Cohen chimed in, saying, "I think you mean reBOOT." McCain then went into the fact that she had "thoughts" to share with him and added that if anything, Bravo should bring back the Real Housewives of D.C.

Cohen even once surprised McCain on The View, gifting her a jumpsuit from one of the Housewives. ABC called Cohen "her close friend and one of her favorite TV personalities."