The Truth About Anderson Cooper And Andy Cohen's Relationship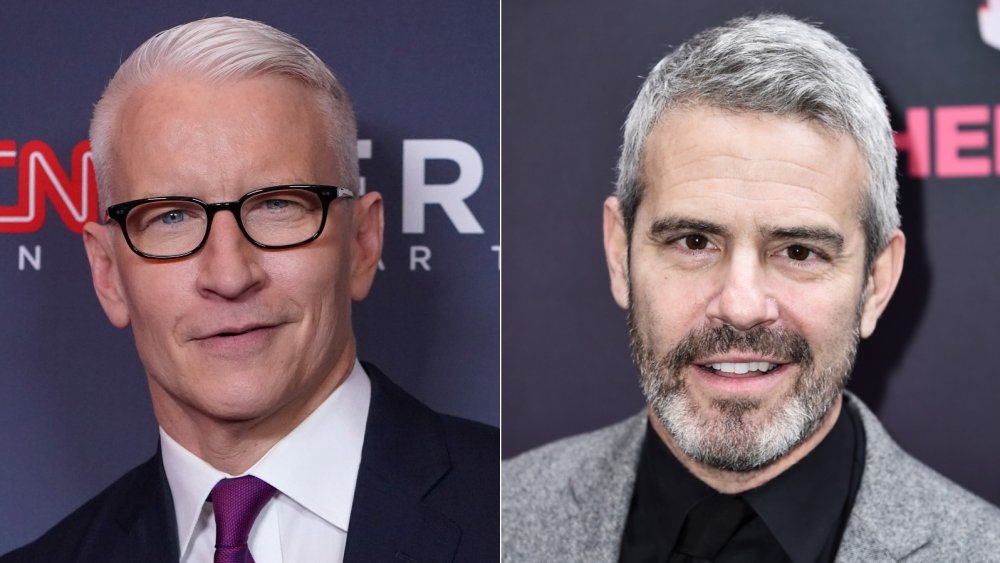 J. Countess, Steven Ferdman/Getty Images
Anderson Cooper has helped guide viewers through the nail-biting — make that nail-eviscerating — 2020 presidential election results on CNN, but he's far from just an election pundit. Among the network's familiar faces this election season — from prince of the "Magic Wall" John King to the "key race alert" guru Wolf Blitzer – the bespectacled Cooper is arguably the biggest household name!
The longtime host of Anderson Cooper 360°, Cooper's been at CNN for nearly 20 years. In fact, he was even on-air when he touchingly announced the birth of his son in April 2020. "As a gay kid, I never thought it would be possible to have a child," Cooper told the world, but he is now a proud parent to Wyatt Morgan Cooper. Bottom line: this level-headed media man and LGBTQIA+ figure is a TV mainstay, but did you know he's close pals with another TV bigwig?
Cooper is buds with Andy Cohen. The duo even went on a national tour together, but Cohen is no political newsman. The Bravo mainstay is best known as an executive producer and kingpin of The Real Housewives franchise, and he's also hosted Watch What Happens Live since its premiere in 2009. Though their television work resides in different realms, they enjoy a sweet friendship today. In fact, there was one point in their relationship when they may have become more than friends. Scroll down to learn something you probably didn't know about Andy Cohen and Anderson Cooper's relationship. 
Why Anderson Cooper wouldn't date Andy Cohen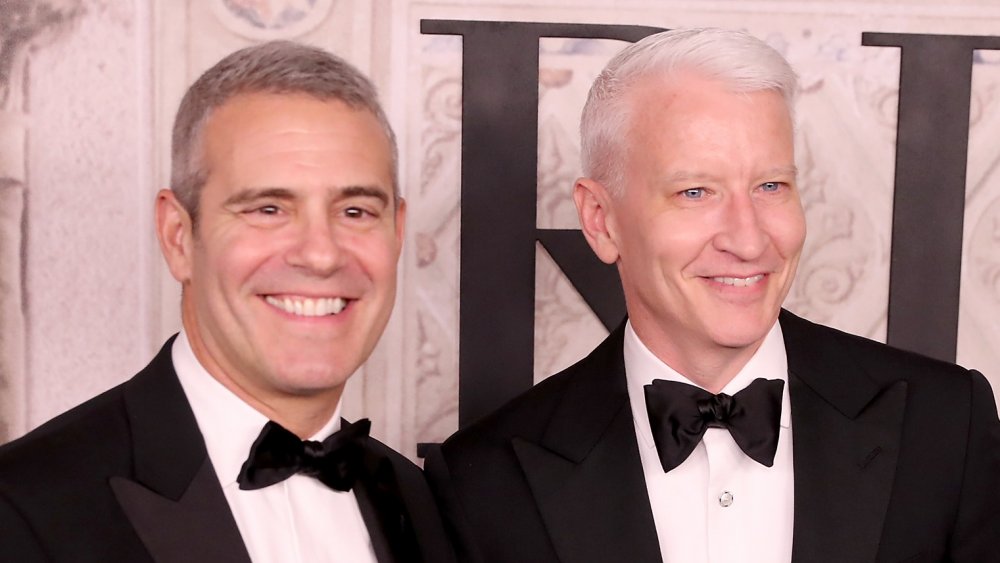 Rob Kim/Getty Images
Did you know that Anderson Cooper and Andy Cohen once went on a date? Yup, according to Entertainment Tonight, the two were once set up, and let's just say Cohen didn't pull "high ratings" with the CNN star. 
"Andy and I were first set up on a blind date, which never happened because we had a phone call and after two minutes I said, 'I'm not dating this guy," Cooper recalled on Watch What Happens Live in December 2016 (via Us Weekly). "He broke my cardinal rule... he mentioned my mom within the first four sentences of meeting me." Whoops!
Cooper is the son of the late Gloria Vanderbilt, a heiress to railroad tycoon Cornelius Vanderbilt (Anderson's great-great-great grandfather) who was one of the wealthiest people in history. Gloria was a well-known artist and fashion designer and a huge inspiration to Anderson. On his mom, Cooper once said on-air, "What an extraordinary life. What an extraordinary mom. What an incredible woman." Yes, Cooper has a remarkable lineage, but maybe that's not something you bring up before you even order appetizers? 
That said, the friendship between Cohen and Cooper today is adorable! They often attend events together, and like Cooper, the Radio Andy host also became a father in 2019. Cohen has also joined Cooper to co-host CNN's New Year's Eve Live since 2017. Sometimes keeping things platonic is the way to go.