Trump And Biden Send Very Different Messages After Election Day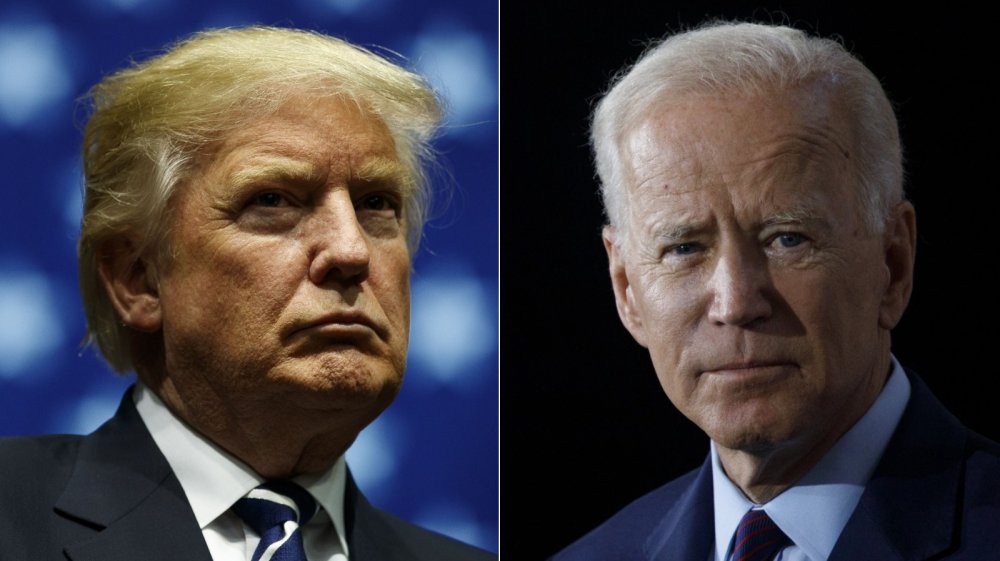 Drew Angerer, Tom Brenner/Getty Images
The results remained too close to call as Election Day ground to a close on Nov. 3, 2020, but the two men running for president delivered very different messages to the American people as votes continued to be counted into the wee hours of the night.
From his home state of Delaware, former Vice President Joe Biden took to an outdoor stage with his wife, Jill, to address supporters at a drive-up event designed to maintain COVID-19 social-distance protocols. "Your patience is commendable," the Democrat told a sea of honking horns. "We knew this was going to go long ... But look, we feel good about where we are. We really do." Biden urged everyone to wait for every ballot to be counted. "We believe we're on track to win this election," he said. "We knew because of the unprecedented early vote and the mail-in vote that it's going to take a while. We're going to have to be patient until the hard work of tallying votes is finished."
Trump, on the other hand, was not subscribing to the concept of patience. He gathered with Republican supporters at the White House and took to Twitter to falsely declare: "We are up BIG, but they are trying to STEAL the Election. We will never let them do it. Votes cannot be cast after the Polls are closed!" That statement was untrue and flagged by Twitter with the following warning message: "Some or all of the content shared in this Tweet is disputed and might be misleading about an election or other civic process." 
Here's what to expect as ballots are tallied.
Tallying votes for Trump and Biden could take a while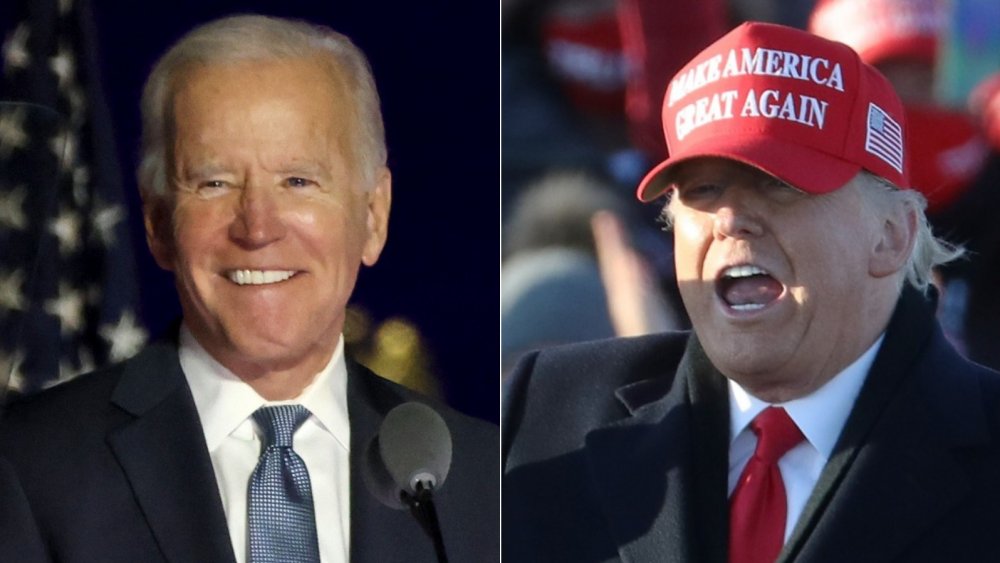 Win Mcnamee, Taylor Hill/Getty Images
While President Donald Trump continued to call into question the integrity of the election without cause, challenger Joe Biden urged Americans to be patient and trust the process. According to Politico, "A final verdict on who wins the presidency could take days or weeks depending on how the vote-counting, recounts and assorted court battles play out."
"It's not my place or Donald Trump's place to declare who's won this election," the former vice president declared as Election Day concluded with no clear victor. "That's the decision of the American people, but I'm optimistic about this outcome." He concluded his message to supporters with a call to "keep the faith."
Americans can expect more conflicting messages from the candidates. Prior to Election Day, Trump had falsely dubbed 2020 "the most RIGGED Election in our nations history" and falsely tweeted that "MILLIONS OF MAIL-IN BALLOTS WILL BE PRINTED BY FOREIGN COUNTRIES, AND OTHERS. IT WILL BE THE SCANDAL OF OUR TIMES!" According to The Washington Post, "There is no evidence that such wide-scale fraud is possible, and election officials across the country have disputed" such claims. 
This isn't the first time Americans may have to wait for results. The 35 days it took to conclude the race between Republican incumbent George W. Bush and Democrat challenger Al Gore in 2000 "was the longest Americans had ever waited in modern times to know who their next president would be," the Post reported. Concluding the 2020 election could also prove to be a marathon rather than a sprint, but Nicki Swift will keep you posted as the story unfolds.