The Surprising Thing Donald Trump And Joe Biden Have In Common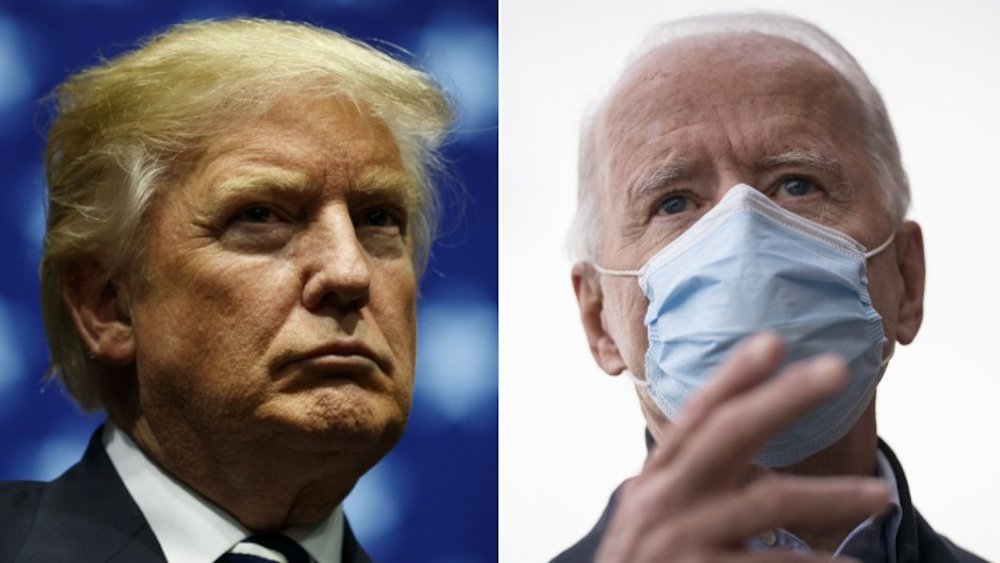 Drew Angerer, Drew Angerer/Getty Images
From their varying political stances to the insults slung during the presidential debates, Democratic challenger Joe Biden and Republican incumbent Donald Trump aren't exactly peas in a pod, but there's one surprising and meaningful thing both men do have in common. And it involves drinking. Well, actually, not drinking. 
While millions of Americans have cast their vote and are now perhaps bracing (let's be honest) for a wild night, perhaps with a cocktail in hand, two people who won't be doing so are Biden and Trump. Both major party candidates, for the first time in election history, per The New York Times, are "teetotalers." In other words, neither have ever had an alcoholic drink in their lives, or so they claim. That's a choice they reportedly share with past presidents George W. Bush and Rutherford B. Hayes. 
"These are two intensely competitive men who made a judgment early in their careers that their path to success is going to be willing themselves into the positions they wanted," author Evan Osnos told the NYT. "That did not leave much room for getting drunk." Yup, both Trump and Biden are firmly planted in their sobriety and have similar, family-related reasons informing that decision. Sort of a kindred spirit situation, minus the "spirits," no? Puns aside, scroll down for the stern and character-revealing reasons why neither Joe Biden nor Donald Trump consume alcohol. 
Both Trump and Biden were influenced by family struggles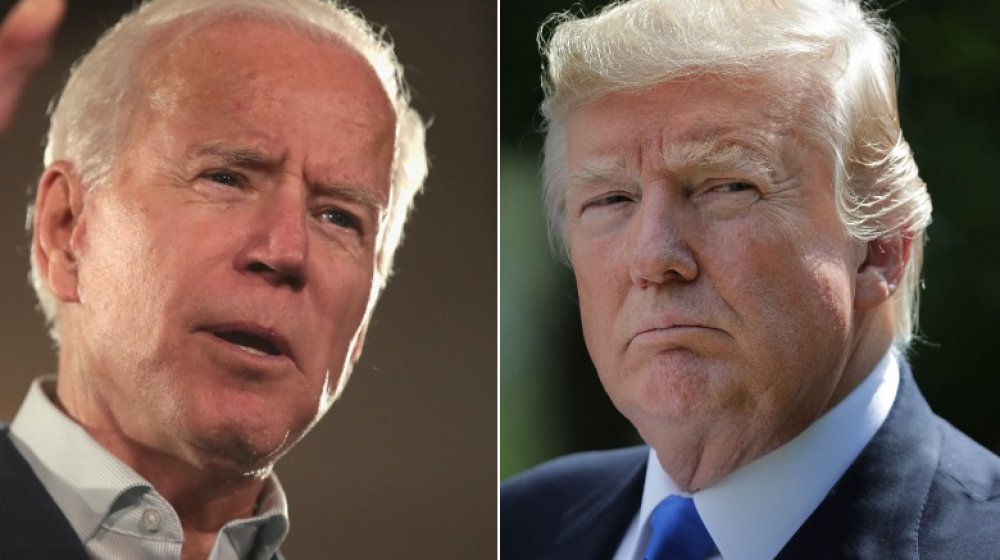 Pool/Getty Images
Why are Donald Trump and Joe Biden both "teetotalers," or lifetime non-drinkers? According to The New York Times, both candidates grew up in families that had issues with alcoholism. One of Biden's favorite uncles, whom he lived with growing up, was reportedly a heavy drinker. Biden has dealt with plenty of family tragedy, and his son, Hunter Biden, has famously dealt with addiction issues as well. "There are enough alcoholics in my family," Biden said in 2008, per Marie Claire. 
As for Donald Trump? In an intimate 2015 interview with the Daily Mail, the then-presidential candidate spoke about the difficult life of his older brother, Fred, who died in 1981, at age 43. Trump said his brother was a "great guy" and had the "best personality, much better than mine — the 'best-looking guy,'" according to the outlet. But Trump also noted that Fred had a problem with alcohol. Apparently, he "had a very, very, very tough life because of alcohol," Trump explained. "But it just broke my heart the way he died," Trump added, as Fred's death was apparently brought on by his struggle with alcoholism. "This is why I don't drink, ever. I just don't do it," Trump said. "Fred told me not to, and I saw what happened to him when he didn't follow his own advice."
It's interesting that in an election essentially defined by division, Donald Trump and Joe Biden actually have something quite meaningful in common. 
If you or someone you know is struggling with substance abuse and mental health, please contact SAMHSA's 24-hour National Helpline at 1-800-662-HELP (4357).