The Real Reason Eric Church Always Wears Sunglasses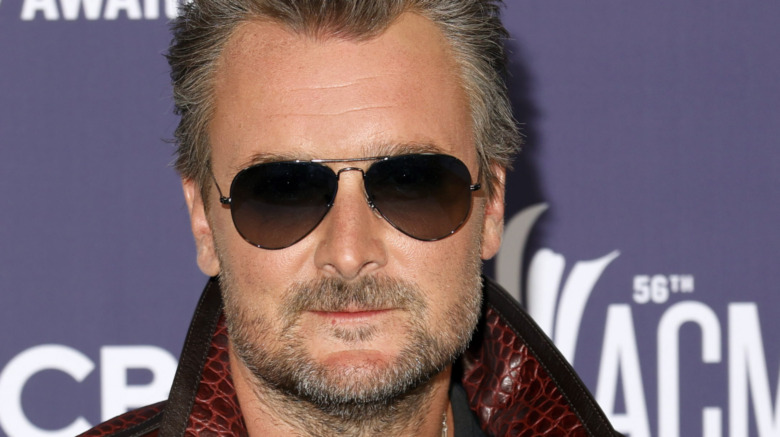 Brett Carlsen/acma2021/Getty Images
Eric Church has been performing for big shows and mass audiences ever since his breakthrough album Sinners Like Me was released in 2006. Now, with almost ten different albums under his belt and close to 20 of his songs making Billboard's Top 10 hit list, Church is definitely considered one of the most successful country singers from the mid-aughts. 
While he has continued to make Grammy-nominated music, he also has done a good job of branding himself as a laid-back kind of guy — all with a little help from his go-to signature look. The "Bunch of Nothing" singer always rocks sunglasses when he performs on stage, so much so that he is almost unrecognizable without his aviators. However, many fans are curious to know if the signature look is just for show or for some other, deeper reason. 
We decided to do some digging and get to the bottom of why this country star is always seen in his shades. Is it because he wants to put on a persona? Or is it because they actually help him perform? Keep reading to find out why Church wears his go-to aviators on and off the stage. 
The sunglasses were never part of Eric Church's plan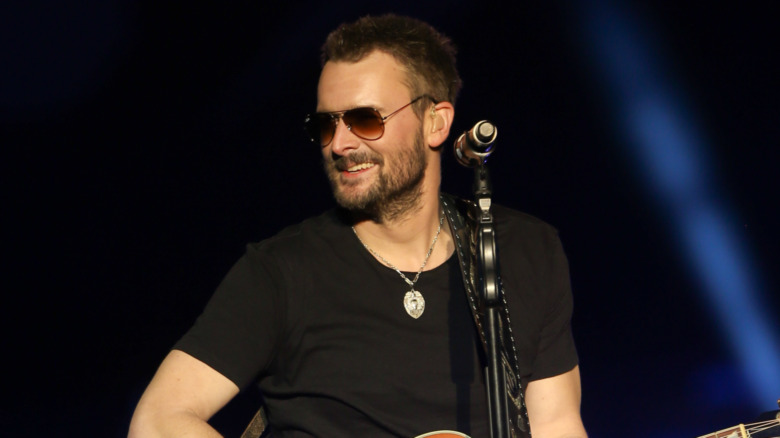 Shutterstock
In an interview with Mike Adam On Air, Eric Church opened up about the real reason he's seen always sporting his shades inside. He revealed that it's not to "come off as a jerk," but really it's due to him not being able to wear contacts while performing and that his sunnies are actually prescription.  
"I wear contacts and my eyes don't do real well with lubrication, but we would play all these bars and clubs," he explained. "And the [stage] lights — I'm 6'3" — so they would bake my contacts and they'd fall off. So I ended up being blind on stage." He continued, "Someone suggested glasses and it worked. What's funny is it stuck. It was never thought out. We never thought, 'This would be good.' We actually at the time thought, 'This is not good' ... but it ended up being a thing."
Church's signature look now is something he says gets him hyped for shows and concerts. "I kind of go into a mode pre-show, when I put the hat and shades on," Church told Taste of Country. "It's almost like you've got your uniform on and it's game time. I start to get more focused on what the show is going to be, and just really let the energy exchange happen." The "Springsteen" singer commands an audience every time he gets on stage, so we think he should definitely keep wearing his sunglasses.