Teen Mom OG Star Catelynn Baltierra Just Gave Fans A Hint At Her Baby's Name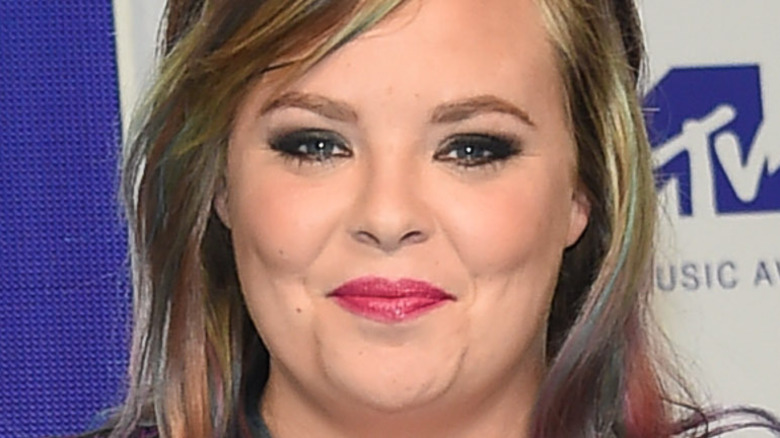 Shutterstock
Catelynn Baltierra and her husband, Tyler Baltierra, are two of the most well-liked stars on the Teen Mom OG series. The couple has lived a good portion of their lives in front of the camera, first appearing on MTV's hit show 16 and Pregnant in 2009, where they made the hard decision to give up their daughter Carly for adoption. The show used to televise the pair's visits with Carly after she was adopted, but eventually,Carly's adoptive parents asked MTV to stop filming. 
Still, Catelynn and Tyler have gotten to see their daughter annually, but that wasn't the case in 2020. "We didn't see her [in 2020] at all because of the pandemic. Like nobody was, you know, flying anywhere, going anywhere," she told In Touch. "So yeah. That never happened. That didn't happen this year." However, the pair did still get to catch a glimpse of Carly. "We've done a FaceTime, like Novalee and [Carly] FaceTimed. But yeah, like visit-wise, it's just kind of up in the air until things calm down or people are vaccinated," she revealed. "Everything in the world is up in the air right now."
Catelynn and Tyler welcomed daughter Novalee in 2015 and then daughter Vaeda in 2019. In February 2021, the couple announced that they were expecting their fourth child together on Instagram. "This rainbow was worth the storm. Baby Baltierra coming soon," she wrote alongside a photo of Novalee and Vaeda. 
Keep scrolling for more details on the baby's name.
Inside Catelynn Baltierra's new clue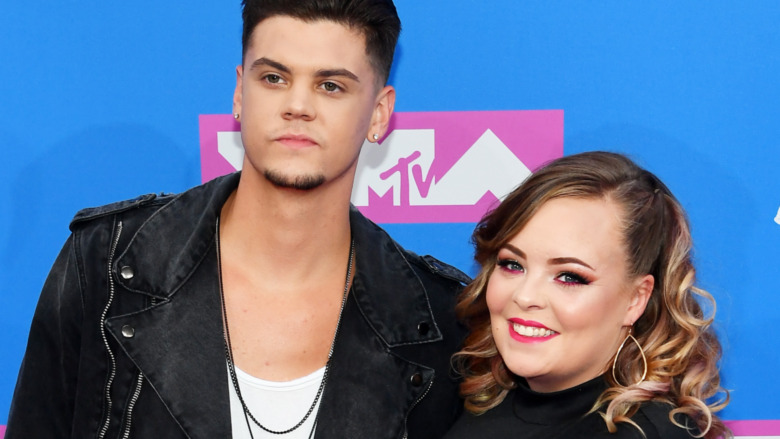 Nicholas Hunt/Getty Images
Catelynn Baltierra gave a massive hint as to what her bundle of joy's name might be. The reality star already announced that she was having another girl, and in April 2021, she shared a tweet about micro-blading while dropping a hint on the baby name. "If you are interested in micro blading with me you can call this number 3136714524 and ask to be put on the waitlist with me," she shared. "I look forward to seeing you after baby R is born!! We will start scheduling appointments when she is in the world." 
Several fans took to the tweet to congratulate the reality star on her latest business endeavor, but we can't help but try and guess what "baby R" might stand for. According to Baby Names, Vaeda means "Eternal Knowledge and is of Indian origin. Vaeda is a name that's been used by parents who are considering unisex or non-gendered baby names –baby names that can be used for any gender." 
Novalee, on the other hand, means "New Field and is of American origin." It does not seem like Catelynn and Tyler are following along with a theme (like the Kardashian K's), and the meanings of her kids' names are pretty different as well. One thing we do know is that the name is likely to be a unique one since the other two kiddos don't have very common names. 
Maybe we'll take a guess on Rani after Kate Hudson's adorable daughter — you never know!