Why Joe Exotic Is Accepting An Offer From Carole Baskin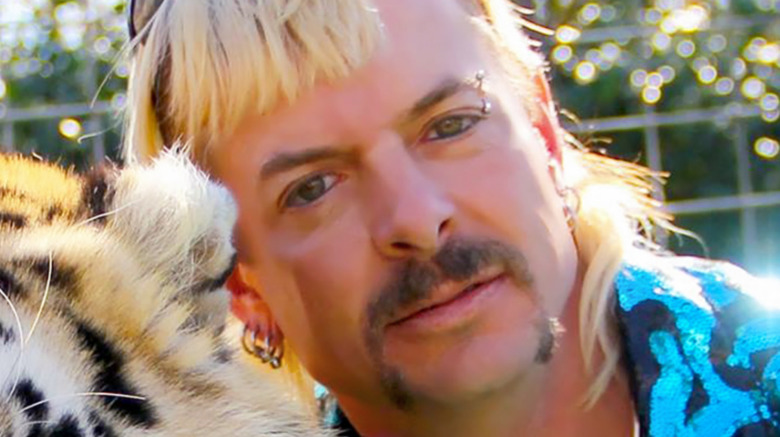 Netflix
"Tiger King: Murder, Mayhem, and Madness" star Joe Exotic received a lengthy prison sentence in January 2020 after a jury found him guilty in a case that involved 21 counts. New reports suggest that he may be on the brink of gaining freedom. In order to achieve that, however, he would need to coordinate efforts with his "Tiger King" nemesis, Carole Baskin.
The New York Post detailed that the reality television personality, whose real name is Joseph Maldonado-Passage, received a 22-year prison sentence. That sentence came after authorities charged him with killing a handful of tigers and putting together a plan to have Carole killed. He testified during his trial and tried to persuade jurors that he was never serious about that hit-for-hire plan though.
Authorities alleged that Exotic killed five tigers in his animal park in order to open up room for other animals. He admitted to killing the animals in October 2017. However, he told KOCO it was to save them from experiencing further pain. In November 2017, Exotic allegedly hired someone to kill Carole. The two had a long-running feud, and he even hired someone to do the deed. Unfortunately for him, the person he "hired" was an FBI agent.
Exotic hoped to receive a pardon before President Donald Trump left office in January, but he was left disappointed and enraged (per Twitter). Now, there is a surprising offer that could get him out of jail sooner rather than later.
Carole Baskin and Joe Exotic remain skeptical of one another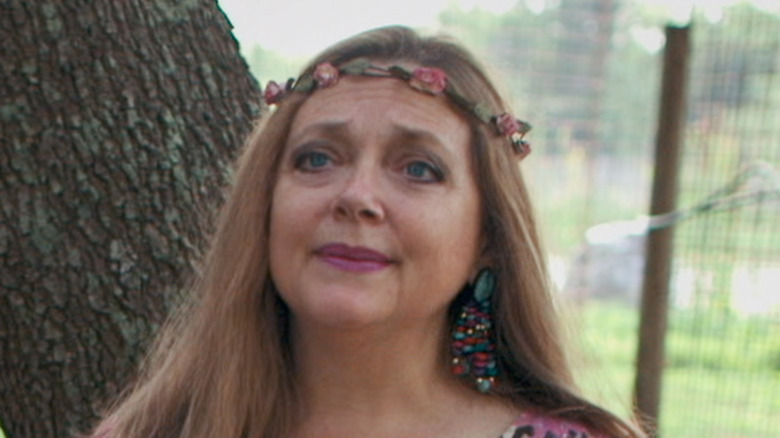 Netflix
On April 4, 2021, Carole Baskin's husband Howard Baskin told The Mirror he'd be willing to help Joe Exotic gain his release from prison. First, however, Exotic would need to support the Big Cat Public Safety Act. "If he were to do that, it might position him in a positive way for a pardon. And frankly, I might be willing to go and urge at least a reduction in his sentence," Howard detailed.
As Exotic revealed to ET Online on April 21, he's open to the offer. He's not ready to put his distaste for the couple aside though, as he said, "It is time for Carole and Howard to put up or shut the hell up because I'm accepting their offer." Exotic ranted, "This wasn't really about murder for hire or shooting five tigers — this was about exploiting Joe to support Carole's agenda ... They need to stay the hell out of the news with all their crap just to get their name in the paper because I just called their bluff."
Exotic said he'd testify in front of Congress if needed, but he challenged the Baskins to prove they're sincere. In response, Carole said he'd have to follow through first. If he came through, she explained, she'd "want him to be rewarded for having done the right thing." Could this lead to the prison release the "Tiger King" star so desperately wants? The offer's on the table, but further negotiations are clearly necessary.