What The Grim Sleeper's Wife Is Doing Today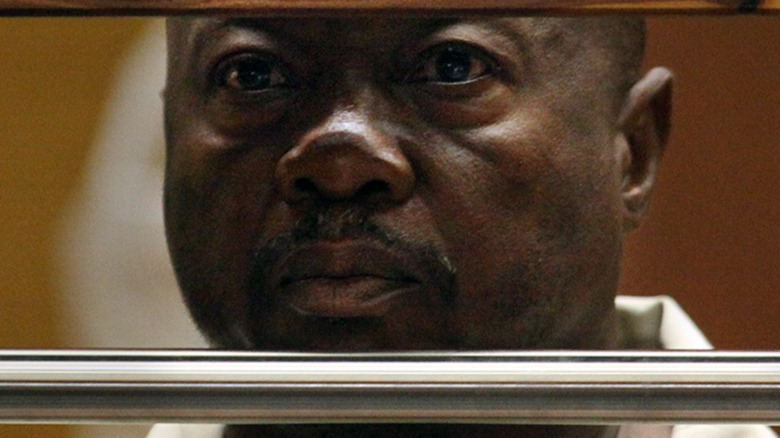 Pool/Getty Images
If you love watching true crime documentaries (or if regular reality TV is just not your speed), you have definitely heard of The Grim Sleeper, who was featured on "ID's People Magazine Investigates: The Grim Sleeper." The doc followed convicted serial killer Lonnie David Franklin Jr., who was responsible for at least 10 murders and one attempted murder in Los Angeles, California, according to Cinemaholic. Franklin is known as the "grim sleeper" because of the 14-year gap between his crimes between 1988-2002.
When Franklin was not committing crimes, he was a backyard mechanic, according to ABC7. People are not sure how he developed his murderous streak, and Noah Thurmond, a former co-worker of Franklin's told the outlet in August 2016 that Franklin was "pushy," but saw nothing that would make him believe he was a killer. "He was always advising me. I didn't want his advice. But as a person he was just normal," he said.
Fernando Cole knew Franklin for over 40 years and described an incident that seemed to be a pivotal moment. "His first wife, she was on crack cocaine," he said. "He had given her money to pay the bills but he came home, there were youngsters in the house and she was there smoking crack. That's what set him off."
That marriage didn't last, but Franklin's second wife Sylvia stood by his side through it all and reportedly had no idea who her husband really was. Keep reading to see what she is up to now.
Sylvia Franklin stays out of the spotlight
Lonnie and Sylvia Franklin were married for over 30 years and son Christopher, and a daughter, according to Cinemaholic. Sylvia was a "loyal" and "devoutly Christian wife" and visited her husband in jail before his conviction, per ABC7. Once Lonnie was convicted in 2016, her support appeared to run out as she and her family disappeared from the public eye.
Sylvia worked in a California legal office and allegedly owned a few rental properties in South Los Angeles, per the Los Angeles Times. She also served as an administrative secretary / confidential senior clerk to the superintendent and board in the Inglewood school district. It seems like Sylvia is still working for the district and is reportedly not hurting for money.
Although Lonnie and Sylvia had an up-and-down marriage, they still came together during tough moments. When her mother was sick, Lonnie brought her to the doctor. "His family didn't want for nothing," neighbor Yvette Williams told the Seattle Times. "No one in the world is an angel. But I could admire someone for taking care of his family and his home."