What You Don't Know About Andrew Rannells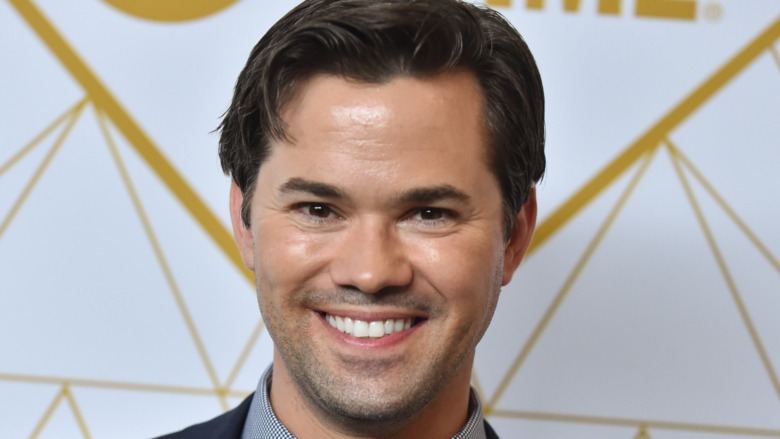 Shutterstock
Maybe you know him best as Elijah from HBO's "Girls." Or maybe you first saw him on Broadway in "The Book of Mormon." However you first became acquainted with Andrew Rannells, chances are good there are things you don't know about the multi-talented actor and performer. Despite his long (and we mean long) list of credits and accolades, — which includes two Tony nominations and a Grammy win, by the way — Rannells is still humble.
In interviews, Rannells has shared insider stories from the set and explained how he fights back against gay stereotypes. He has also been clear that his success didn't exactly come overnight — a story he breaks down in detail in his 2019 memoir, "Too Much Is Not Enough." 
"A lot of [the book] is from the time I moved to New York in 1997 to the time I got my first Broadway show, which I was in the chorus of "Hairspray" in 2005," Rannells told co-star Regina Hall in Interview. "When I got that job, it was a dream come true. That was it. I just wanted to be on Broadway. Sometimes those jobs get overlooked. People probably think my career started with "The Book of Mormon," but that was in 2011, and I moved to New York in 1997. So it was like, 'Well, I was still living. I was still doing things.'"
Rannells learned a lot in his early years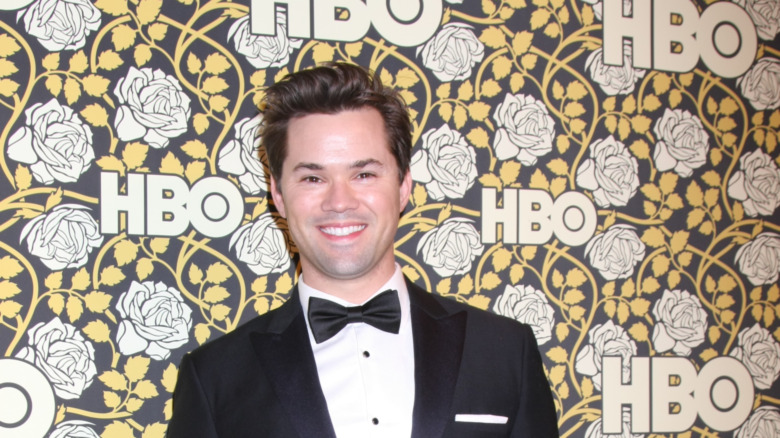 Shutterstock
Andrew Rannells left his hometown of Omaha for New York City right after high school, but it took a while for his career to get fully off the ground. And his memoir, "Too Much Is Not Enough," actually started with a personal essay in The New York Times, he told Regina Hall in Interview, which led to more essays about his life before he became the huge star he is today.
In his book, Rannells writes about portraying the "repugnantly flamboyant James" in "Pokemon" at Radio City Music Hall, which he hated. "I would happily have played a gay character, but I was not going to play it for laughs and I was not going to play a stereotype," he said, per Vanity Fair. 
One thing that's for sure about Rannells, it's that he's not afraid to take a risk — like improvising the "Your dad is gay," line in Girls, as he explained in an interview with Vulture, or in one disastrous audition "I went for the big high note in that song, and I made the bold choice to just scream," he recalled. "So I did this weird like [screaming], and I thought it would be cute to pull it off." Unfortunately, it wasn't.
But, as Rannells has said, it's the learning experiences like those that made him the actor we know and love today. 
Rannells grew up in a lot of ways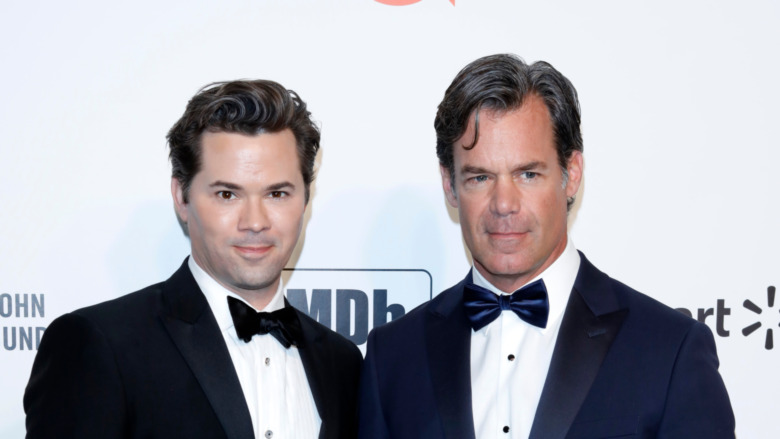 Shutterstock
Andrew Rannells has grown a lot — both personally and professionally — in the years since the period of life he described in his book. As an actor, he has made a name for himself for challenging Hollywood stereotypes of gay characters. And as for his romantic misadventures, Rannells unlocked that aspect of his life during the 2018 Broadway run of "The Boys in the Band," when he and now-boyfriend Tuc Watkins were cast as lovers.
"I remember standing next to Tuc and not knowing him super well, but looking at him and thinking, 'Ah, f*ck. This is going to happen isn't it?'" Rannells told The Daily Beast. "'We're going to be those two actors who have a showmance.'"
The showmance continued into the real world, and it wasn't even the last time the pair were cast as love interests. In Season 2 of "Black Monday," Watkins was cast as a politician secretly hooking up with a young, married stockbroker played by Rannells. Rannells has said that while it's easier in some ways to film a sex scene with your actual boyfriend, in other ways it becomes even more awkward. "I thought I wonder if they're thinking 'So that's what it looks like. That's what they do at home'," he said in an interview with Seth Meyers. In any case, it sounds like we can expect Rannells — and his career — to continue to grow.