The Truth About John Stamos' Relationship With Mary-Kate And Ashley Olsen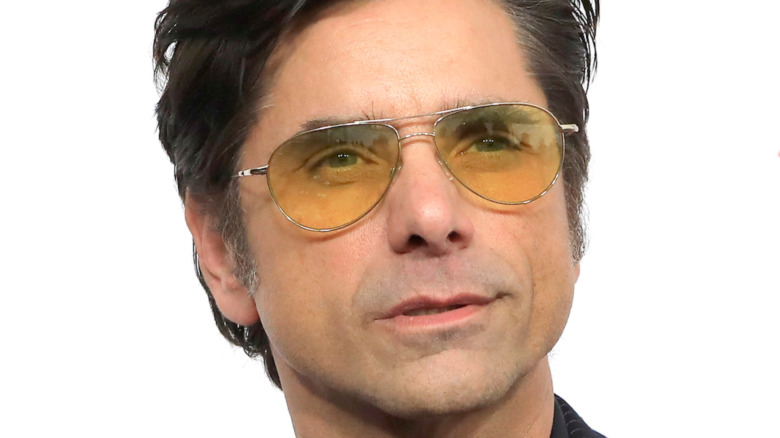 Shutterstock
Uncle Jesse and Michelle were thick as thieves on "Full House," getting up to all sorts of fun and mischief together — but behind the scenes, it was a whole other story. The charming and boisterous Uncle Jesse (John Stamos) shared plenty of sweet moments with each of his three nieces, but he always seemed closest with the youngest Tanner, Michelle (Mary-Kate and Ashley Olsen). Remember when he made a rockstar out of the pint-sized princess or when they exercised together in fabulous '80s workout gear (hello, leotard and headband)? Yes we all wish we had an Uncle Jesse. But in real life, Stamos was less than impressed with his television nieces. 
The Olsens, who alternately played the adorable Michelle for all eight seasons of "Full House," were just six months old when they were cast on the popular sitcom. Despite having a "baby wrangler" on set to perk them up, apparently the girls just couldn't hold back the tears sometimes — which apparently annoyed Stamos so much he tried to get rid of them, per Screen Rant.
John Stamos originally tried to get the Olsens fired from Full House
Mary-Kate and Ashley Olsen's "baby wrangler"/studio teacher, Adria Later, told The Washington Post back in 1991 that the twins "were very calm babies. They were smiley babies. They weren't real hyper and they weren't lethargic either." But according to John Stamos — they cried a lot — despite being the only pair of twins who didn't during auditions, per Screen Rant.
News of Stamos attempting to get the girls fired from "Full House" made the news in 2015, almost 20 years after the show wrapped up, on Lifetime's "Unauthorized Full House Story" doco-drama. When the actor was asked about that particular detail on the show — he said it was "100% accurate," per MTV. During the 2015 Television Critics Association press tour, Stamos said, "It's sort of true that the Olsen twins cried a lot. It was very difficult to get the shot. So I [said], 'Get them out!' That is actually 100 percent accurate." But after getting rid of the Olsens, producers found that their replacement babies weren't much better. "They brought in a couple of unattractive redheaded kids. We tried that for a while and that didn't work. [Producers] were like, all right, get the Olsen twins back. And that's the story," Stamos said.
So while Stamos wasn't the biggest fan of the Olsen twins when they were just bubs, how does he feel about them these days as adults? 
John Stamos said he was 'disappointed' Mary-Kate and Ashley didn't return for Fuller House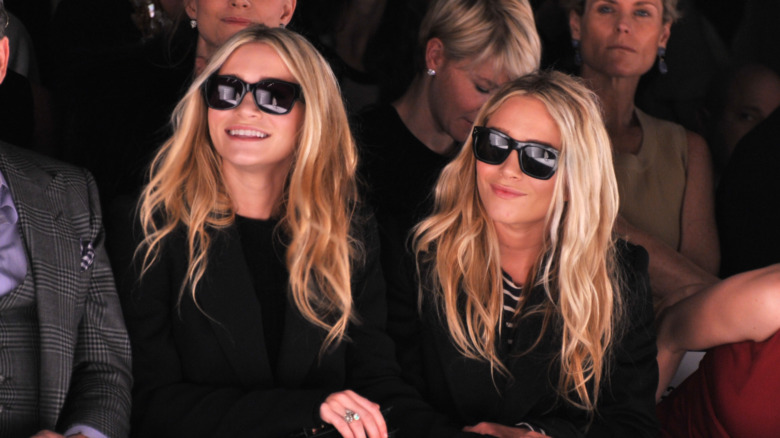 Stephen Lovekin/Getty Images
After John Stamos announced "Fuller House" on "Jimmy Kimmel Live!" he was rather skeptical of Mary-Kate and Ashley Olsen's return — perhaps to the extent of not even telling them. Mary-Kate told Women's Wear Daily they didn't know about the reboot until they saw Stamos on the talk show. "I guess we're going to talk to the creator and see what's happening," she said. 
A clearly annoyed Stamos later tweeted: "I call bullshit," per MTV.  After some to-ing and fro-ing, where Stamos even raised hopes by saying he had a "sweet talk" with the girls — it sadly wasn't meant to be. After "Full House" execs confirmed the twins were out, Stamos tweeted that he was "heartbroken."
Since then, there hasn't been much talk on the Olsens' "Full House" departure until Stamos shed some light on April 15, 2021. "You know, we were disappointed, but we understood," he said on "Watch What Happens Live with Andy Cohen." 
"I remember Lori [Loughlin] saying to me, 'They won two or three CFDA Awards. That's like winning two or three Oscars. If you won three Oscars, would you come back and do this?' I was like, 'Eh, maybe not.'" 
While it's unclear whether the Olsens are on bad terms or not with Stamos, we certainly hope they've designed some swish The Row suits for their stylish Uncle Jesse!