Inappropriate Outfits Meghan McCain Has Been Caught Wearing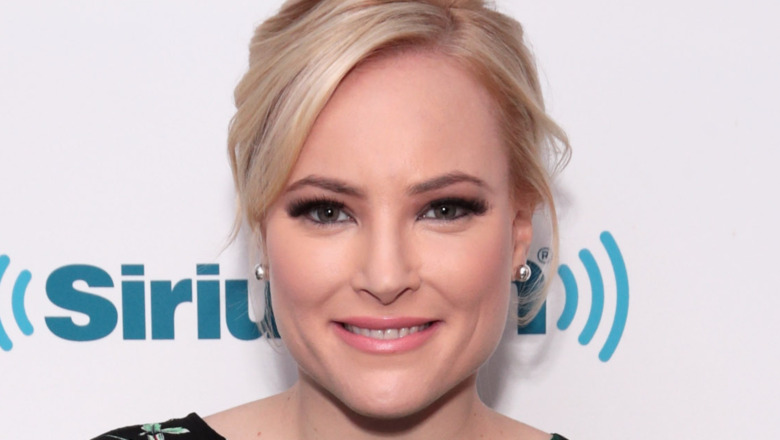 Cindy Ord/Getty Images
These days it's political pundit Meghan McCain's hair that's getting all of the attention. Since making her return from maternity leave after giving birth to her first child, a daughter named Liberty, she and her hairstylist have been experimenting with some new looks, much to the chagrin of many fans of "The View." 
"What in the Meghan McCain hair stylist is going on here?" one Twitter user penned. Meanwhile, another Twitter user responded to a The Cut article about whether McCain's hairstylist was trying to sabotage the pundit. "Carmen Currie has Meghan McCain looking like she's auditioning to play Nisi in a B.A.P.S. remake," the tweet reads, "but we're supposed to believe that she's NOT trying to 'sabotage her via her hair' #TheView."
Alas, it not always been that way. In fact, it's her outfits that used to raise eyebrows. Keep reading after the jump to learn about the times McCain landed in the hot seat for her fashion choices with some claiming that her wardrobe was "inappropriate."
Meghan McCain's wedding dress woes...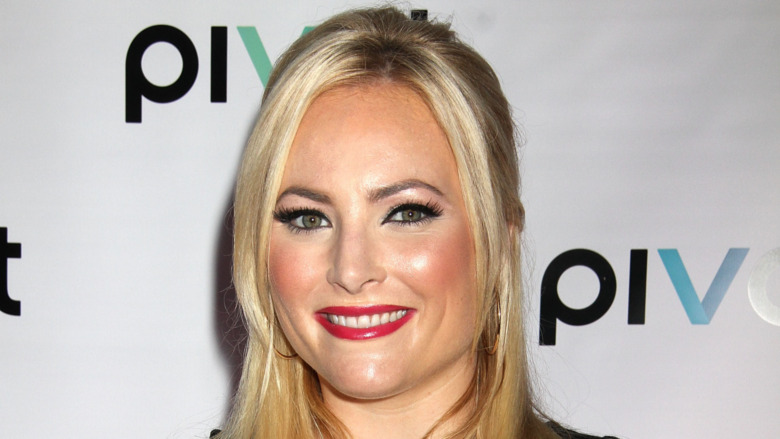 Laura Cavanaugh/Getty Images
Suffice to say, many little girls dream about their wedding dress. But they probably don't envision said dress getting caught smack dab in the middle of a high-profile sexual assault scandal just one month prior to their big day. Unfortunately, that's exactly what happened to blushing bride Meghan McCain.
As you may recall, back in 2017 movie mogul Harvey Weinstein was outed as a sexual predator with A-list actresses like Rose McGowan and Ashley Judd coming forth and accusing the film producer of sexual harassment. But what does this have to do with Meghan McCain's wedding dress? As it turns out, prior to the scandal McCain had set her heart on a beaded and lace, light pink Marchesa dress designed by none other than Weinstein's wife of ten years, Georgina Chapman. Awkwarddd...
In true Meghan McCain fashion, however, the bride seemingly had zero qualms about wearing the dress while tying the knot to her fiance, Ben Domenech. "The scandal erupted and everybody was like, are you going to keep the dress? And I was like why should the two women designers be punished for a man's disgusting behavior," McCain recalled in an interview with People. "I just didn't wanna feel like the people who had worked there and make their livelihood should be punished as well," she explained about her controversial choice to keep the dress.
Meghan McCain wore a tank top too hot for Twitter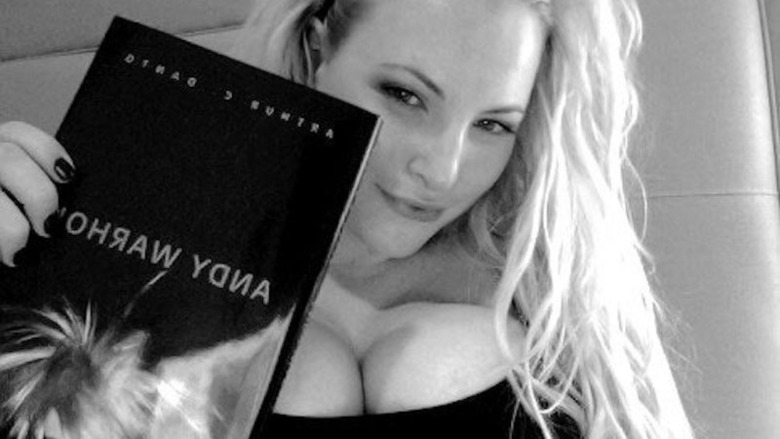 Meghan McCain / Twitter
Let's face it. Nearly all of us have been guilty of posting a thirst trap pic on the 'gram — or at least seriously thought about it. Lucky for us, however, our dads probably aren't high-profile conservative politicians.
As reported by Glamour, in October of 2009 McCain caused quite the commotion when she posted a picture of herself on Twitter enjoying a quiet evening with an Andy Warhol book while also wearing a low cut tank top that didn't leave much to the imagination. Cue the self-righteous backlash. While some were quick to shame McCain, referring to the photo as "inappropriate" and "too racy," and others even tried to slut-shame her. 
As one can imagine, McCain was "hurt" by the judgment. While she later admitted that posting the photo was a "mistake" she was adamant that the revealing tank top was her normal at-home attire.
During a 2012 interview with Playboy, McCain spoke candidly about the public's obsession with her cleavage and whether or not the clothing she wears is "appropriate". "I do get paranoid when I'm wearing low-cut dresses that somebody's going to take a picture and put it on the internet and be like, 'Meghan was showing off her breasts again,'" she confessed. "But you know, showing a little cleavage can make a girl feel sexy too. Like Jessica Simpson says, if you got it, you should flaunt it once in a while," she added.
And the same goes for her fun, new hairstyles too, okay?!