The Real Reason Anna Delvey Couldn't Star In Her Own Documentary Episode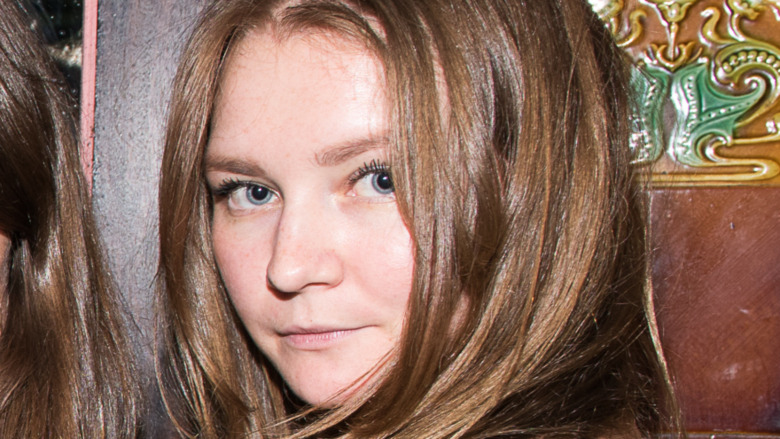 Dave Kotinsky/Getty Images
For those waiting eagerly for the Shonda Rhimes-helmed Netflix adaptation about the life and crimes of Anna Delvey, it looks like there might be a temporary balm for your anticipation in the form of a docuseries episode. As Entertainment Tonight and multiple media outlets reported on April 21, a new 10-part docuseries entitled "Generation Hustle" features an episode solely dedicated to Delvey's exploits, called "Anna Delvey Takes Manhattan."
For the uninitiated, Delvey — whose real name is Anna Sorokin — made headlines in 2018 after it was discovered that she had scammed $275,000 from friends, banks, and more in a complex, long con under the guise of pretending to be a German-born heiress after moving to New York City in 2013. In reality, Delvey was a Russian-born 20-something from a middle class background with an extensive knowledge of the elite social circles, many of them based within the art world, which she ultimately infiltrated. (After serving nearly four years in prison, she was released in February, per Insider.)
As Entertainment Tonight reported, the episode of the show, titled "Anna Delvey Takes Manhattan," covers this terrain and more — but unlike the other episodes and subjects featured in the series, Delvey doesn't make an appearance. It bears the question as to why Delvey is absent. So what's the story? Keep on scrolling to find out.
Anna Delvey is absent from Generation Hustle for a reason
As Entertainment Tonight reported in April, the "Generation Hustle" episode dedicated to Anna Delvey doesn't actually feature her interview subject — a puzzling omission, considering that other "Generation Hustle" episodes have their subjects on-camera. But according to Martha Shane, the director of Delvey's episode — there's a good reason for her absence. And that reason is Netflix.
Per a January report published by Insider, Delvey sold her life story to Netflix for the Shonda Rhimes limited series "Inside Anna," which is set to premiere in late 2021 and will feature Julia Garner as the titular character. While Delvey herself is unable to actually access the money she procured from the series, due to a New York law which mandates she pay off the banks and people she financially victimized, her deal with Netflix has, in a sense, a double penalty — with Delvey being prohibited from being interviewed in "Generation Hustle" per the contract. 
"That was initially one of the biggest challenges," Shane told ET of having to "find a way to incorporate [Delvey's] perspective given that she was in jail and she had these restrictions because of Netflix."
Despite this obstacle, Shane was able to create a workaround by asking Delvey to draw illustrations for the ep. As Shane herself told Entertainment Tonight, the drawings by Delvey "really bring her stories to life in a way that I'm not sure I've seen done elsewhere," adding to an already captivating tale.