The Real Reason Sky Left Black Ink Crew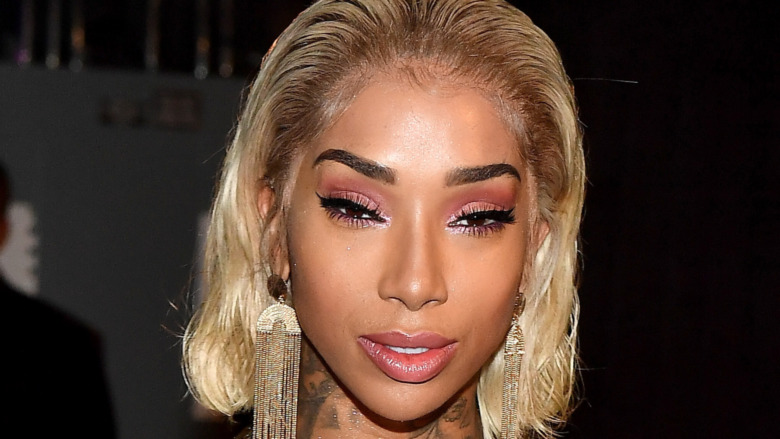 Paras Griffin/Getty Images
VH1's Black Ink Crew is more than just the average reality TV show. From its initial debut in 2012 until now, we've seen the Harlem tattoo artists endure many fights, relationships, and plot twists. More importantly, we've learned more about the cast's backgrounds, including Jakeita "Sky" Days' relationship with her sons.
In a major incident on the season 8 finale, Sky and her youngest, estranged son Dessalines (a.k.a. Des) got into a physical and verbal altercation, per Distractify. Sky accused Des of stealing from her as he came to apologize for a prior situation between them. The pair threw insults back and forth at one another, with Des calling his mom a "dumb a**." Sky fired back with expletive-filled insults, as she is heard saying to her son, "I wish I would've aborted you."
The explosive fight was too much to handle for producers, and Sky was suspended from Black Ink Crew in February 2020. Although things seem to be patched up between Sky and Des, the former's relationship with her two sons has a long way to go. Read on to get a closer look at Sky's complicated relationship with her kids.
Sky and her sons had a tumultuous relationship in the past
It was a shock to Black Ink Crew viewers everywhere when it was revealed that Sky Days is the biological mother of two sons, Des and Genesis. She gave birth to her sons at a young age and put them up for adoption. She revealed in a season 3 episode, "I always was told that you [are] always supposed to do the best for your children. I feel that I did." Her sons feel the opposite. Sky and her adult sons haven't had the easiest time reconnecting with one another after years of lost time. The tension between them is often too much and too emotional, leading to explosive arguments and tears.
Sky's eldest, Genesis, feels that Sky abandoned him and his brother, and has a hard time grappling with those feelings. In a tearful conversation with uncle Ceaser Emmanuel, Genesis said, "She raised me for six years, and then she gave me up and walked out on me. I'll never forget that."
Sky and Genesis, as of October 2020, seem to be working on their relationship since the former's suspension from the show, per Urban Belle Magazine. As for her relationship with Des, things have gotten better. In October 2020, Des spoke out via Instagram about his relationship with his mom. Dess wrote, "My mom and I are [two] different people, many ways alike and many ways different. I know my mother has as much love for me as I do her. #chillwithbs." We love to see the growth!