Why A New Commercial Starring Katy Perry, Celine Dion, And Carrie Underwood Is Turning Heads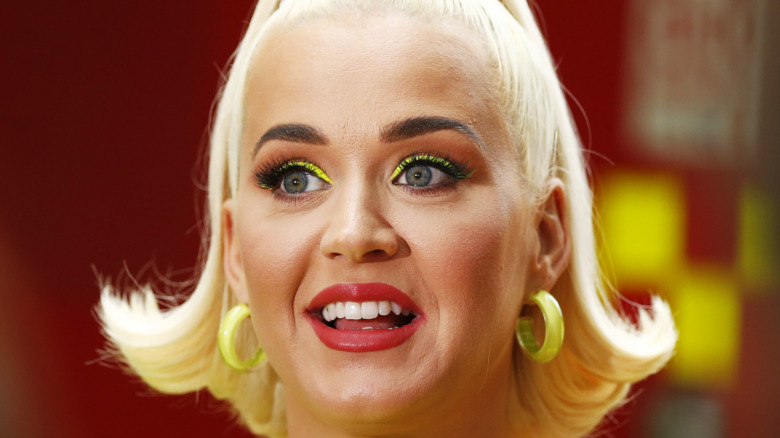 Daniel Pockett/Getty Images
If there's one thing fans love, it's when celebrities team up for something big. Whether it's a musical collaboration like The Weeknd and Ariana Grande's new remix, or an all-star cast for movies like the upcoming "Don't Worry Darling" starring Harry Styles and Florence Pugh, it's exciting to see our favorite actors and musicians come together. So when Katy Perry, Carrie Underwood, and Celine Dion starred in a new commercial in April, the internet was eager to find out what they had planned.
All three stars took to their social media accounts to promote and tease the video, with Perry tweeting, "All I gotta say is that's what you get for waking up in Vegas amirite," and the country star writing, "More info coming soon!!" The Canadian icon also shared the commercial on her Instagram, and fans quickly asked her if this meant she's going to perform in Las Vegas again following her historic decade-plus run, which ended in 2019 (per Billboard).
Keep scrolling to find out what Perry, Underwood, and Dion might be up to — and how Luke Bryan, Zedd, and Tiësto are involved.
The promo points to huge residencies in Las Vegas
Katy Perry, Carrie Underwood, and Celine Dion's new commercial is to promote the upcoming Resorts World Las Vegas hotel. The 90-second ad, which also features country star Luke Bryan and DJs Zedd and Tiësto, sees a couple waking up in their Vegas hotel room before walking out into an "Alice in Wonderland"-type place where they see Perry as a mermaid, Underwood catching butterflies, Bryan fishing, Tiësto DJing, and Zedd playing a pinball game with Dion inside.
"The concept of Stay Fabulous captures the essence of the Resorts World Las Vegas brand where guests are encouraged to embrace their individuality and create their own version of fabulous," Scott Sibella, the president of the hotel, said in a press release (per People). "With stunning visuals and special appearances from A-list entertainers, the commercial gives a peek into the incredible experiences that await when our doors open this June."
As the Daily Mail points out, Zedd and Tiësto already have scheduled residencies at the hotel when it opens in June, which is why the ad might mean Perry, Underwood, Dion, and Bryan will be joining them. Though nothing is confirmed, this would mark Underwood, Bryan, and Perry's first-ever residencies.