The Truth About Teejayx6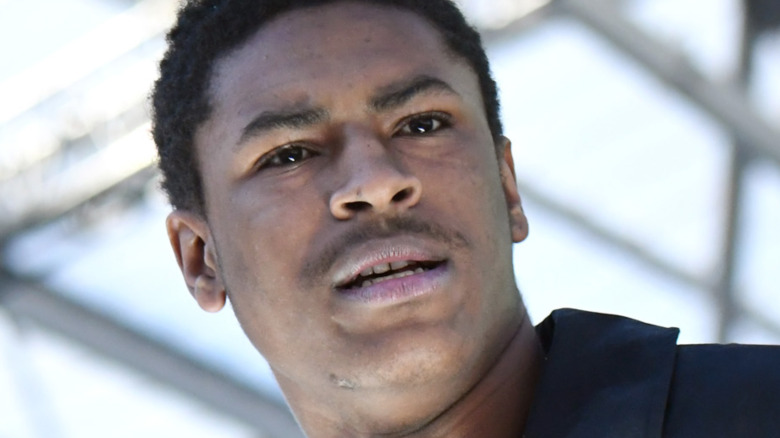 Scott Dudelson/Getty Images
If you're interested in what it takes to be a scammer, HBO has the docuseries for you! "Generation Hustle" tells the stories of 10 scammers who were willing to do anything for fortune or fame. One of those featured is Teejayx6, who not only seemed to scam his way into being a rap star, but highlights scam rap, which basically teaches the listener how to scam people and businesses in a rap song form.
While scam rap has been around for a while, Teejayx6 is credited for introducing it to a younger generation. He told Pitchfork that while others may have been rapping about it, he didn't believe they were actually scamming. He explained, "With me, you can tell that I actually live this." Teejayx6 has different songs detailing those scams, such as "Swipe Lesson" which is about pulling off a credit card scam, and "Dark Web," which details his experience with that part of the internet. For those who believe what he's doing is wrong, Teejayx6 has a different take. "I'm really helping fans out," he said. "Giving them advice, and even money if they need it." 
As for the legal aspect, the Detroit native doesn't seem too worried. "Even if I was under investigation, there is no proof," he told No Jumper. "I could be saying all this. It could be a lie. It could be entertainment." What is believed to be just "entertainment" was the rapper's 2019 presumed fake "arrest" onstage of his LA show. Even fans never know what Teejayx6 has up his sleeve!
Teejayx6 has been scamming since he was a kid
Rapper Teejayx6 says he began scamming at age 7. He told No Jumper that he would sell bags of parsley as marijuana. He decided selling drugs wasn't his thing though. "Everybody scams in Detroit to be honest, it's a trend," he told Flaunt. "I never really sold any weed, my whole thing was scamming." As he got older however he became more interested in fraud. The "Generation Hustle" star explained (via Wired): "I saw it as just little money at first. But once I started seeing people making money with it, I started investing time into it."
In the beginning he used Twitter and Instagram to scam by pretending to sell items as a warehouse. "I'd put a fake location in the bio area thing, then I'd post Xboxes, TVs, everything on there – sell them for like $500," he revealed. 
He eventually moved on to credit card and identity theft but his real passion was always rapping. So he figured to be successful he should rap about what he knows. "My early music was trash because I was lying about drug-dealing and stuff I wasn't really living," he told Pitchfork. It appears that rap also helped Teejayx6 finally move on from scamming. "I was able to stop when music took off," he told Flaunt. "It's old, been did that." 
The new father recently chose to take a break because he was "unmotivated" during the pandemic, but that he can't wait to be performing again.