Kamala Harris' Husband Is Now Going By His Full Name. Here's What We Know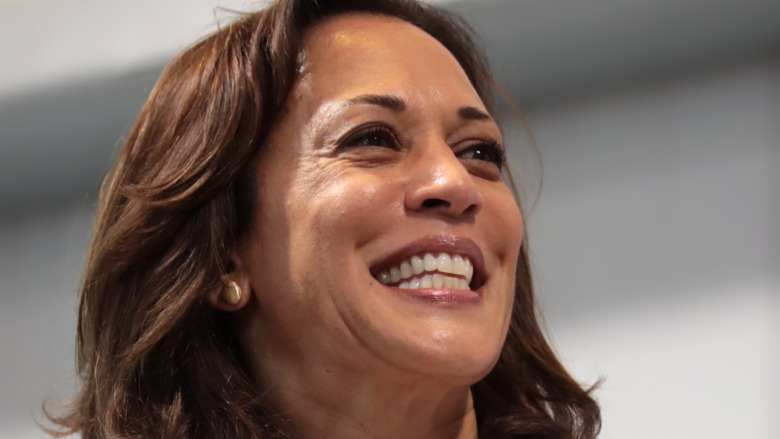 Shutterstock
Vice President Kamala Harris' husband made history alongside her by becoming the first second gentleman in American history. Much like the second ladies before him, that means he will assume some role in the White House, taking on causes that mean something to him and speak to his skill set. Back when Dr. Jill Biden was the second lady during the Obama administration, she advocated for military families and raised awareness about the importance of community colleges in America, all while continuing to work as a full-time English professor. 
Harris' husband Doug Emhoff is also continuing to work, despite his wife being the veep. With his background in law, Emhoff will, according to the White House, "devote his time to the causes of justice, equality, and human rights" all while maintaining his job as a law professor at Georgetown University Law Center. (He quit working at his California law firm after the inauguration, per The New York Times) 
"I am working full time. I'm teaching, I'm learning. As second gentleman, I'm taking every opportunity I can to educate myself," Emhoff told People in March 2021. "So, it's not just going to the library and the national galleries, it's also taking advantage of the experts in administration, learning issues, so when I'm out here advocating, I know I'm up on the issues."
He added that law students got over him being second gentleman right off the bat, but that didn't stop him from making a major change to how people address him. 
The second gentleman has a different "persona" now
Drew Angerer/Getty Images
While on the campaign trail, Kamala Harris' husband was referred to as "Doug" Emhoff, for no explicit reason, though it could be assumed it was to make him seem a little less elite and formal to American voters. In April 2021, however, Politico reported that he decided that he would henceforth be referred to as Douglas Emhoff, which is his full name but a little more buttoned-up than "Doug" or Dougie." 
His name, per People, has been changed across the board, on his social media accounts, his faculty page at Georgetown University, on the White House website. A source close to the White House said it really wasn't a big deal and that his full and abbreviated name meant all the same to him — and closer to his behind-the-scenes personality. "The goofiness is a bit of a persona. He actually is a very serious person," the source told Politico.
Emhoff seems dedicated to doing whatever he can to bolster his wife's political career. He told People in March of leaving his law firm to move to D.C., "I do miss it. I did it for 30 years, I thought I was good at it and successful, but what an opportunity, if I'm gonna leave to be able to be in this administration, and also to support my wife. I mean, she's the first female vice president. I'm so proud of her." What's in a name anyway?