Inside The Dramatic Transformation Of Douglas Emhoff, Kamala Harris' Husband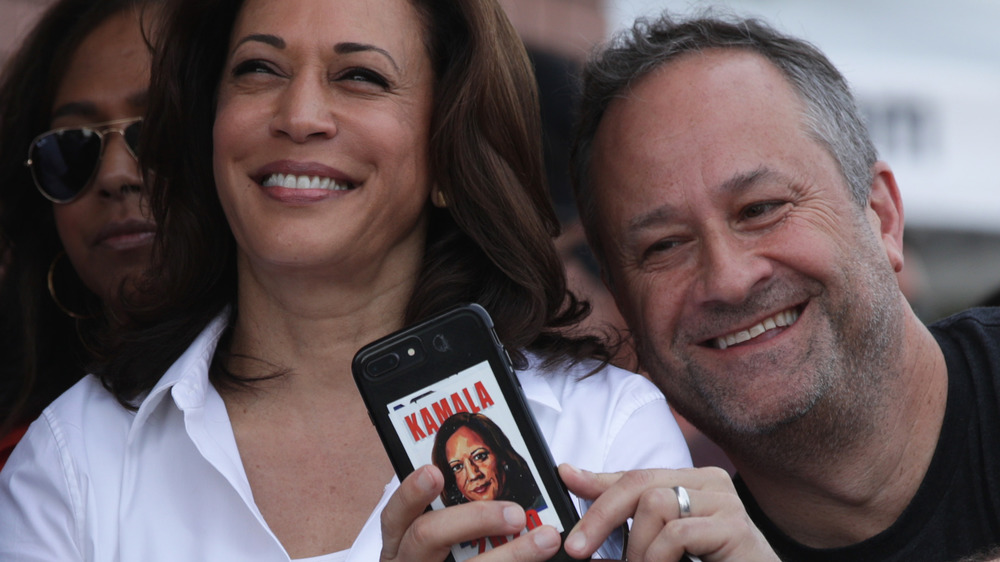 Alex Wong/Getty Images
Second gentleman-elect Doug Emhoff is proof that behind every great man there's a great woman. Emhoff knows this all too well, considering his wife, Kamala Harris, will be the first woman and person of color to hold the position of Vice President of the United States. Thankfully, Emhoff has no problem letting his better half shine, despite his dignified resume.
Aside from being Harris's support system, Emhoff works as an entertainment lawyer — and an impressive one at that. As noted in The Hollywood Reporter, Emhoff graduated from USC's Gould School of Law, and he kicked off his career in entertainment law working for the firm Belin Rawlings & Badal. "That was my shot to not only build my own practice but also to break into the field," Emhoff told the outlet. There he worked on high-profile cases, including representing a video rental store that was in a dispute with Fox. After developing some street cred in the entertainment law arena, he opened his own law firm in 2000, but it was later acquired by another firm in 2006, according to THR. Emhoff continued to grow at the firm until he left in 2017 and moved to DLA Piper where he could split his time between California and Washington, D.C. for reasons you can assume. "With all this other stuff that's happening in my life right now, it's great to have [my practice,] because it's something that I love and I'm good at," he told THR. Keep scrolling for more details about the Emhoff's transformation to second gentleman.
What Doug Emhoff's life looked like before het met Kamala Harris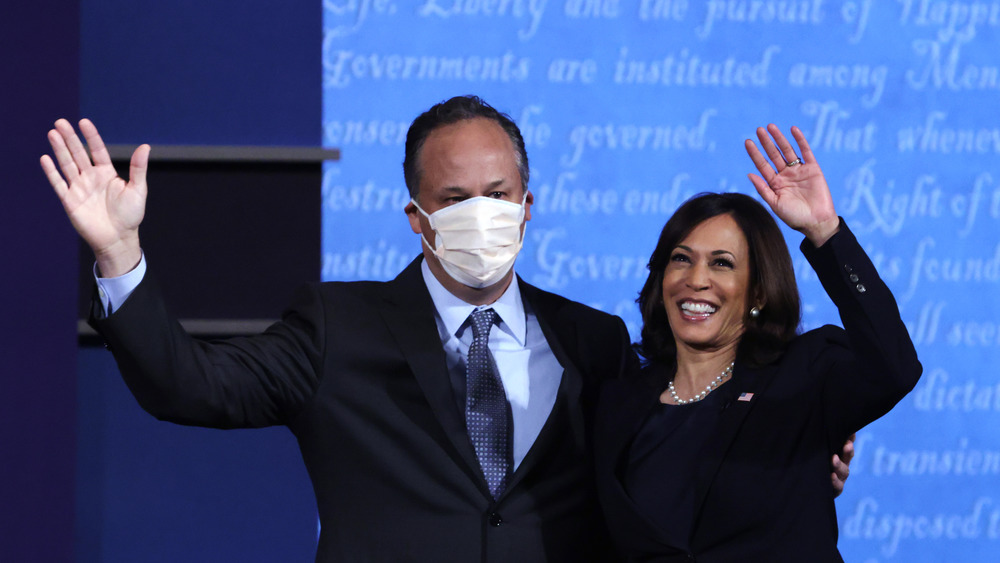 Alex Wong/Getty Images
In addition to growing in his career, Doug Emhoff's familial goals changed once he met Kamala Harris. Before Emhoff was linked to the fellow lawyer, he was married to his first wife, Kerstin, for 16 years, according to Marie Claire. Together, the exes share two children, Cole and Ella. Emhoff went on to meet Harris in 2013 after being set up by a mutual friend, and the two instantly hit it off. Luckily, Emhoff's kids approved of Harris, who they now call "Momala." In a letter for Elle magazine, Harris wrote, "Cole and Ella could not have been more welcoming. They are brilliant, talented, funny kids who have grown to be remarkable adults," adding, "I was already hooked on Doug, but I believe it was Cole and Ella who reeled me in." 
Additionally, Emhoff's ex-wife also admires Harris and they're actually quite close. "Kerstin and I hit it off ourselves and are dear friends," Harris shared in her letter to Elle, adding, "We sometimes joke that our modern family is almost a little too functional." As SFGate reported, Emhoff and Harris got married in 2014 during an intimate ceremony with family and friends.
Since the couple said "I do," Emhoff hasn't had any reservations about the commitment to support his wife, telling Marie Claire, "Our relationship and the way I roll, my whole life has just been to support the people I love unequivocally, and they support me."
Doug Emhoff made big changes to support Kamala Harris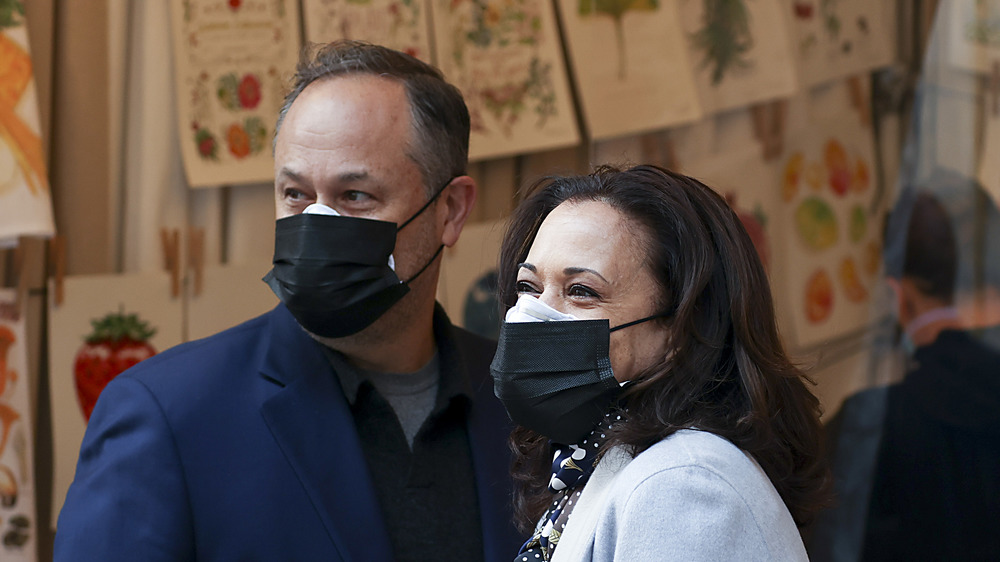 Tasos Katopodis/Getty Images
Doug Emhoff dropped everything to support Kamala Harris in the 2020 election. After joining a new law firm to split his time, he decided to go full throttle with his wife and as The New York Times reported in August 2020, he took a leave of absence to support her on the campaign trail. Despite sacrificing so much, Emhoff was thrilled to be on Harris' journey to the White House. "This is a new experience for Kamala and me, but our family is having so much fun crossing the country and meeting people from every walk of life," Emhoff said to the Associated Press in 2019. "It's amazing to see so many people get to know the Kamala I love." Following Harris and President-elect Joe Biden's win, Emhoff took to Twitter to congratulate his wife, writing, "so proud of you," on a photo of him giving her a big hug after hearing the news.
Now that Emhoff will soon officially be the first second gentleman of the United States, his role in office will be like none other than we've seen before. Stating the obvious, Emhoff told Marie Claire ahead of the election, "I would be the first guy to hold this role." Even so, he professed that he's just like everyone else... you know, aside from being married to the most powerful woman in the country. "I'm just a guy. I'm not a politician," he told the outlet, adding, "I'm a lawyer; I'm a guy; I'm a dad."