The Real Meaning Behind Kamala Harris' Secret Service Code Name
Al Drago/Getty Images
"What's in a name?" Kamala Harris has chosen her Secret Service code name, and the meaning behind her pick is inspiring! As Democratic candidate Joe Biden's running mate in the 2020 presidential election, it's a rite of passage for vice presidential candidate Harris to pick out a code name that the Secret Service will refer to her as if elected. According to CNN, White House officials choose their code names from a predetermined list approved by the White House Communications Agency (so no, you wouldn't be able to write in, say, "Blue Steel").
Additionally, officials often choose code names or call signs that have personal meaning to them. And family members get code names as well, since they will be under Secret Service protection too, and typically choose names beginning with the same letter. For example, Joe Biden, the Democratic nominee, is still using his code name from the Barack Obama years: Celtic, with Jill Biden still going as Capri, per CNN. Meanwhile, Donald Trump, who Biden is facing in the November 2020 race, goes by Mogul, ever-appropriate given his real estate background. Meanwhile, First Lady Melania Trump — a former model — goes by... Muse. Catching on? 
So what will Kamala Harris' code name be if elected? According to The Hill, the California senator made her choice in August 2020 and the choice was: "Pioneer." Has a nice ring to it, no? Scroll down to see the amazing meaning behind her pick. 
Kamala Harris' code name is a nod to her place in history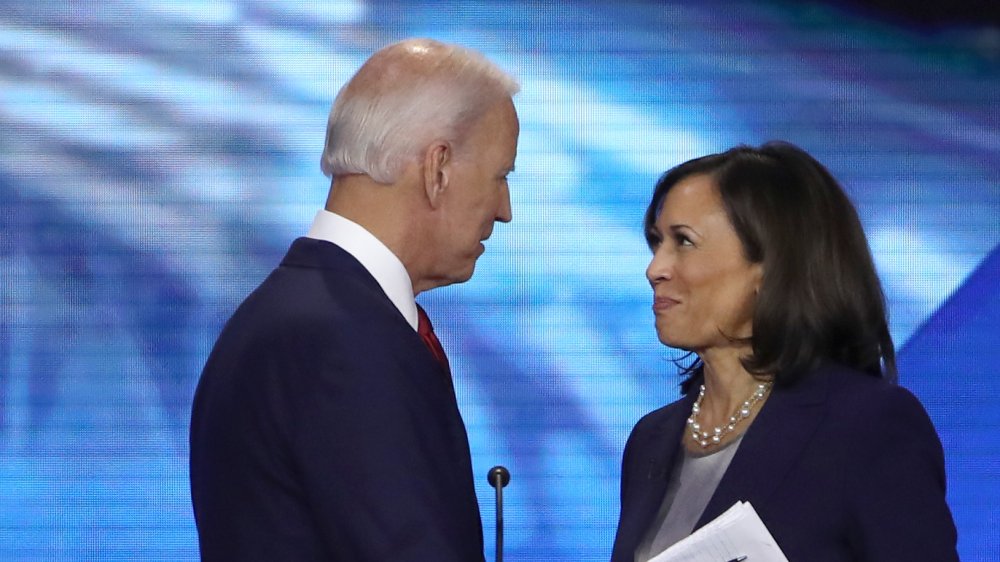 Win Mcnamee/Getty Images
So why did Kamala Harris choose the Secret Service code name "Pioneer"? According to CNN, the moniker is a nod to her career of breaking down barriers, which she's certainly continued by running in the 2020 race. As Joe Biden's VP pick, Harris took her place in history, per HuffPost, as the first Black woman and Indian American woman on a major party ticket. And according to CNN, if elected in November 2020, she would become the first female vice president, the first Black vice president and first Indiana American and Jamaican American vice president in history. A "Pioneer" indeed! 
Former Secret Service agent Jonathan Wackrow told CNN in August 2020 that oftentimes, the name officials choose ends up reflecting their time in office. "Over time, the protectees have almost taken on the persona of the call sign that they had selected," he told the outlet. "With Obama, 'Renegade' is a great example: how he went against the establishment in some of the things that he had done, and like Barbara Bush, whose call sign was 'Tranquility,' embodied the tranquility and peacefulness in a time of war," Wackrow said.
According to CNN, vice presidents still have Secret Service protection six months after leaving office, so Joe Biden was still "Celtic" well into 2017. And according to The Guardian, Kamala Harris' husband Douglas Emhoff still hasn't made his code name pick. May we suggest, "Purveyor," or "Pantone?"