What Kamala Harris Had To Say About Trump's Coronavirus Diagnosis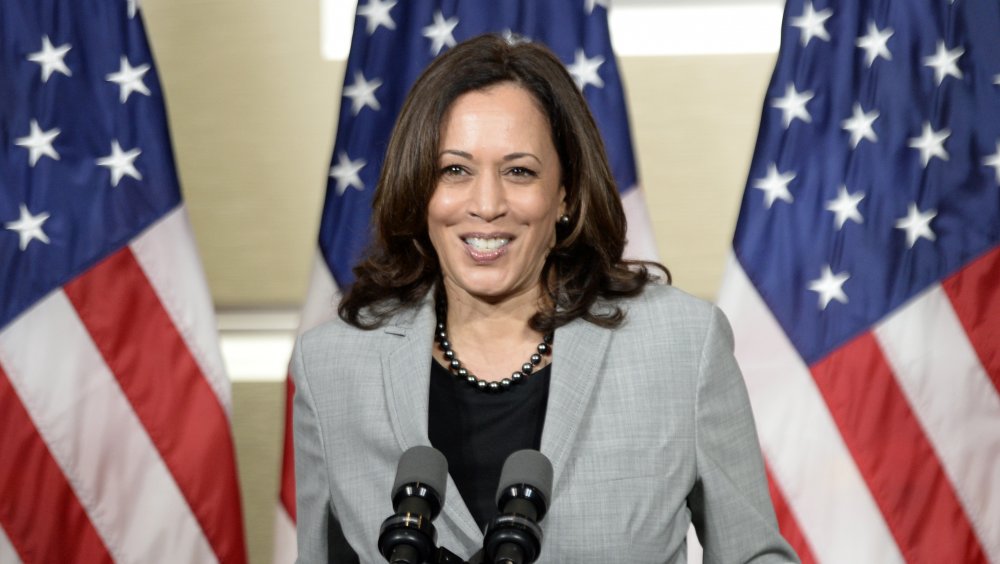 Sara D. Davis/Getty Images
Democratic presidential candidate Joe Biden's running mate Kamala Harris sent good wishes to President Donald Trump after learning he was sick with COVID-19. After Biden sent his own well wishes on Twitter, the VP candidate tweeted a positive message to the president and his family, writing, "Doug and I join Joe Biden and Dr. Biden in wishing President Trump and the First Lady a full and speedy recovery. We're keeping them and the entire Trump family in our thoughts."
Both Kamala Harris and Joe Biden have reacted to Trump's coronavirus diagnosis with kindness, even though they're not exactly Trump's favorite duo. Trump has insulted Harris in the past, calling her "nasty" after Biden picked her for VP. Trump even said it would be an "insult to our country" if Harris were to become the first woman president, per CNN. During a September 2020 campaign rally in North Carolina, Trump said: "People don't like her. Nobody likes her. She could never be the first woman president. She could never be. That would be an insult to our country."
For her part, Harris has vehemently disagreed with Trump many times, but she didn't let that stop her from wishing him well during a difficult time.
Kamala Harris took the high road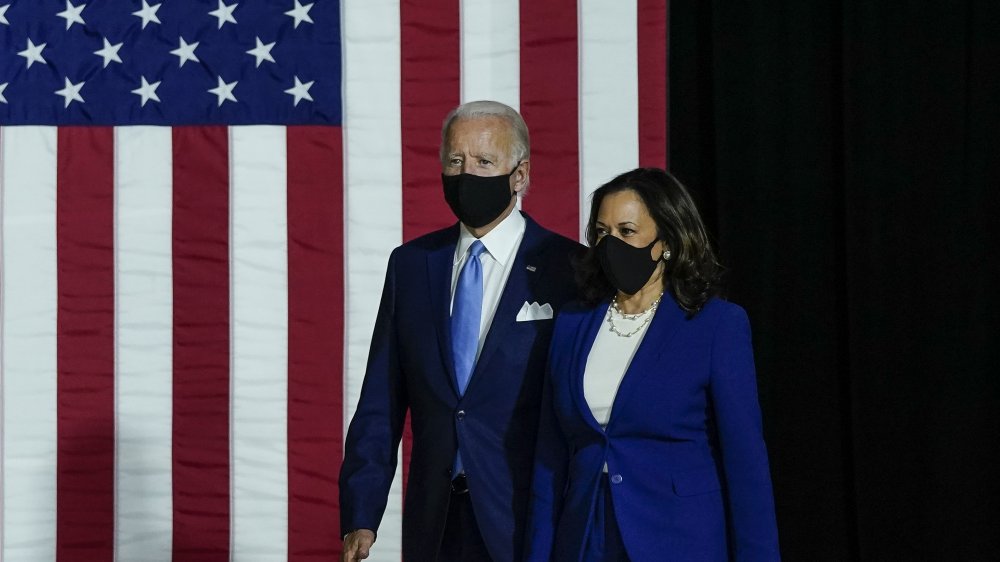 Drew Angerer/Getty Images
As the first Black woman and the first person of Indian descent to be nominated for vice president, Kamala Harris is used to critics. Despite the Trump campaign's insults, she took the high road after the president and first lady both tested positive for coronavirus.
In addition to wishing President Trump well, Harris utilized her opponent's illness as an educational moment. The vice-presidential candidate took to Twitter on Oct. 3, 2020 to reiterate the danger of COVID-19: "The threat of this virus is real for all of us. Let it be a reminder that we must remain vigilant and take care of ourselves , and take care of each other."
Harris always wears a mask in public and encourages others to wear one. Before Trump's diagnosis, she tweeted a message about mask-wearing: "Science shows that wearing a mask doesn't just protect you—it protects others. Wearing a mask isn't just the right thing to do; it's patriotic."
Meanwhile, Harris tested negative for COVID-19 on Oct. 2 as part of her team's routine testing procedures, per U.S. News & World Report. She is scheduled to debate Republican Vice President Mike Pence on Oct. 7, 2020.