What Donald Trump Really Thinks Of Kamala Harris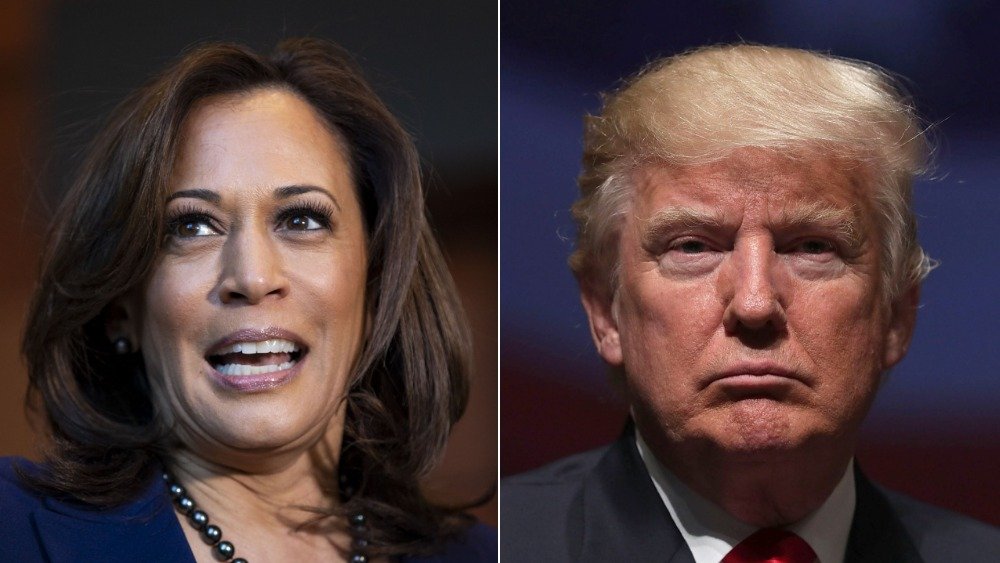 Scott Olson/Getty Images
Shortly after Joe Biden's campaign announced Kamala Harris as his pick for vice president on August 11, 2020, President Donald Trump spilled his thoughts on the first Black woman to be on the presidential ticket in a press conference.
According to Deadline, Trump called Harris "nasty" for questioning Supreme Court justice Brett Kavanaugh during his nomination process, adding, "I was surprised that [Biden] picked her. I have been watching her for a long time... She was extraordinarily nasty to Brett Kavanaugh... and I won't forget that soon."
Trump also called Harris "disrespectful" toward Biden when she ran against him as a presidential nominee, according to Fox News, and said he was partly surprised Biden chose her because of her "very poor" performance in the primaries.
Trump's campaign also released an ad after Biden announced Harris as his running mate, expanding on Trump's thoughts. "He is handing over the reins to Kamala while they jointly embrace the radical left," the ad says, also calling Harris "a phony." The sentiment was shared by many on Trump's team, who said they thought Harris was too left-leaning, per Politico. But is that what Trump really thinks about her, or have his feelings changed over time?
A 'fine choice' or 'nasty' woman?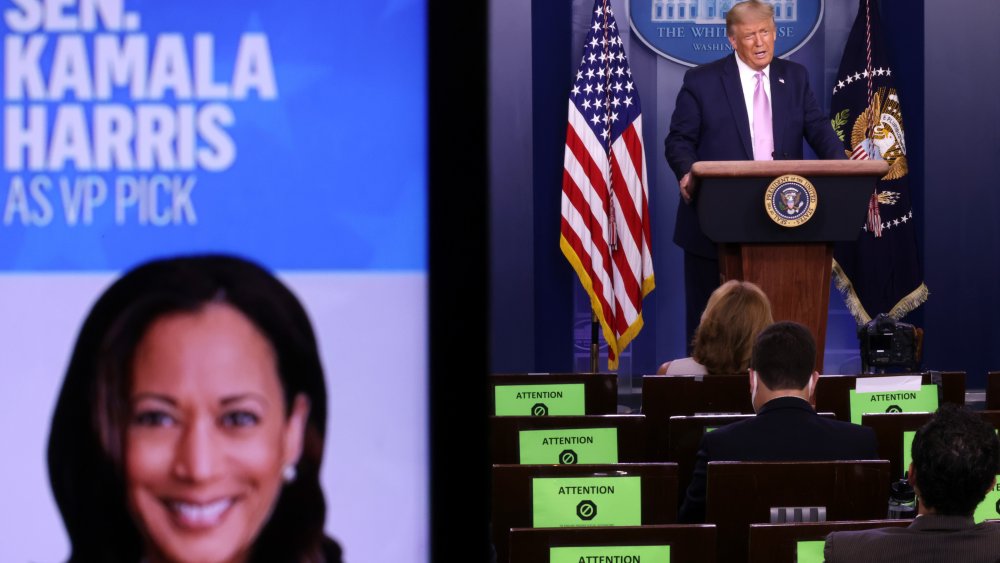 Alex Wong/Getty Images
President Donald Trump's attacks on Kamala Harris came as a surprise to some, because just two weeks prior, Trump said that she would be a "fine choice." He also offered her praise after she first launched her presidential campaign. And according to CNN's reporting in 2019, Trump considered Harris to be one of his toughest opponents for president at one point. "I would say, the best opening so far would be Kamala Harris," Trump said about her campaign launch. "I would say, in terms of the opening act, I would say, would be her."
Things get a little more confusing. Both Donald Trump and his daughter, Ivanka, have donated to Kamala Harris' campaigns in the past, according to The Sacramento Bee. The outlet reported that Trump donated $6,000 in 2011 and then once more in 2013, and that Ivanka contributed $2,000 in 2014. At the time, Harris was running for attorney general.
But still, the two have had a contentious history, filled with Twitter attacks and sarcastic retorts. Per BuzzFeed News, when Harris dropped out of the presidential campaign, Trump tweeted, "Too bad. We will miss you Kamala!" to which Harris responded, "Don't worry, Mr. President. I'll see you at your trial," referring to Trump's impeachment trial.
Jokes have also taken a personal turn, with Harris suggesting Trump was raised by "a joke" and Trump calling Harris the "most disingenuous person in politics" after Hillary Clinton.
With the two officially facing off in the presidential election, their relationship is sure to get even dicier.