Why Zac Efron's New Look Is Turning Heads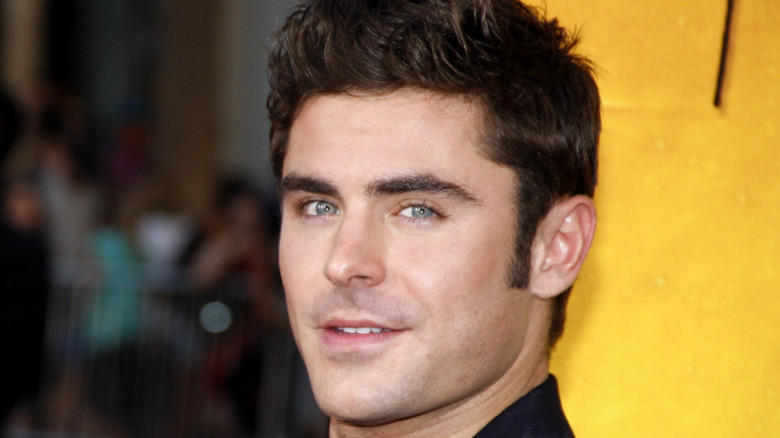 Shutterstock
Zac Efron is considered by many to be one of the most handsome men in Hollywood. The A-Lister was named People's "Sexiest Man Alive" in 2017, and routinely flaunts his ridiculous abs in movie roles.
The actor starred in the 2017 "Baywatch" movie which was a reboot of the popular TV show that featured gorgeous lifeguards showcasing their physiques while rescuing people at the beach. Preparing his body for that role took a toll on Efron. "That [2017] was actually a really important time to do 'Baywatch,' because I realized that when I was done with that movie, I don't ever want to be in that good a shape again," he said while appearing on an episode of "Hot Ones" (via Men's Health).
To get his body in pristine shape, Efron undergoes an arduous training process before showing up to set. While the actor enjoys the challenge, he says the training regiment is unsustainable. "It's a finite period of time, but I would not consider that a healthy or normal way to live everyday life," he told People in January 2019. The former "High School Musical" star admitted to the publication that his "mood was terrible" while undergoing intense training and that he preferred a non-rigorous routine.
During a May 2017 feature article for Sharp, Efron was asked to impart tips on achieving a head-turning appearance. "The truth is, there are no shortcuts. There's no magic thing," he told the publication. 
In 2021, his appearance is drawing attention for a different reason.
Rumors circulated about Zac Efron's appearance
Zac Efron has been vocal about his passion for environmental issues. In celebration of Earth Day on April 22, the "Neighbors" actor posted a photo on Instagram where he was captured wearing full firefighter gear as he learned "how to manage land through cultural burns." He also teamed up with Bill Nye for a special Facebook Watch event titled "Earth Day! The Musical." The video featured appearances from other celebrities such as Justin Bieber, Steve Aoki, Retta, and more.
The "Dirty Grandpa" actor had a brief cameo in the video where he was filmed wearing a dark blue shirt as he praised Nye for being a "genius." A screenshot of Efron's clip was posted to Twitter and it quickly went viral as many fans felt that the movie star's face looked different.
Several people suspected that Efron had gone under the knife to achieve his new look. "There's a pic of Zac Efron with terrible botox and jaw fillers circulating on Twitter," one user tweeted. "Zac Efron looks like human Shrek now," another tweeted alongside a split-screen snap of Efron and the animated Shrek in human form. "Someone tell me that Zac Efron didn't have plastic surgery," another added.
One fan who suspected Efron had undergone surgery was confused why the stunning actor would feel compelled to alter his looks. "Zac Efron is naturally attractive, idk why he keeps messing up his face with cosmetic surgery," they wrote.