How Kim Kardashian Felt About Nasim Pedrad's SNL Impersonation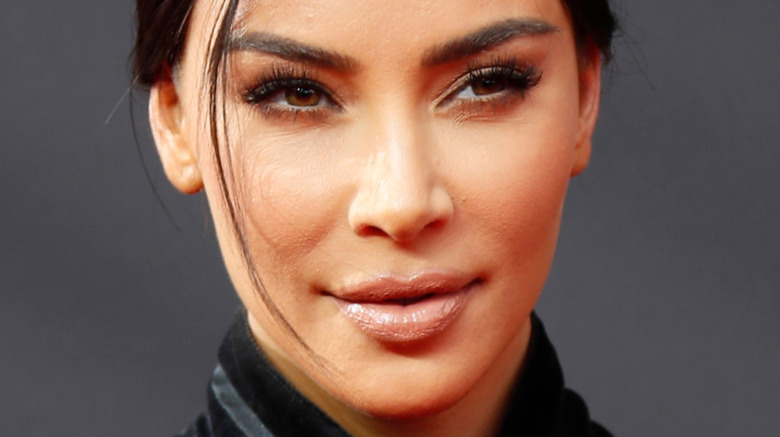 Shutterstock
Comedians on "Saturday Night Live" have made names for themselves for their impersonations of famous celebs. Kate McKinnon's depictions of both Ellen DeGeneres and Hilary Clinton have made the actor a staple on the hit show. Maya Rudolph was praised for her depiction of Vice President Kamala Harris, and Alec Baldwin received all the good and bad reviews that come with playing the president for his depiction of former President Donald Trump. As for Nasim Pedrad, her depiction of Kim Kardashian has led to many laughs for viewers, but what about how Kim herself feels?
Speaking to Conan O'Brien, Pedrad opened up about the first time she met Kim after famously portraying her on television. "I was very, very scared," said the "SNL" star (via Us Weekly). "She was in pristine, airbrushed makeup, perfect hair," noted Pedrad about the "Keeping Up With the Kardashians" celeb. "I, that day, looked like a person who woke up in a dumpster."
Luckily for Pedrad, the reality star was "really sweet." But what did she think about meeting her impersonator? Keep reading to find out.
Kim Kardashian questioned Nasim Pedrad's impression of her voice
In an interview with Conan O'Brien, comedian Nasim Pedrad revealed her first interaction with Kim Kardashian was similar to what any of us would expect from our first interaction with such a big-name celeb. "I hadn't slept in two days, I was wearing this extra-large T-shirt with the logo of a medical facility from my hometown," said Pedrad, who noted that the celeb was obviously dressed for TV. "She was understandably mortified to discover that I played her on the show," Pedrad said (via Us Weekly).
The reality star confronted Pedrad in the nicest way possible about the comedian's impression of her on "Saturday Night Live," which includes a high-pitched, Valley Girl voice and an inflatable butt. The comedian revealed to O'Brien, "she did say — at one point she was like, 'Do we really sound like that?'" Pedrad responded saying, "I was like '...no', and she just goes, 'Ohhh, good!' She was so sweet!"

Khloé Kardashian, meanwhile, responded to the "Saturday Night Live" spoof "Kim Kardashian Fairytale Divorce Special" in a tweet back in 2011. "Ha! I just saw the SNL skit they did and I could not stop laughing.... LOL," she tweeted at the time. The reality TV family isn't afraid to laugh at themselves — even if they don't agree with every aspect of the portrayals.