Why Kim Kardashian Is Freaking Out Over A Tweet From Bridgerton's Nicola Coughlan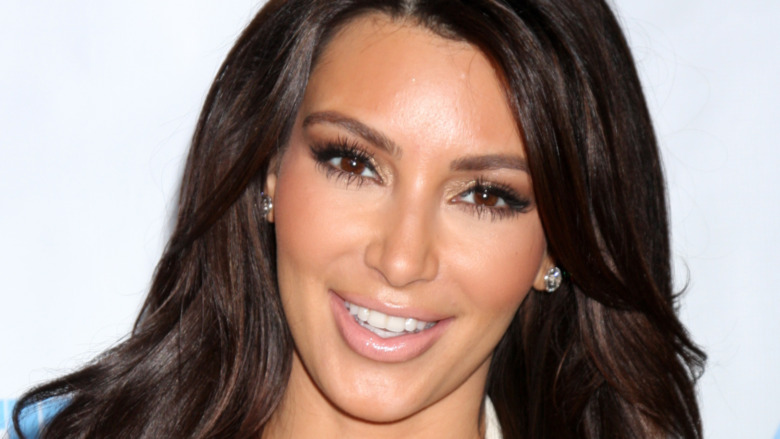 Shutterstock
Like millions of others around the world, Kim Kardashian was completely captivated by the December 2020 Netflix series Bridgerton. The Keeping Up With the Kardashians star shared her love for the hit show as she watched on social media, and with an upcoming second season, there's no doubt Kim will have her popcorn ready for when the Bridgertons and Featheringtons collide on screen once again.
The TV personality may have jumped on the Bridgerton bandwagon a little later than most, considering Kim didn't tune into the series until three months later in March 2021, but she developed an instant obsession as soon as she started watching. Unsurprisingly, the SKIMS businesswoman had the most relatable reactions to the show, which follows the lives of "eight close-knit siblings of the Bridgerton family look for love and happiness in London high society" (via Netflix).
At the time she started bingeing, Kim kept fans up to date on her thoughts by posting on her Instagram Stories. "It's finally happening!!!" she wrote, proceeding to upload snapshots of onscreen lovers Phoebe Dynevor and Regé-Jean Page, who portray Daphne and Simon, respectively (via Glamour). "I'm not ok!!!!" she penned next to another. 
Season 2 of Bridgerton was confirmed to be in the works (with Seasons 3 and 4 set as well), according to Looper, but that isn't the reason Kim has been marveling over the series lately. Keep scrolling to find out why the TV star is geeking out.
Bridgerton fans can thank Kim Kardashian for inspiring the cast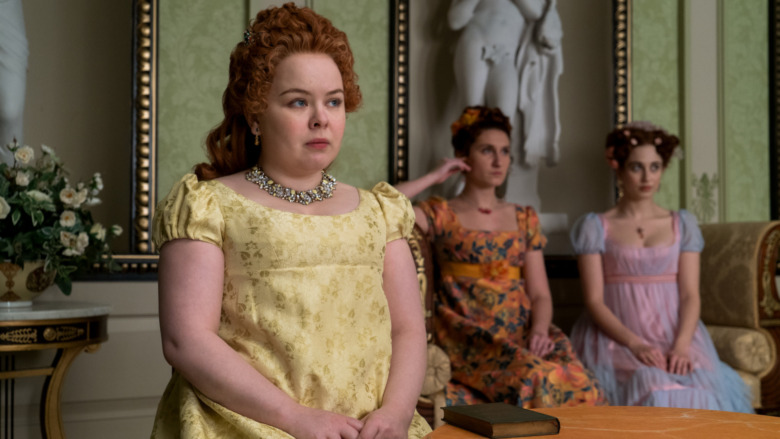 Netflix
Knowing Kim Kardashian, she was probably fawning over the gorgeous and elaborate ensembles worn by the characters in Bridgerton. Considering Kim is a billionaire-fashion mogul and designer, you can only imagine how shocked she was to find out she inspired the ladies of the cast.
Nicola Coughlan, who portrays Penelope Featherington, dished the exciting news to the TV producer via Twitter on April 20, 2021. "As the world's number one @bridgerton Stan does @KimKardashian know that the Kardashians were a massive inspiration for the Featheringtons and we talked about them all the time during our fittings? Because I feel like she should know this," Coughlan penned.
Shocked to find out, Kim replied, writing, "WHAT?!?! I am freaking out!!!!!! This tweet was sent to me on my @bridgerton group chat! Can I please come to a fitting?!?! It would make my whole life!!!!!! I love you Lady W!!!" Coughlan obviously obliged, telling Kim, "Omg yesss of course we would love to have you!"
Not only that, but the actress also shared another astonishing tidbit. "Also did you know that Mr Pearl made your corset for the Met Gala and the very next one he made was mine for Bridgerton? You've been part of the Bridgerton world for longer than you know!" Coughlan wrote, to which Kim replied, "OMG I'm gonna faint!!!!!! Does this make me an honorary Duchess in Bridgerton ?!?!?!? I am the corset Queen!!!"