What Happened Between John Stamos And Rebecca Romijn?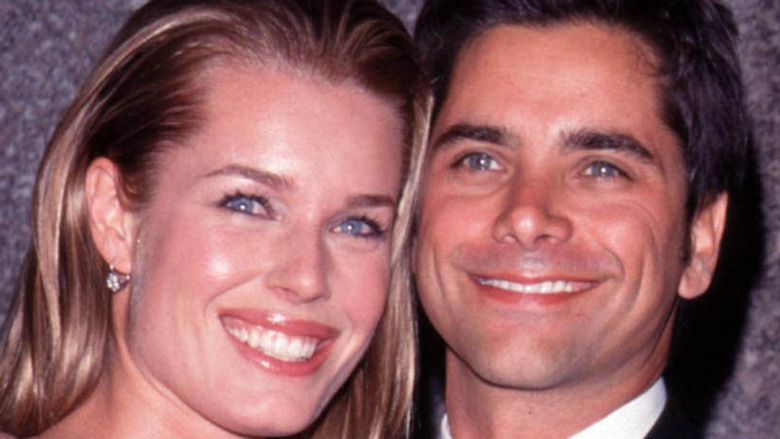 Evan Agostini/Getty Images
Everyone will likely agree that the '90s gave us some of the best celebrity couples. There was Reese Witherspoon and Ryan Phillippe, Johnny Depp and Kate Moss, Gwyneth Paltrow and Brad Pitt, and Matthew McConaughey and Sandra Bullock. Also, who can forget Justin Timberlake and Britney Spears? There are too many iconic relationships to count — and another romance we'll never forget is the love story between John Stamos and Rebecca Romijn.
The actor and the supermodel met in 1994 backstage at a Victoria's Secret Fashion Show in New York, according to Entertainment Weekly, and went on their first date at Disneyland. They married in September 1998 — and years later, Romijn recalled the moment she met Stamos. She told Jane magazine (via The Intelligencer): "I totally remember seeing John Stamos walk in with his guitar in hand and that dorky haircut, the double-decker mullet. Today, I keep thinking, God, what if somebody had been sitting next to me and said, 'You're going to marry that man someday.'"
Unfortunately, the marriage didn't last and the pair got a divorced in 2005. Keep scrolling to find out what really happened between Stamos and Romijn.
Rebecca Romijn allegedly forced John Stamos to turn down a TV role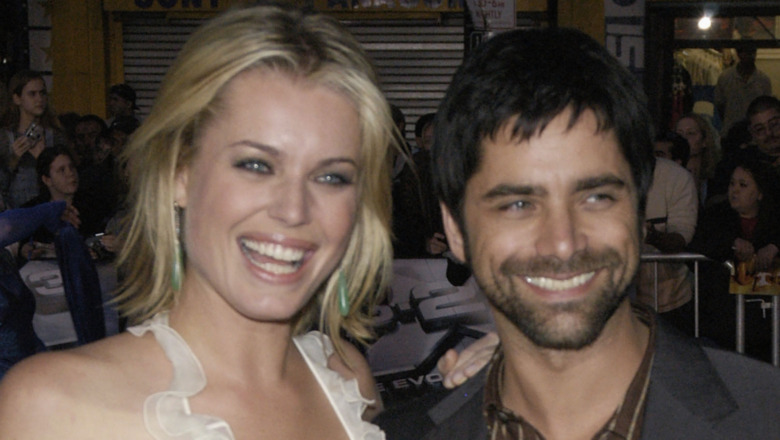 Dan Steinberg/Getty Images
John Stamos and Rebecca Romijn appeared to be in love, but it turns out, there was a lot going on behind the scenes. After getting married, the model's career as an actor took off when she landed the role of Mystique on "X-Men" — and though the "Full House" star was supportive (per The Things), the same can't be said about Romijn. During a 2015 interview with Details (per Page Six), Stamos revealed he had to turn down a role on "Nip/Tuck" because his wife didn't approve.
He claimed that Ryan Murphy had originally written the part for him, explaining, "Maybe I was too afraid then. Ryan also wrote 'Nip/Tuck' for me, but the person with whom I was in a relationship at the time read the script and said, 'That's demeaning toward women.' I'm not with her anymore."
Though Stamos didn't mention Romijn by name, the series premiered in 2003 when they were still married. In 2006, Stamos also opened up about the relationship, admitting to Howard Stern that he and Romijn were broken up way before they announced their divorce and even pretended they were still together at the "X-Men 2" premiere. "We went to that together, but we had already been split up for like 6 months," he said (per PopSugar). "I just couldn't say anything."
John Stamos reportedly wanted kids and Rebecca Romijn didn't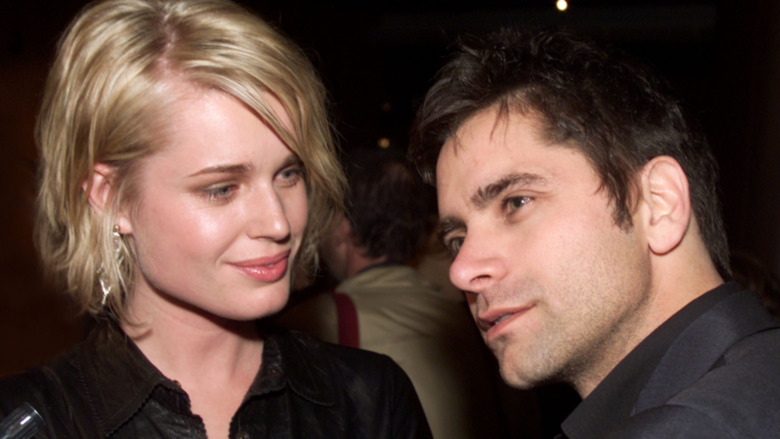 Kevin Winter/Getty Images
John Stamos and Rebecca Romijn announced in April 2004 that they were separating after five years of marriage, per People, with Stamos filing for divorce four months later. At the time, their publicist Lewis Kay told CBS, "The split is amicable and they have asked that the media please respect their privacy regarding this situation during this difficult time." It was also reported that there was "no third party" or "real reason" for the breakup except they've decided to go in separate directions" (per Entertainment Weekly) and according to Radar Online, the couple may have disagreed on having children.
Stamos later told People in 2009 that his failed marriage made him feel like a failure. "We were together for 10 years — it was heartbreaking," he said. "In my book at this point I would still be married and have three kids. So it was more about that plan being foiled than anything." He added, "Everybody thought that she dumped me [because] her career was on fire and mine wasn't, but that wasn't the case. We just both woke up one day and it had run its course."