Who Is Jacques Pepin's Wife?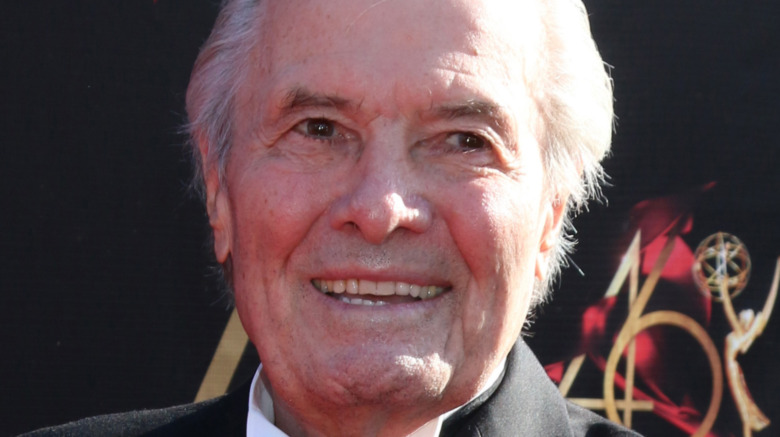 Shutterstock
Famed French chef Jacques Pépin has had a long, successful career as not only just a chef but an author, culinary instructor, and TV personality. Yet perhaps his greatest achievement could be his long and happy marriage with his late wife, Gloria Pépin. Gloria died in December 2020 at 83 years old. In a beautiful tribute on social media, Gloria was described as a "strong, resilient, "spill-no-tears" woman," who was referred to not only as Jacques' wife but his "life force."
This romantic couple even has an entertaining love story that began with Gloria taking skiing lessons from Jacques when he was working as an instructor in New York, according to PBS American Masters. Gloria happened to be an excellent skier who was on ski patrol but took the lesson so she could meet the "handsome Frenchman." Gloria's plan worked and the two went on to marry in 1966.
In the following 54 years, their romance continued so much so that "they made sure to sit at the table every night for dinner, enjoying their meal and a glass of wine, intentionally reaffirming their marriage and their love," the Facebook post about Gloria's death read. 
The Pépins welcomed daughter Claudine in 1967 before they opened a small soup restaurant in New York City in 1970. Their relationship was perhaps most tested, though, when Jacques suffered serious injuries in a car accident. He credits Gloria for not only nursing him back to health "on limited resources" but for always being "his partner, his strength, his rock." 
Gloria Pépin was a cook herself who enjoyed the finer things
What fans may be surprised to learn is that despite being the wife of famous chef Jacques Pépin, Gloria Pépin was actually a good cook in her own right. In fact, according to the statement on her death, she even inspired some of Jacques' famous dishes with her Cuban and Puerto Rican heritage.
While Gloria was described as being "stately, dignified and classically elegant," enjoying the finer things in life like "caviar, champagne and foie gras," it was made clear that she "was never pretentious and typically added ice to her wine." With that said, Gloria was also the type of woman who was "bold and unapologetic, and never embarrassed," who stood by her way of doing things! Sounds like a woman ahead of her time! She also never wasted food, even when they opened Gloria's French Café in their Connecticut home, which, of course, in true Gloria fashion, "she ran with impeccable taste."
What also may be surprising to learn about this fascinating woman was her love for dogs. So much so that she not only frequently brought home strays to care for, but she also wished condolence gifts to be made to an animal welfare charity or a food insecurity charity. Even after her death, Gloria is still bringing joy to her others. Instead of a funeral, she wanted a big Boules' des Dimanche Club party with her friends on her birthday in June 2021.