Inside John Stamos' Relationship With The Beach Boys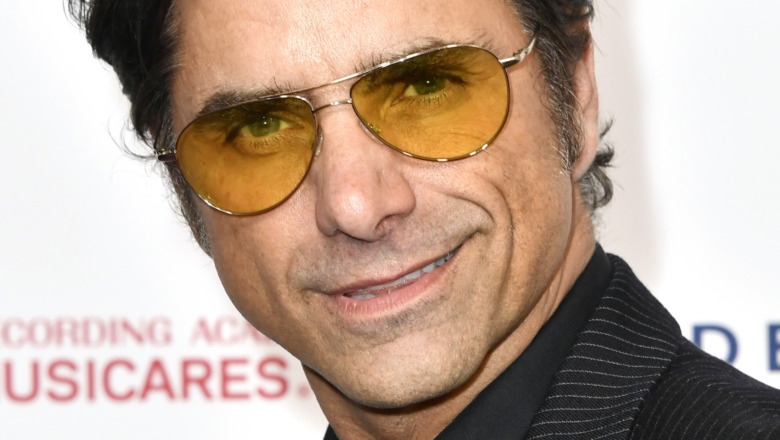 Frazer Harrison/Getty Images
John Stamos' "Full House" character was a major Elvis fan, but in real life, the actor who played Uncle Jesse Katsopolis would rather be singing "Surfin' USA." Stamos is a huge fan of The Beach Boys, so much so that he swapped cameos with them, trading an appearance in their music video with an appearance on his ABC sitcom.
The year 1988 was a big one for the actor and his favorite band. Not only did Stamos play the congas and the steel drums in The Beach Boys' 1988 MTV hit "Kokomo," but members of the group returned the favor by making a cameo on the "Full House" episode "Beach Boy Bingo" that same year, per IMDb. Bandmates Mike Love, Brian Wilson, Carl Wilson, Bruce Johnston, and Al Jardine turned up in the episode, and Stamos performed a song written by the band — the "iconic "Forever" — seasons later as his character serenaded his bride Becky (played by Lori Loughlin) on their wedding day. In fact, various members of the California band made cameos on three "Full House" episodes in total, according to HuffPost.
But how did Stamos' musical match with one of the biggest bands on the planet come to be? Turns out the actor had a few groupies of his own that led him down a path he'd never dreamed of.
John Stamos accidentally met The Beach Boys after hiding from fans during his teen heartthrob days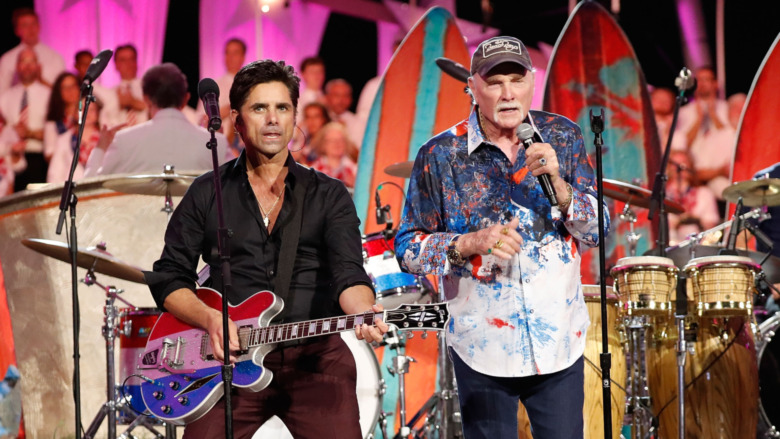 Paul Morigi/Getty Images
John Stamos had always been a Beach Boys fan. In fact, his first concert was at age 13 when he attended a Beach Boys show at the Universal Amphitheatre in Los Angeles, he told Ravinia. Stamos was a star on the ABC soap "General Hospital" in the early 1980s, playing bad boy Blackie Parrish, when he attended another Beach Boys show that featured one of his friends on guitar. In an interview on "The Kelly Clarkson Show," the actor described the scene after frenzied fans — his!— chased him backstage after recognizing him in the crowd.
"The show was over; they were still going to do the encore," Stamos told Clarkson (per Today). "And these cheerleaders chased me and Mike Love turns to my friend and says, 'Who's that?' And he says, 'That's John Stamos; he's on 'General Hospital' and always has girls chasing him.' And Mike Love, without missing a beat, says, 'Get him onstage.'"
Stamos jumped onstage to play on the classic Beach Boys tune "Barbara Ann" with the band, and the impromptu jam session spawned a decades-long friendship. He was later invited for that "Kokomo" cameo, which was filmed at Walt Disney World's Grand Floridian Resort. Beach Boys co-founder Mike Love told radio station Awesome 98 that Stamos was such a big fan that he later helped produce a Beach Boys movie and 2000 miniseries about the band titled "The Beach Boys: An American Family." Stamos ultimately became an honorary member of his all-time favorite band and has toured with the group many times over the past three decades.