The Truth About Mike Holmes And Anna Zappia's Relationship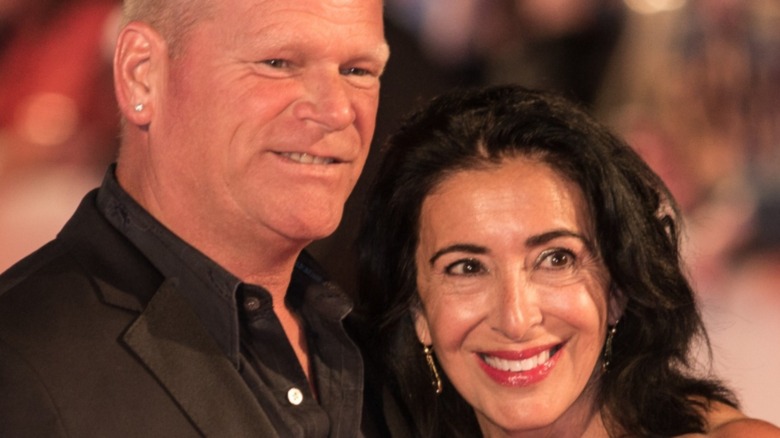 Shutterstock
Canadian Mike Holmes is the king of home improvement TV, but who is his queen? The reality TV star has been in a relationship with Anna Zappia since the early 2000s, and it's unclear if the couple is married. Holmes refers to Zappia as his wife, but there is no record of a walk down the aisle. According to Cinemaholic, some Holmes fans believe the couple got hitched in secret.
The HGTV star was married from 1982 until 1990 to childhood sweetheart Alexandra Lorex. Holmes and Lorex share three children: Amanda Holmes, Sherry Holmes, and Michael Holmes Jr. All three kids work in their dad's business. The oldest daughter Amanda works behind the scenes while her siblings Sherry and Mike Jr. are in front of the camera.
In 2021, the Canadian TV series "Holmes Family Effect" launched in the U.S. on Fox. The show follows Holmes, his daughter Sherry, and his son Mike Jr. as they help homeowners and communities. Holmes' girlfriend wife, Zappia, has never been featured on TV. Keep reading to learn more about the "Rock the Block" star's partner.
Anna Zappia keeps a very low profile
Anna Zappia is the long-time partner of Canadian reality star Mike Holmes. To say that Zappia keeps a low-profile online and on social media is an understatement.
We have plenty of stalking research skills, and we can't find Zappia's birthdate, career, or any confirmation about a legal marriage between her and Holmes. She is not on social media. It's not clear how long the couple has actually been dating; some sources report they've been together since 2000, while other media outlets say they've been a couple since 2002!
According to The Cinemaholic, Zappia entered Holmes' life after his life was "left in ruins." The outlet reported the HGTV star met Zappia after his divorce, during a rocky time in his career. The Cinemaholic noted that Zappia "supported him in rebuilding his construction empire and encouraged him to get into television when offered the chance."
It appears the "Rock the Block" star is in a relationship with a woman who has stuck by him during the tough times. While we can't find many details about Zappia's life, it's clear that she and Holmes are together for keeps.