Mike Holmes' Net Worth Is Higher Than You Think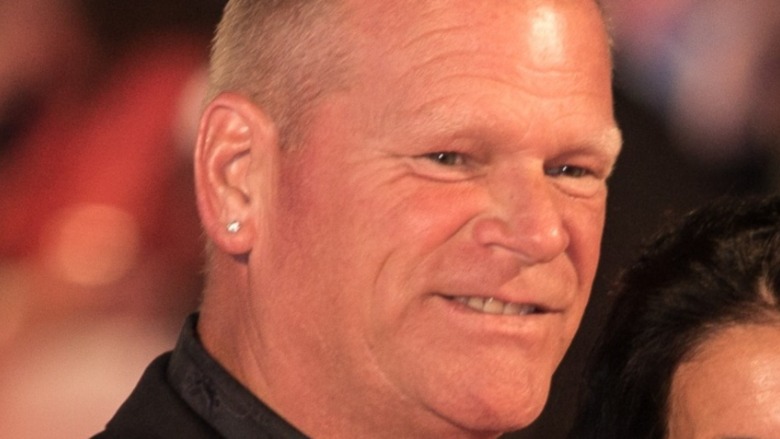 Shutterstock
Reality TV star Mike Holmes is known for his down-to-earth home improvement advice. Mike has starred in several home remodeling shows, beginning in 2005 with his first HGTV series, "Holmes on Homes." The Canadian home improvement guru made multiple remodeling reality TV shows on HGTV and DIY Network. His last series, "Holmes Buy It Right," wrapped in 2016, but the master builder is not finished with American TV. After all his reality TV work in Canada and the United States, how much is he worth?
In December 2020, Deadline reported that Fox purchased the Canadian TV series "Holmes Family Effect" airing in the United States now. The new series follows the same successful Holmes TV formula, but the show also stars his daughter Sherry Holmes and son Michael Holmes. According to Deadline, the show follows the Holmes family as they "surprise unsuspecting community leaders and transform their worlds."
Mike Holmes is a master at building homes and reality TV. But he is also a master at building his bank account. Keep reading to learn more about his net worth.
Mike Holmes has built a big bank account with his reality TV shows
According to Celebrity Net Worth, Mike Holmes has built a $30 million fortune combining home improvement and reality TV. The Canadian home builder started his first business when he was 21, and he hasn't stopped. Mike built his empire on the mantra "Make It Right."
According to Reader's Digest, Mike is one of the most trusted people in Canada. Celebrity Net Worth reported that he was given The Queen Elizabeth II Diamond Jubilee Medal and an Honorary Doctorate from the British Columbia Institute of Technology. You'd think that the 57-year-old would slow down and enjoy his success, but that's not the Holmes family way.
In 2019, the home builder turned reality TV star broke with HGTV. Mike signed a new TV deal with Canada's Bell Media, which owns the CTV network. In the deal announcement, Mike said he was "thrilled" about his new partnership, and he looked forward to "spreading the MAKE IT RIGHT® message."