Why Regina King's Oscars Opening Has The Internet Divided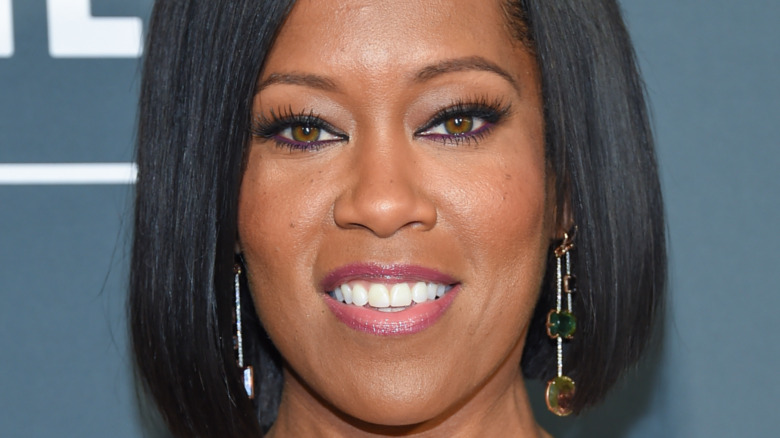 Shutterstock
The 93rd Academy Awards aired on April 25 in a pared-down production due to the ongoing coronavirus pandemic. The location was changed, less stars walked the red carpet,  and the Best Song performances were shown in pre-taped recordings before the broadcast even started, per ABC7. Another change? The lack of a traditional opening monologue or performance. Instead, according to Twitter, the Oscars opening looked similar to the opening of a Quentin Tarantino movie, as it was broadcast in a wide-screen aspect ratio.
That being said, the way the screen looked was only one way it was similar to the opening of a movie. There were also credits rolling over footage of Regina King strutting her way through Union Station in downtown Los Angeles. She grabbed an Oscar statuette, walked into the small, intimate theater, and made her way to the stage, where she proceeded to speak. However, her words have seemingly divided the internet.
Keep scrolling to find out why.
To some, Regina King's opening wasn't really an opening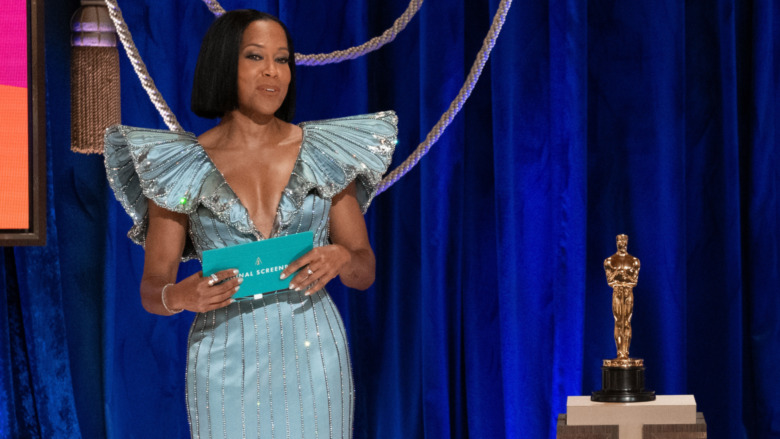 Handout/Getty Images
When Regina King took the stage at the 2021 Oscars, she began with a small monologue, discussing how she might not have shown up to the show if the verdict of Derek Chauvin's trial had been different. "I have to be honest; if things had come differently this past week in Minneapolis, I may have traded in my heels for marching boots," she said (via The Hollywood Reporter). She then launched into the description of the nominees for Best Original Screenplay. The opening was a bit controversial and divided the internet for a few different reasons.
Some people loved King's opening, finding her walk into the theater and her small speech to be inspiring and fantastic. "Love this opening. The style. The 24fps. Regina King speaking the truth and setting the stage for celebration," one Twitter user wrote. Others, however, took issue with a few different parts of the opening, like King's political words and the choice to not really have a specific transition into the Best Original Screenplay category. "Turned it off the second Regina King started with her protest rant. Wanted to watch for entertainment NOT politics. So done with hollywood," a second user wrote. "I read that the Oscars opening was going to be epic ... THERE WAS NO OPENING. I repeat, THERE WAS NO OPENING," a third user penned.
Although divisive, it's safe to say King's opening was definitely memorable.