Ronnie Ortiz-Magro's Girlfriend Speaks Out About His Arrest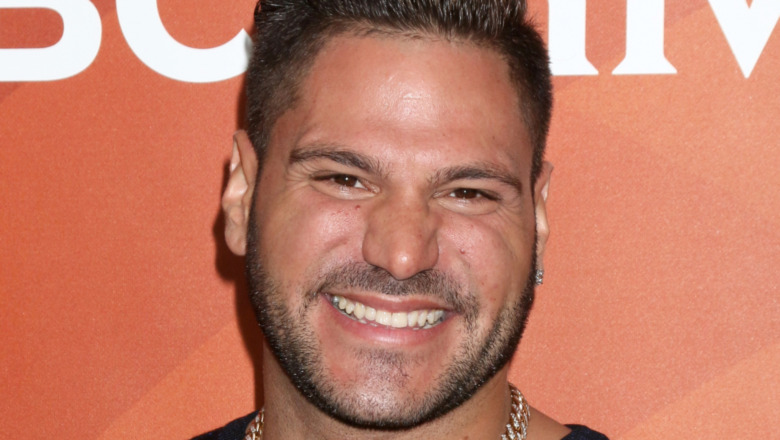 Shutterstock
The following article contains mentions of domestic violence.
"Jersey Shore Family Vacation" star Ronnie Ortiz-Magro made headlines for his arrest in Los Angeles on April 22, 2021. The reality star was arrested for another alleged domestic violence incident, but his ex-girlfriend Jenn Harley was not involved in the situation, according to TMZ.
The arrest could not have come at a worse time for Ronnie, since he is on probation following a previous domestic violence arrest. At the time of this arrest, Ronnie was still serving a 36-month probation sentence as part of his plea deal from his 2019 domestic violence charge against Jen. Per the outlet, Ronnie was released after posting $100,000 bail. His lawyer Scott Leemon kept a tight lip on details, but a statement read, "We have just learned of the new allegations against Ronnie and need some additional time to further investigate." Jen was in Las Vegas at the time of the incident and drove to Los Angeles to get their daughter, Ariana Sky.
Ronnie's current girlfriend Saffire Matos is speaking out after his arrest. Keep reading to see what she had to say.
Ronnie Ortiz-Magro's girlfriend is asking for privacy
Ronnie Ortiz-Magro's girlfriend just wants the press to leave them alone. Saffire Matos started dating the reality star last year and claims there is "misleading information" circulating about his arrest, according to Page Six.
Saffire went on Instagram to set the record straight and wrote, "Ronnie and I are fine. There is a lot of misleading information floating around out there. With anybody who reached out with concern I appreciate it with all my heart, but everything that's being portrayed out there are not facts." She added, "I don't think it's fair that people are using false accusations to gain attention. Please leave Ron and I alone. You don't know what someone is going through at the end of the day. Don't believe everything you hear or read online."
Saffire thanked her followers for their support, and it seems that she wants to deal with the matter in private. Ronnie has not yet commented on the alleged incident.
If you or someone you know is dealing with domestic abuse, you can call the National Domestic Violence Hotline at 1−800−799−7233. You can also find more information, resources, and support at their website.