Inside Jane Fonda And Lily Tomlin's Friendship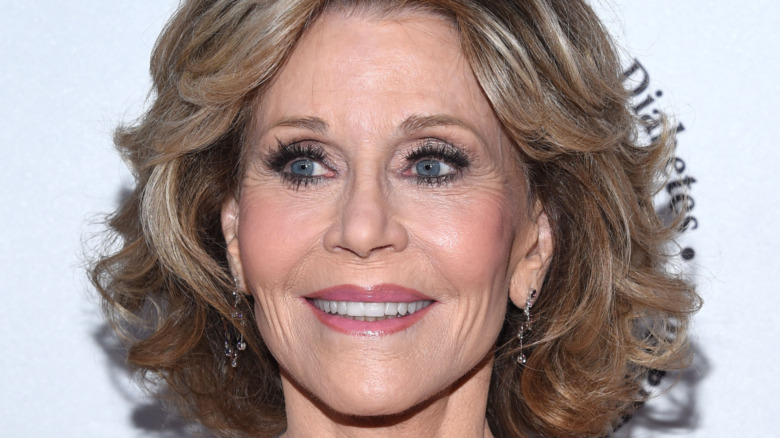 Shutterstock
Jane Fonda and Lily Tomlin's decades-long friendship is a wonderful, and hilarious, gift to the world, especially since it led to comedy gold like the film "9 to 5" and Netflix's "Grace and Frankie." Their bond is equally strong off-screen, which they have proven throughout the years.
Fonda and Tomlin first met backstage at Tomlin's 1977 one-woman show "Appearing Nitely" in Los Angeles, Calif. "I've been a fan of hers since before I met her," Tomlin revealed to The Washington Post decades later. "I had a 'Klute' hairdo when she did 'Klute.'" After that initial meeting, Fonda conspired to get Tomlin (along with the country musician Dolly Parton) into a project she'd been planning; a film about secretaries kidnapping their boss. "What can I say, I was smitten, and I said, 'I don't want to make a movie about secretaries unless she's in it,'" Fonda told Stephen Colbert in 2017. "9 to 5" was a smash hit, and its three leads formed a lifelong connection. "We've been friends ever since," Tomlin added in her interview with The Washington Post. "We're friends because I just love her. I know Jane has my back whenever she can."
So what else should you know about Jane Fonda and Lily Tomlin's bond? We share more details after the jump.
Jane Fonda and Lily Tomlin's met many milestones together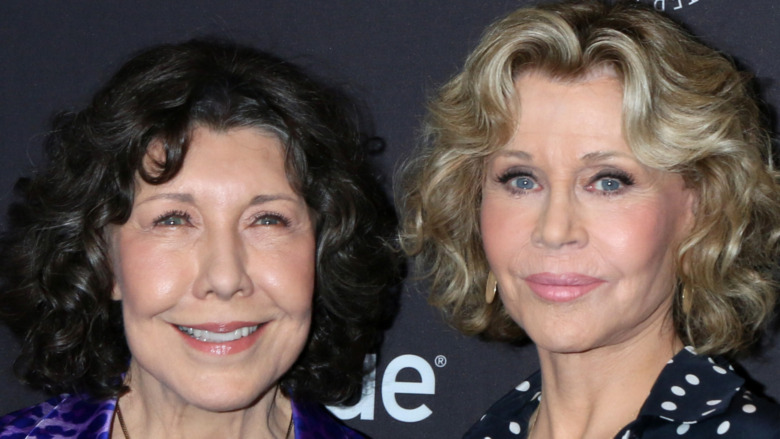 Shutterstock
Jane Fonda and Lily Tomlin also spoke about their friendship in a TED Talk in 2015, the same year that they began co-starring in Netflix's "Grace and Frankie." "I look for some who has a sense of fun, who's audacious, who's forthcoming, who has politics, who has even a small scrap of passion for the planet, someone who's decent, has a sense of justice, and who thinks I'm worthwhile," Tomlin said, describing her approach to friendship. "I don't even know what I would do without my women friends. I mean it's, 'I have my friends, therefore I am,'" Fonda added.
The pair have stood by each other in their activism, too. In 2019, Fonda moved to Washington, D.C. to participate in her weekly "Fire Drill Friday" protests, drawing attention to environmental issues and frequently getting arrested for the cause. Tomlin joined her, and was reportedly arrested and jailed for civil disobedience, in December 2019, per USA Today. During a 2020 episode of "Ellen," the pair joked about Tomlin's arrest. "Isn't it great that we're still having firsts?" Fonda asked Tomlin. "Well, because of you, I got arrested for the first time," Tomlin replied, "I learned a lot in the slammer."
The upcoming Season 7 of "Grace and Frankie" might be its last, per TV Guide, but the relationship between these two actors doesn't seem like it's coming to an end anytime soon.