How Dolly Parton Will Finally Reunite With Jane Fonda And Lily Tomlin
Kevin Winter/Getty Images
The '80s are officially back, thanks to the upcoming 9 to 5 reunion. That's right, the cast of the beloved movie — featuring Lily Tomlin, Jane Fonda, and Dolly Parton — is getting back together, but this time, it's on Tomlin and Fonda's turf. Parton will be guest-starring on upcoming seventh and final season of the hit Netflix show Grace and Frankie, and the country singer said her appearance was a long time coming.
"I've been trying to do Grace and Frankie for years," Parton said on U.K. talk show Lorraine, which was posted to YouTube on Feb. 11, 2021. "We worked so well together on 9 to 5, it's a crazy wonderful show," the "Jolene" singer gushed. "We've been trying to write me in somehow. So when it's safe for us to actually do a production when they're back, I'll probably get around to doing that."
Keep scrolling for more details about Dolly Parton's reunion with Jane Fonda and Lily Tomlin.
Jane Fonda and Lily Tomlin have high hopes for their Dolly Parton reunion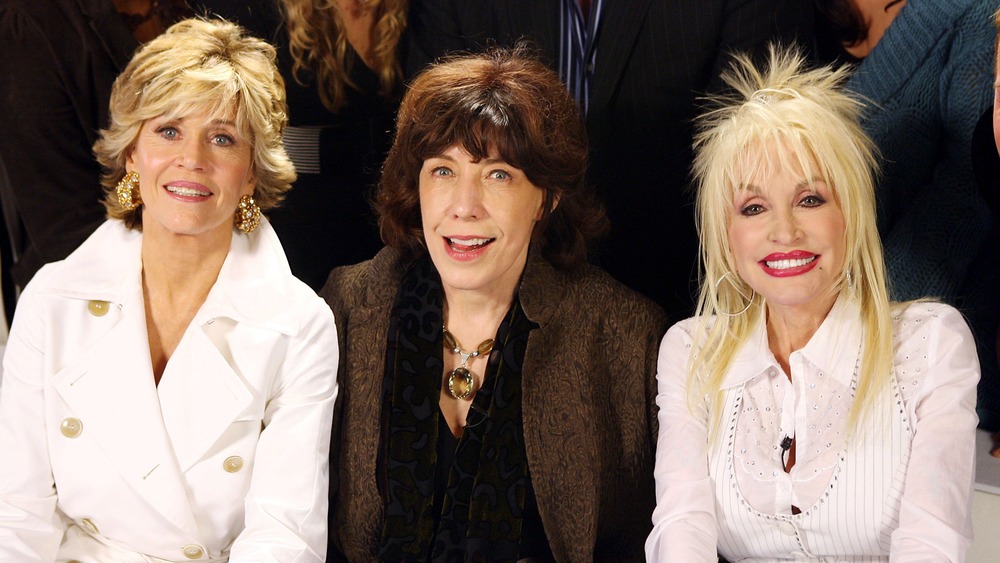 Kevin Winter/Getty Images
It looks like Dolly Parton isn't the only one thrilled over her upcoming appearance of Grace and Frankie. "We're always hoping that will happen," Lily Tomlin said about her reunion with her former 9 to 5 co-star during her January 2021 appearance on the Today show. "We have a great role for her this time, I think she will do it. I'm just hoping she will," the actress said to hosts Hoda Kotb and Jenna Bush Hager.
Tomlin also revealed that Parton's part could be performed remotely, which might be more convenient for the businesswoman who donated $1 million to COVID-19 vaccine research. "She's extremely busy, she's always writing books or writing song... She's phenomenal," Tomlin added.
The news of a 9 to 5 reunion comes shortly after Parton remixed the tune for a Squarespace Super Bowl commercial. "Working 5 to 9, making something of your own now," Parton sang to illustrate the endless possibilities that can come from building your own website for your small businesses. "Well, you got dreams and you know they matter. Be your own boss, climb your own ladder," she continued. Now that's one empowering woman!