Inside Dolly Parton And Jane Fonda's Friendship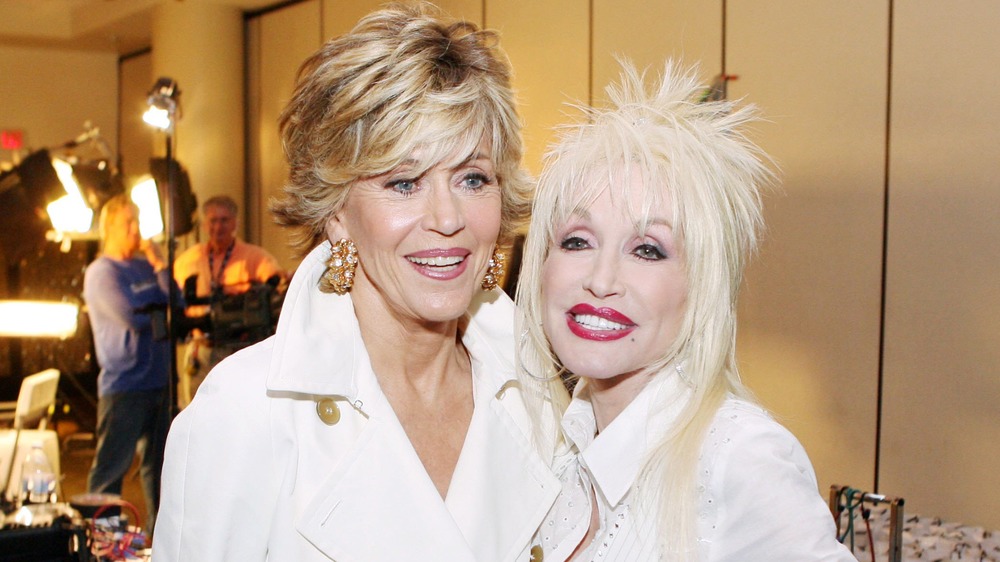 Kevin Winter/Getty Images
Back in the late 1970s, Jane Fonda invited Dolly Parton to discuss a potential role in Fonda's upcoming film project about sexual harassment in the workplace. Parton showed up to the meeting with Fonda and co-star Lily Tomlin and started playing a song she'd written for the soundtrack, clicking her long acrylic nails on a washboard as she sang. "Lily and I looked at each other and we had goosebumps," Fonda said of the meeting (via Prevention).
The movie, of course, was 9 to 5, and Parton's song of the same name took on a life of its own as an anthem for the everywoman, infiltrating karaoke bars the world over in the decades that followed.
Though Fonda and Tomlin's friendship has been showcased in the Netflix sitcom Grace & Frankie, their friendship with Parton also remains strong. Fonda is especially vocal about their political views through protests and marches, but Parton also spends a lot of her time and energy on working to make the world a better place, and the two friends of 40 years have more in common than some may realize.
Though they may express themselves differently, Jane Fonda and Dolly Parton agree on what matters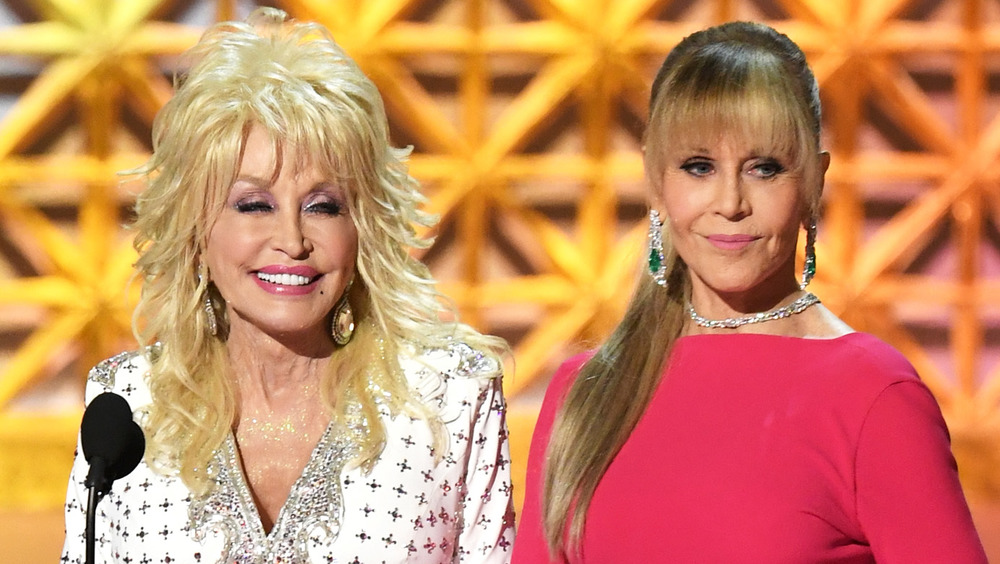 Kevin Winter/Getty Images
Jane Fonda has been an activist for 50-plus years, getting arrested at protests and leading weekly climate marches. Her friend Dolly Parton, on the other hand, has been criticized for not being "political enough" in the past. But in recent years, as some elements of 9 to 5 have become central to social and political discourse, Fonda and Parton have bonded over their shared commitment to what's right.
"Dolly is a person of heart and spirit," Fonda said in a 2018 interview with The New Yorker. "She's not a political person, but we need more like her. She is profound and she has a really, really huge heart, and she's really smart and deeply spiritual."
Parton had similarly warm words for Fonda on a 2019 episode of The View. "She's always been out protesting something all of her life," she said of the actor and activist. "I wouldn't get out in the streets but I kinda contribute in my own way. I'm an entertainer and I do it a little different. Everyone's got their own way of making their points. I try to do it my way and they do it theirs."
Fonda discussed Parton's contributions to the world for the 2020 documentary Biography: Dolly. "Through her songs, she opens her arms wide and embraces such a broad swath of people that don't always feel seen," she said tearfully, "and it's why people love her."