Azealia Banks Attacks Rihanna, Defends Donald Trump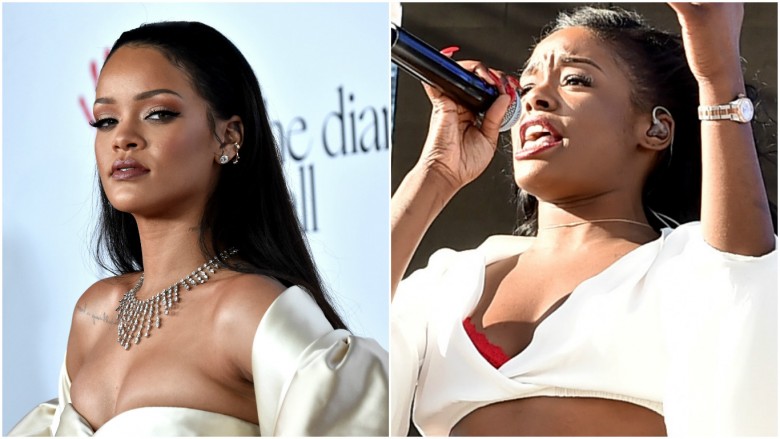 Getty Images
Azealia Banks has a new foe: Rihanna.
The "212" rapper went to war with the Grammy winner over the weekend after Rihanna slammed President Donald Trump's immigration ban. (Trump signed an executive order on Jan. 27, 2017, barring citizens of Iraq, Iran, Syria, Somalia, Sudan, Yemen, and Libya entry to the United States for 90 days. The order also suspended any refugee admission for 120 days and blocked Syrian refugees indefinitely, according to the New York Post.)
"Disgusted," Rihanna tweeted on Jan. 27, 2017. "The news is devastating! America is being ruined right before our eyes! What an immoral pig you have to be to implement such BS!!"
Seeing as Banks, 25, is banned from Twitter after sending racially charged, hate-filled messages to pop star Zayn Malik and others, she responded on Instagram: "As far as rihanna (who isn't a citizen, and can't vote) and all the rest of the celebrities who are using their influence to stir the public, you lot really REALLY need to shut up and sit down."
Banks, an outspoken Trump supporter, wrote (via Us Weekly), "Stop chastising the president. It's stupid and pathetic to watch. All of these confused people confuse other confused people. Hoping the president fails is like getting on an airplane and hoping the pilot crashes. What makes you think, [the] USA is going to enter the Middle East destroy a bunch of s**t and pull out without any real repercussions????"
Rihanna, 28, then posted a photo of herself pouting and said, "The face you make when you a immigrant #stayawayfromthechickens #iheartnuggets #saveourhens." Does that sound weird to you? Well, Riri was likely referencing Banks' bizarre video from December 2016 in which she confessed to practicing witchcraft for three years, including the process of sacrificing chickens, highlighted visually by footage of Banks in a room surrounded by dried blood and feathers.
Of course, Banks had to continue the social media snarking. In a since-deleted Instagram snap, she posted a screencap of Rihanna's previous post and captioned it, "What rihanna meant was....'I GREW UP PLAYING SOCCER IN A DIRT YARD WITH A COCONUT AND OPEN MY LEGS FOR ANY AND EVERY MOTHERF**KER WHO I THINK I CAN GET TO WRITE ME SONGS OR BUY ME DRUGS. I CAN BARELY PERFORM BECAUSE I LINE MY BROWN BLUNTS WITH CRYSTAL METH AND AM OFTEN VERY WINDED ON STAGE.'"
It didn't end there. Rihanna posted a photo of someone with an American flag over their face, writing, "the face you make when you [sic] screaming in an empty room."
Banks replied (via People), "You're clearing [sic] listening and responding to each and every post. These pop stars love me." Banks then posted two since-deleted videos kvetching about Rihanna's posts and expressed that she was most offended by the "#ilovenuggets" hashtag. She followed that with a since-deleted photo of a witch, writing, "I Am a Witch, don't push me. Knocking me down is the easy part. If you want me to stay there trust me, you will need back up."
It gets worse. Refinery 29 reported that Rihanna retaliated by posting a screenshot of text messages assumed to be an exchange with Banks that accused her of having a substance abuse problem and sex addiction. Rihanna has since deleted that post, but Banks responded and posted Rihanna's phone number publicly. (RiRi has since changed her number, so don't get excited.) Uh, yikes.