What Yoko Ono's Relationship With Paul McCartney Is Like Now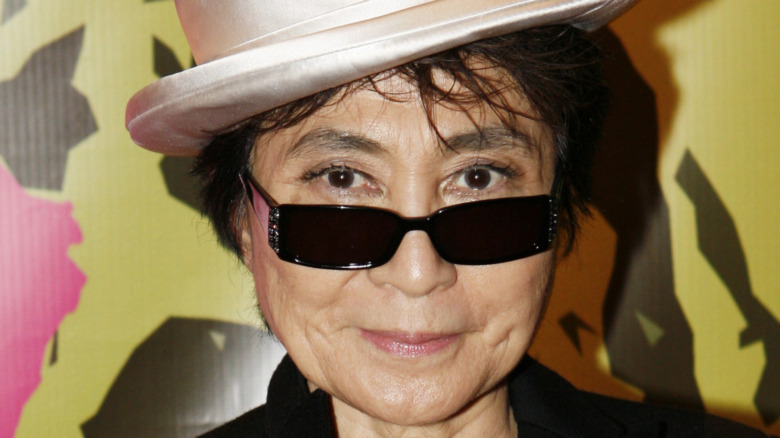 Shutterstock
The reason for The Beatles' breakup is perhaps discussed even more than what brought the iconic band together. And at the top of the list sits John Lennon's second wife, artist Yoko Ono. Her name has become synonymous with the downfall of the "world's greatest band," as Rolling Stone described them.
However, as with most things in life, The Beatles' disbandment was a gradual process. "I don't think you could have broken up four very strong people like them even if you tried," Ono told Playboy (via Rolling Stone). "So there must have been something that happened within them – not an outside force at all." By the time Lennon, Paul McCartney, George Harrison, and Ringo Starr recorded "The Beatles" — commonly known as "The White Album" — in 1968, the tension among them, per the outlet, was palpable.
Lennon attributed the band's demise to the sudden death of The Beatles' manager, Brian Epstein, in 1967. "After Brian died, we collapsed," Lennon told Rolling Stone in a 1971 interview. "Paul took over and supposedly led us. But what is leading us, when we went round in circles? We broke up then. That was the disintegration." But his relationship with Ono did contribute in the eyes of his bandmates. Lennon wanted Ono to be a member of The Beatles, but three-quarters of the band was against it, according to Rolling Stone. Still, out of the three, McCartney was the one who minded her the least. Keep reading for more about Ono and McCartney's relationship.
Yoko Ono and Paul McCartney are on good terms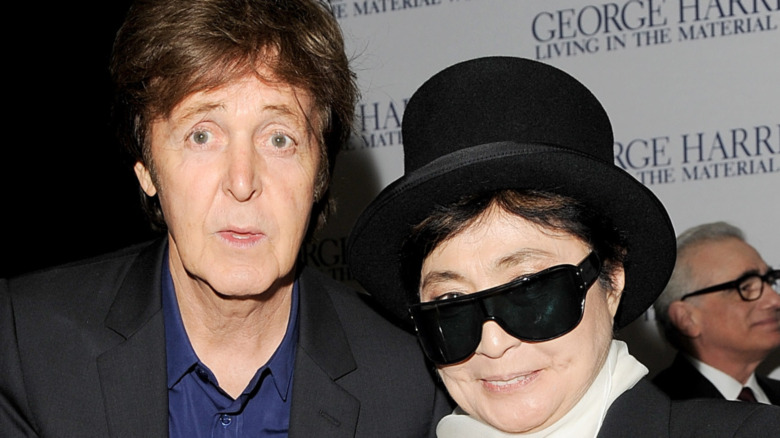 Dave M. Benett/Getty Images
Paul McCartney has since admitted Yoko Ono's constant presence in the studio negatively affected the relationship between The Beatles. In a 2016 interview with Rolling Stone, McCartney noted that Ono sat "on the amps" during recording sessions, which was difficult to handle. "We handled it, but not amazingly well, because we were so tight," he said. "Ono wasn't in the control room or to the side. It was in the middle of the four of us."
But McCartney knew that even if he felt "threatened" by Ono's presence, he understood what she meant to Lennon. "My big awakening was, if John loves this woman, that's gotta be right," he added to Rolling Stone. "I realized any resistance was something I had to overcome. It was a little hard at first. Gradually, we did. Now it's like we're mates. I like Yoko. She's so Yoko," McCartney continued with a laugh, describing their relationship these days as "really good, actually."
After Lennon's murder in 1980, McCartney and Ono have clashed mainly over his desire to reverse the classic "Lennon-McCartney" songwriting credits to "McCartney-Lennon," as Billboard explained. But overall, Ono doesn't hold a grudge against McCartney. "I never felt too bad about Paul," she told the Associated Press in 2013. "He was my husband's partner and they did a great job and all that. They seemed to have a lot of fun, and I respected that."