Why Justin Bieber's New Hairstyle Is Causing Controversy Again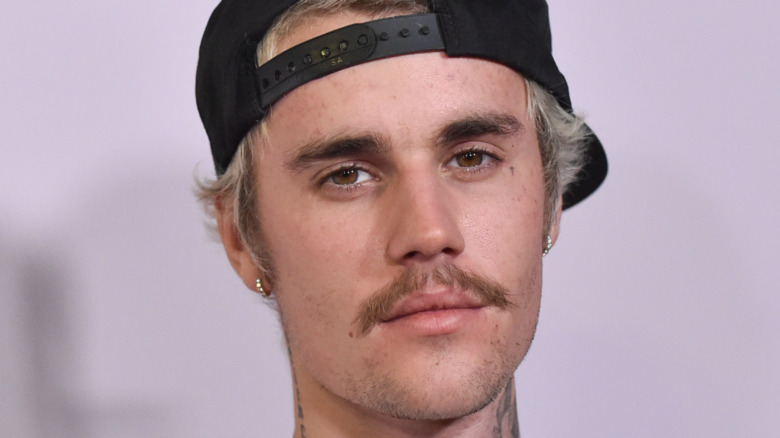 Shutterstock
Justin Bieber isn't shy when it comes to changing his style, but his latest look is seeing fans question his integrity. On April 26, 2021 Bieber debuted dreadlocks on Instagram while vacationing with his wife Hailey Bieber. Clearly a fan of his new 'do, the "Peaches" singer posted three images of it, as well as an Instagram Story. His closest friends also appeared to dig it, as Jaden Smith commented, "swags crazy," Kyle Massey called him a "living legend," while Moises Arias — who also has dreadlocks — wrote, "We twinning once more, tripled up with [Jaden]."
However, fans are not convinced Bieber's new look is for the best, as they accused the singer of cultural appropriation ... for the second time. Back in 2016, Bieber was slammed for sporting platinum-blonde dreadlocks in a confounding Instagram video, in which he jokingly mocked the hairstyle and captioned it, "Being weird is fun' if u r not weird I don't like you."
But this time, Bieber is not only being called out for yet again adopting the traditionally Black hairstyle — but for hypocritically saying on social media he "benefitted off Black culture" and that he intended to "learn" and "speak up" for racial injustice. 
Fans are now calling Justin Bieber's new album 'performative'
Justin Bieber may have previously recognized the influence Black culture has on him, but it seems as if he's yet to learn from his past. During the BLM movement in June 2020, Bieber posted a statement to Instagram, acknowledging he has been "inspired" and "benefitted off Black culture." He also wrote, "I am committed to using my platform this day forward to learn, to speak up about racial injustice and systemic oppression, and to identify ways to be a part of much needed change." 
In March 2021, Bieber released his sixth studio album "Justice," motivated by all the "injustice[s] in the world." The singer told Vogue he wanted to "amplify" Black voices, as he sampled clips of a sermon Martin Luther King Jr. once made. Bieber said, "If you're not standing up for justice—for what is right—what are you doing with your life?"
But fans are now less than convinced, with one person tweeting (via E! News): "so @scooterbraun you and your client @justinbieber post BLM for days and talking about being an ally or educating y'all's selves but turn around to do this foolery very performative i'm sick of y'all." Others commented on his Instagram post, "Didn't you say you were educating yourself about Black culture so what is this foolery."
Bieber has yet to directly address the criticism, but cryptically posted a statement an hour later, which read, "There's power in acknowledging our insecurities, WE ALL GOT THEM."