The Truth About John McCain And Sarah Palin's Relationship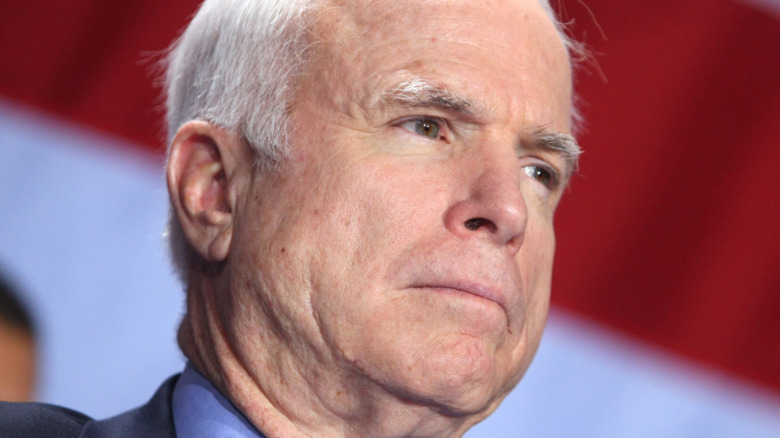 Daniel Barry/Getty Images
The late John McCain shocked the masses when he famously admitted in his 2018 book "The Restless Wave: Good Times, Just Causes, Great Fights, and other Appreciations" that he regretted picking Alaskan politician Sarah Palin as his running mate.
As reported by The Hill, in the political memoir, McCain revealed that during the 2008 presidential election, he caved to outside pressure from those who warned him about picking Joseph Lieberman due to his past affiliation with the Democratic party and his stance on abortion rights. "It was sound advice that I could reason for myself," McCain penned. "But my gut told me to ignore it and I wish I had."
Palin, however, wasn't willing to accept those written remarks, and instead blamed supposed ghostwriters for the bombshell revelation. "I attribute a lot of what we're hearing and reading regarding McCain's statements to his ghostwriter or ghostwriters," Palin dished to the Daily Mail. "I don't know all the details of his condition right now. It happens to me also where people speak for me and a bell is rung, and you can't un-ring the bell."
So, what's the real story behind McCain's relationship with his former running mate? Keep reading after the jump to find out!
Sarah Palin said being disinvited to John McCain's memorial services was a 'gut punch'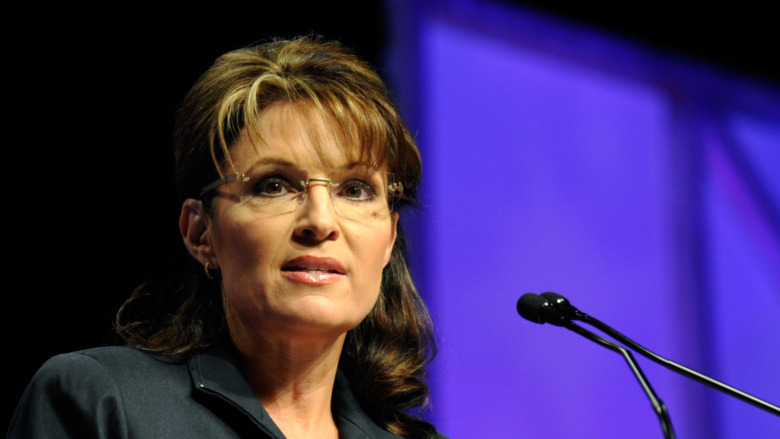 Ethan Miller/Getty Images
Where there's smoke, there's fire. While Sarah Palin disregarded John McCain's candid confessions in his 2018 political memoir, she simply wasn't able to ignore getting the boot from McCain's memorial services. As reported by People, on the heels of the politician's tragic death, multiple sources alleged that Palin, Donald Trump, and a slew of various former McCain staffers were not invited to the services. Fundraiser Carla Eudy later confirmed the rumors, stating that invitations were simply "not extended" to Palin and Trump. Ouch.
But who was behind the proverbial no fly list? One source pointed to McCain's widow, Cindy McCain. "My guess is, it came from Cindy," the source predicted. "She is very protective of John's memory and legacy. She's also a grieving widow. I think she wants to get through this as best she can."
Once again, Palin was quick to publicly defend herself. During an interview with "Good Morning Britain," she told the show's then-host Piers Morgan that the news came as a "gut punch" (via Washington Post). "I was kind of surprised to be publicly disinvited to the funeral. I think that was an unnecessary step. They didn't have to embarrass me," she continued.
Alas, as the old saying goes, "Keep your friends close, but your enemies closer."