What Life Is Like For Sunny Balwani Today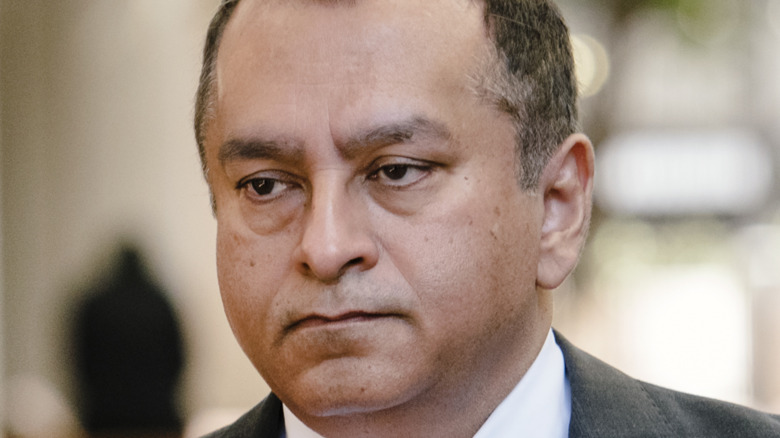 Bloomberg/Getty Images
It wasn't all that long ago that Theranos — the blood-testing company founded by Elizabeth Holmes — was the darling of the tech world. At one point, the company was valued at $9 billion (per Insider), making Holmes and the company's president and COO, Ramesh "Sunny" Balwani, very wealthy people ... on paper at least. What few people knew at the time was that, well, #1. it was all fraud, and #2. Holmes and Balwani were romantically involved.
Holmes met Balwani when she was 18 and he was 37, Refinery29 reported. They were both studying at Beijing University and struck up a friendship. A year later, when she started Theranos and needed a round of investments, she reached out to Balwani, who gave Holmes' company a large loan to help it grow.
Balwani had a nice nest egg, as PopSugar reported, due to the fact that he made $40 million selling his company CommerceBid.com. After that, he went to Berkeley to get his MBA and then enrolled in a graduate computer science program at Stanford. He dropped out in 2008 to work for Theranos full-time. Balwani became the president and COO of Theranos. He and Holmes lived together in a nearby mansion. However, hardly anyone at Theranos knew they were a couple.
His life has changed a lot since Theranos' fraud was exposed. Where is he and what is Sunny Balwani's life like today?
He's awaiting trial for the alleged crimes committed at Theranos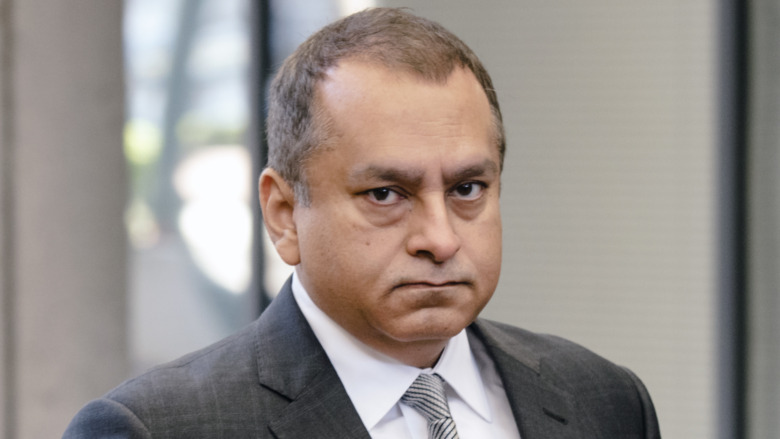 Bloomberg/Getty Images
When the Wall Street Journal broke the story of the shenanigans at Theranos in 2015, things started to unravel for Sunny Balwani and Elizabeth Holmes. By 2016, Holmes had removed her much older boyfriend from her personal and professional lives, per Refinery29. Officially, Balwani retired, though sources inside Theranos maintain that he was fired.
Holmes and Balwani were investigated by the FBI, FDA, and CMS (Centers for Medicare and Medicaid Service), per Refinery29. Balwani was banned from owning or operating a blood laboratory by the CMS.
In the spring of 2018, the SEC filed four claims against Balwani, accusing him of violating the U.S. Securities Act by lying to and misleading investors to secure funding for Theranos. In June 2018, Holmes and Balwani were indicted on nine counts of wire fraud and two counts of conspiracy to commit wire fraud, as Insider reported. These days, Holmes and Balwani are facing up to 20 years in prison, per PopSugar. 
Balwani has maintained his innocence throughout the proceedings. He claims he never made money at Theranos and is not responsible for the fraud that happened, per PopSugar. The trial has been postponed due to the coronavirus pandemic. The trial is currently scheduled for January 2022, per Fox Business. If convicted, Balwani faces the previously mentioned jail time, plus a $2.75 million fine and possible retribution.