Elton John Had Something To Say About The Oscars Venue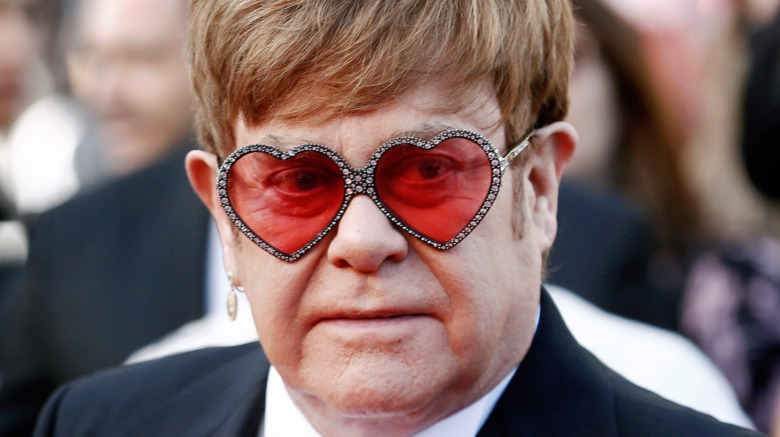 Shutterstock
Elton John wasn't so hot on the Oscars being hosted at Union Station this year — in the most literal sense.
The legendary singer's Oscars viewing bash and after-party went virtual this year from the glamorous Rosewood Hotel in London, per Daily Mail. Usually held in West Hollywood, John was joined by his husband David Furnish and Neil Patrick-Harris for hosting duties, along with a slew of stars including Dua Lipa, Lady Gaga, Cynthia Erivo, and the cast of the critically acclaimed AIDs-based show "It's a Sin." All proceeds of the annual event go directly toward HIV/AID through his dedicated foundation.
At the beginning of the night, the "Rocket Man" singer acknowledged his 29th Oscars event wouldn't be the same as usual, calling the move to go digital "a pain." His parties are often the most sought-after among Hollywood's elite, with Sharon Stone once telling The Hollywood Reporter that "people have to go to other parties, but people want to go to Elton's party." However, John then clarified to Patrick-Harris that, "It's not a pain. I wish we could be there. It's more fun to be there. This is the only way we could do it."
If John thought his online soiree was painful, he certainly didn't hold back when revealing his opinions on the socially-distanced Oscars venue itself. Cryptic hint — it hurts as much as spilling hot coffee on yourself. 
Elton John compared the 93rd Oscars venue to a Starbucks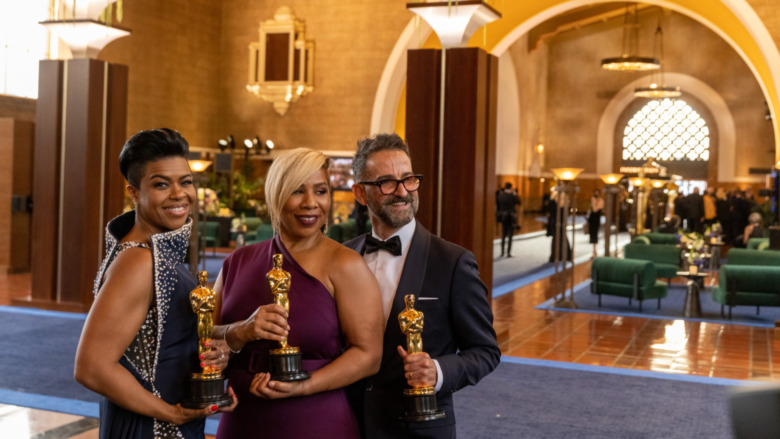 Handout/Getty Images
Elton John was perhaps craving some caffeine when he shared his lukewarm thoughts about this year's Oscars location. Understandable, considering the awards show started at 1 a.m. U.K. time, where he was based. After the 60-minute pre-show, which saw him share the stage with Dua Lipa and sing "Bennie and the Jets," John provided some honest commentary about the ceremony itself, per Daily Mail. Looking both puzzled and slightly underwhelmed by the big venue reveal, John quipped, "The Oscar ceremony looks like it's coming from a Starbucks somewhere."
The Oscars, which usually costs approximately $44 million total (per Insider), was moved to Union Station in downtown Los Angeles for the first time amid the pandemic. The move sparked outrage among the local community with reports that homeless people sheltering there were "forced" to move. However, the main drawer card for the 82-year-old station was its ability to safely host attendees and allow for mask-free admittance, per Daily Mail. Union Station's main terminal, at 161,000 feet, is reportedly far bigger than the Oscars usual location at the Dolby Theater in Hollywood.
While the ceremony, which was treated like film and television production, ran smoothly, John was critical of its design and space as he continued to quip, "I still can't get over the set" throughout his viewing party. Nevertheless, if he wasn't impressed with the actual Oscars he surely would have been with his own event, having raised $3 million for his Elton John AIDS Foundation — even during a digital age.