The Oscars Location Has Twitter Fuming. Here's Why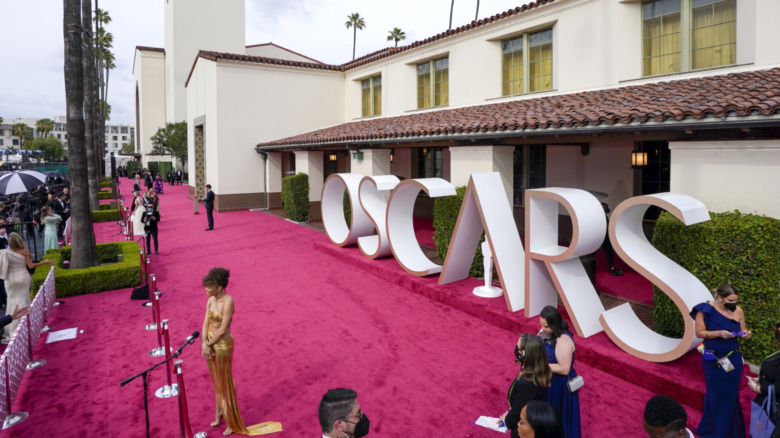 Pool/Getty Images
For the first time in the Oscars 93 year history, film's biggest night is being held at Union Station — but not everyone is happy about the new location. Normally, it's held at the Dolby Theatre in Hollywood but this year the Academy relocated the event in order to treat the event like a film and television production studio to get around COVID restrictions. Despite the station having an intrinsic link to film — it's been featured in "Blade Runner," "The Way We Were," and "The Dark Knight Rises" (per Daily Mail) — it's also home to some of Los Angeles' most vulnerable citizens. Homeless people who take refuge at the station were reportedly kicked out a week before the event took place — and naturally, Twitter users had something to say about it. 
Criticizing the Oscars' sense of entitlement, one person wrote: "So we're moving the homeless from union station for one evening to make the woke celebrities feel comfortable and try to hide the fact that LA doesn't have a serious epidemic. So woke. I hope the homeless crash the oscars in full force." Another called celebs "hypocrites" and said: "Hollywood celebs never stop telling us how 'caring' and 'compassionate' they are until there's a chance that homeless people ruin their red carpet on Oscars night what a bunch of narcissistic virtue-signaling hypocrites." 
While the Academy and LA City Council and has dismissed claims the homeless were kicked out for the evening, one man told FOX 11 they were told they had to leave or else they'd have their shelter and belongings "demolish[ed]."
The homeless were allegedly 'forced' out of Union Station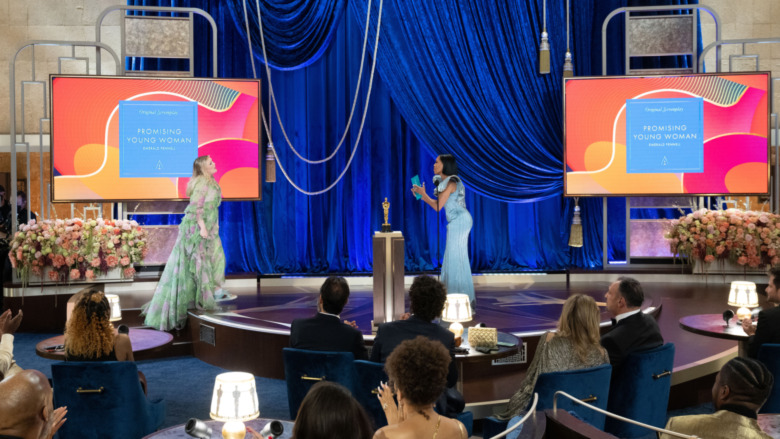 Handout/Getty Images
Aside from being Los Angeles' biggest commuter hub, Union Station is also home to hundreds of the city's homeless, per Daily Mail. So when the Oscars decided to host its 93rd awards show there, they not only had to clean up the station — but clear out its inhabitants. 
One man told FOX 11 unidentified officials allegedly told them to move to the Grand Hotel. "They came to us about a week ago saying that we had to move ... because they were trying to clean up for the Oscars and they told us if we didn't move, they were gonna just demolish our stuff," the man living in the area said. Los Angeles has a reported homeless population of 91,000 with many of them set up in the Downtown LA area. "They forced us to go to the Grand Hotel ... and they kicked everybody out of Union Station so it looks better for the image," the man said. 
In a statement, however, the Academy refuted such accusations and said they "worked with several community, county and city nonprofits to limit disruption for Union Station's homeless population." Likewise, LA City Council member Kevin De Leon said, "despite irresponsible rumors, NO unhoused residents are being forced to relocate." If one thing is clear,  it's that those on Twitter believe people shouldn't move mountains for an awards show ... particularly in this day and age. "I hope Ellen takes a selfie with all the homeless people outside Union Station," one person wrote.