The Real Meaning Behind 'Shy Away' By Twenty One Pilots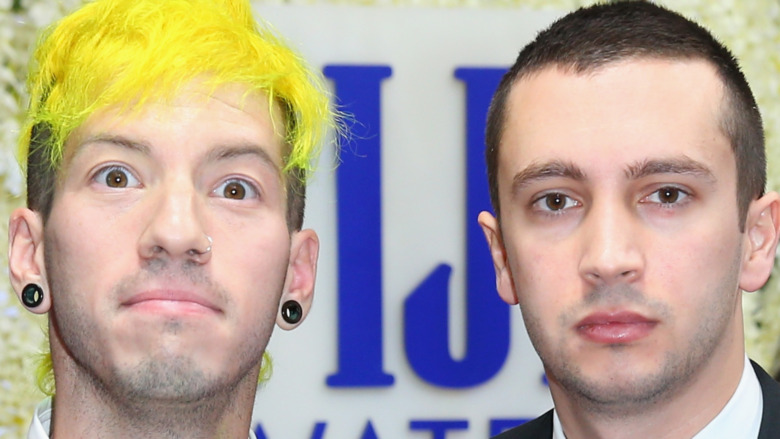 Joe Scarnici/Getty Images
Music duo Twenty One Pilots plans to release its sixth studio album, "Scaled and Icy," on May 21, 2021, but ahead of its highly-anticipated debut, the album's lead single, "Shy Away," has already skyrocketed to the top of Billboard's Alternative Airplay chart. "The song completes the fastest climb to the top since the duo's own "Jumpsuit" took just two weeks to reign in July 2018," Billboard reports.
Despite residing in different places during the coronavirus pandemic, Josh Dun and Tyler Joseph made it work. According to Kerrang!, Tyler did most of the writing and producing from California and Dun transmitted his drum material virtually from Ohio. When they finally got together to shoot the accompanying music video, the bandmates were grateful for a chance to film. "It's good to be back on the horse," Joseph said during a behind-the-scenes clip from the music video's set.
Positivity pervades the fresh album — a project Joseph called "more colorful" than the band's previous music. According to The Harvard Crimson, "Shy Away" is a departure "from the norms of Twenty One Pilots' more moody and emotionally heavy pieces, like 'Goner' and 'Truce.' However, even with the more optimistic sounds, there is still the tinge of something deeper happening just under the beat."
What exactly is residing below the surface of Twenty One Pilots' "Shy Away" smash hit? You're about to find out.
Twenty One Pilots' created 'Shy Away' for family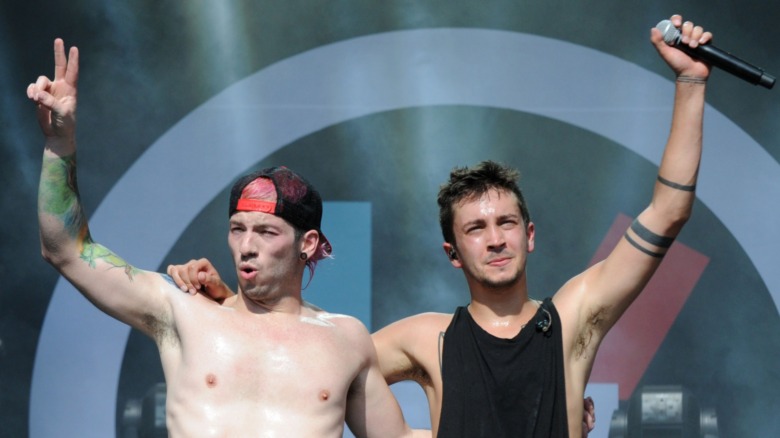 Joe Scarnici/Getty Images
Twenty One Pilots lead singer Tyler Joseph told BBC Radio 1 that he created "Shy Away" for his younger brother, who'd asked him how to make a record. "I just thought, OK, let me start from scratch and I came up with the beginnings of the song almost as a tutorial for him, on how to lay out a song," Joseph said. However, the lead track off the band's "Scaled and Icy" album evolved into something more.
The song became less about the mechanics of making music and more about the mechanics of building a life. "The only thing tougher than trying to figure out what your own purpose is, is watching someone whom you love trying to figure out their purpose," Joseph said.
Joseph's message to his brother isn't the only family connection on the track. The rocker's 1-year-old daughter also influenced the song. "You'll hear this little baby cooing noise," he told BBC, explaining that initially he viewed the interruption as a mistake he'd need to fix. Over time, "I found myself loving that she had been in some way a part of that creative process — and I actually kept her noise in the beginning of that song." 
Although Twenty One Pilots managed to create an entire album during the pandemic, the music industry has changed and a return to touring remains unclear. "We're all holding our breath, hoping that things settle and land and get safe," he said.