Ben And Erin Napier's Net Worth: How Much Are The HGTV Stars Really Worth?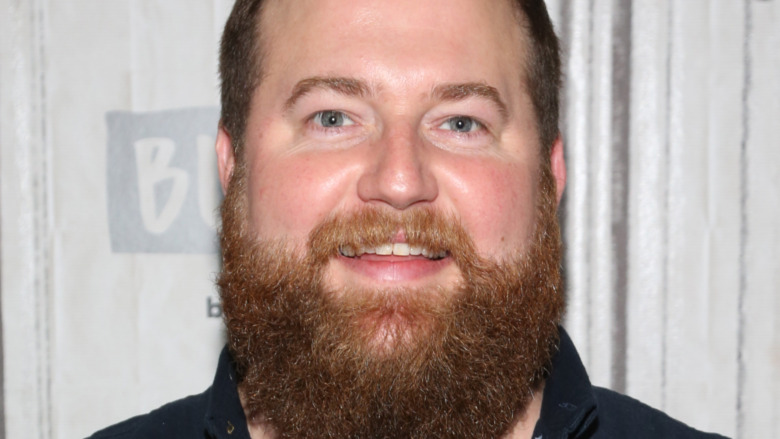 Manny Carabel/Getty Images
"Home Town" is one of the best-received shows on HGTV thanks to its hosts Ben and Erin Napier. In each episode, the couple shows off their hometown of Laurel, Mississippi to newcomers in an attempt to transform old houses into homes worthy of showcasing. It's an easy job for Ben, who is a woodworker, and Erin, an interior designer, per their official website.
That said, the Napiers never thought they'd be on television. HGTV producers courted them after one of their home renovations were featured in several magazines. "We never expected this," Erin told People in 2020. "Getting a TV show never even crossed our minds." Ben added that his career in TV was "never something" he and Erin thought would happen.
Since appearing in their first episode of "Home Town" in 2016, Ben and Erin have become household names, and are seemingly busier than ever with a home renovation business, two retail stores, a reclaimed furniture store called Laurel Mercantile Co, and an upcoming spin-off of the show, per People. So, how much do the Napiers make? Scroll down to find out.
Ben and Erin Napier are making a comfortable living
Manny Carabel/Getty Images
While Ben and Erin may be transparent to their clients about home renovations, they have not publicly disclosed their net worth. E! News, though, has previously reported that other cast members and couples on HGTV make around $5 million, so it would be easy to assume that the Napiers make around the same range. Their day jobs also add a significant amount to their net worth.
Besides investing their resources into different businesses, Ben and Erin also wrote a book titled "Make Something Good Today". The memoir gave readers a more intimate look into the Napiers and their relationship off the screen, per Simon & Schuster Publishing.
As it turns out, releasing their own memoir not only gave them another opportunity to add to their net worth but also recalled the financial hardships they had when they first dated. Per Atlanta Magazine, Ben and Erin would go out on dates in bookstores "to read novels they couldn't afford to buy" during their teenage years.
The couple loves books so much that they are urging for someone to open up an independent bookstore in Laurel. "If anyone is interested in moving to a small town and opening a bookstore, we'll be your first patrons," Ben told Atlanta Magazine. Even if we don't know their exact net worth, one thing is for sure: these days, they can definitely buy the book.