Poll Reveals What 71% Of People Thought Of Biden's Speech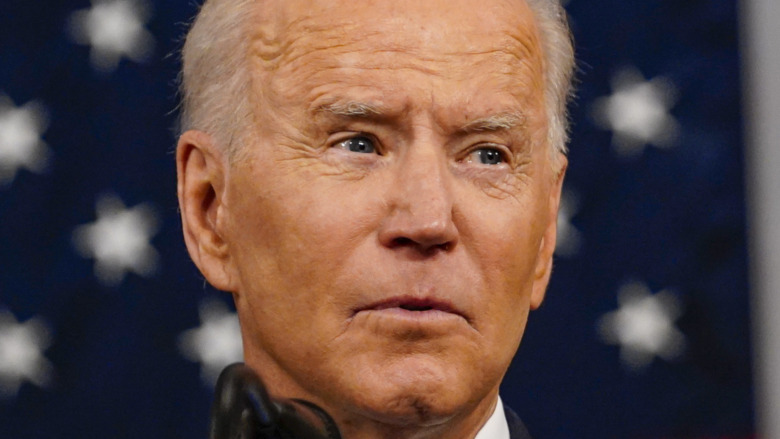 Bloomberg/Getty Images
"It's good to be back," President Joe Biden said during his first presidential address to congress, before launching into a speech in which he celebrated his administration's successes and presented plans for the future of his presidency. "Tonight, I come to talk about crisis and opportunity. About rebuilding a nation, revitalizing our democracy and winning the future for America," he continued on April 28, via a transcript provided by ABC News. And that he did!
As reported by CNN, a poll conducted by SSRS found that 71% of Americans felt more "optimistic" after tuning into the speech — a statistic that blows his predecessor's stats out of the water. It's reported that former President Donald Trump's first congressional address only left 57% of Americans with a renewed sense of enthusiasm. The poll also found that a whopping 73% of Americans said that the new plans that Biden laid out would shift the country on an upward trajectory.
But what specific parts of Biden's speech really resonated with the American people? Keep reading after the jump to find out.
Biden's speech was widely well-received, but not without some critics
Bloomberg/Getty Images
As for perhaps one of the most pressing matters, CNN reported that more than 8 in 10 people felt President Joe Biden had the right ideas concerning handling the COVID-19 pandemic. Biden made note of the American Rescue Plan that was passed during his first 100 days in office and presented the statistics regarding the COVID-19 vaccine, citing that the administration not only made good on their promise to successfully deliver 100 million shots into the arms of Americans within his first 100 days, but went above and beyond that initial goal, delivering more than 220 million vaccines to eager recipients. 
Another hot topic on Biden's agenda: racial injustice. According to poll results, 74% of people approved of Biden's proposals on the issue. But what about other matters including the economy, gun laws, and taxes? It's reported that 7 out of 10 Americans were satisfied with the president's work on those hot button issues as well. Still, the speech was not met without its critics. According to poll stats, 32% said that they did not believe Biden was paying enough attention to the major issues the United States is currently facing.
Biden closed his remarks with encouraging words and a call to action (per ABC News): "We're the United States of America. There is not a single thing, nothing, nothing beyond our capacity. We can do whatever we set our minds to if we do it together. So let's begin to get together."