Here's What Most Americans Really Think About President Joe Biden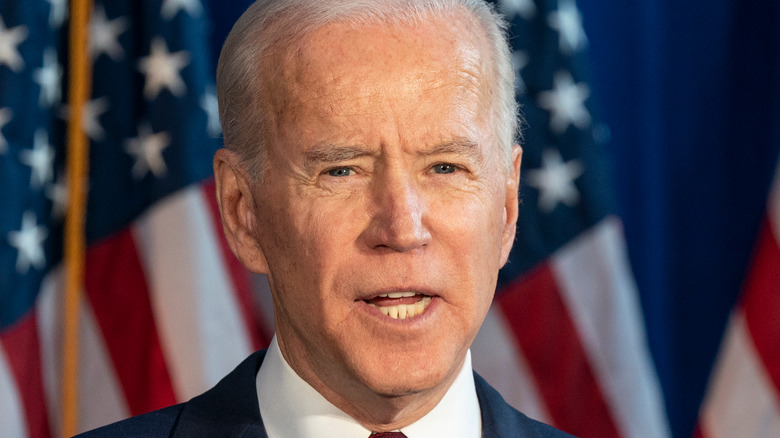 Lev Radin/Shutterstock
President Joe Biden is almost upon an important benchmark when it comes to his presidential term, and that touchstone is his first 100 days in the Oval Office. As networks and outlets like NBC News reported on April 26, the aforementioned milestone marker is usually one which political critics and analysts use to review how Biden — or any president, for that matter — has either failed or succeeded so far as commander-in-chief. 
During Biden's first 100 days as president of the United States, he kept his promises in the fight against coronavirus, dispensing COVID-19 relief stimulus checks and getting more than 200 million "shots in arms," per ABC News. Still, he's been slower to enact policing changes and gun control laws.
So, how has Biden fared within his first 100 days as president of the United States? What do Americans, for that matter, really think about President Joe Biden? And how does it compare to the reception his predecessor, former President Donald Trump, was given during his first 100 days in office back in 2017? Read on after the jump to find out. 
The majority of Americans think President Joe Biden is doing a favorable job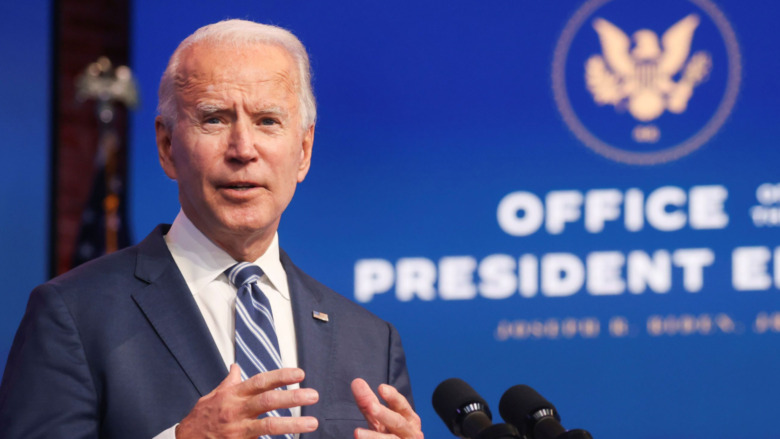 Shutterstock
According to an April poll by NBC, it seems that President Joe Biden has performed well during his first 100 days in office. Per NBC, out of 1,000 respondents who participated, 53% of them stated that they "approved" of Biden's tenure so far, with 39% expressing otherwise. Out of the faction who reacted positively to Biden's first 100 days, 90% identified as Democrats, with 61% Independents. Roughly 9% of favorable responses were listed as Republicans. 
However, poll analyst Jeff Horwitt told NBC that Biden's modest results — the third lowest since President Harry S. Truman — might not be everlasting. "What we don't know is if this is part of a 100-day honeymoon or something more durable and lasting for the Biden-Harris administration," Horwitt explained. "What we do know is that Joe Biden's presidency is meeting the times."
Biden's "highest marks" were in relation to his handling of the pandemic, the economy, race relations, and overall uniting the country. But his "lowest scores," according to the poll, had to do with his relations with China, his response to the gun crisis, and immigration.
Despite this, Biden's overall assessment is much higher than that of Donald Trump's during the same 100-day period in 2017. Per NBC, at the time Trump's approval rating was only at 40%, with 54% of respondents expressing disapproval. During the course of his White House term, Trump's approval rating peaked at 47% in October 2018.